A Friday Visit with Jim Korkis: The Lost Disney-MGM Studios Comic Book Story
By Dave Shute
Welcome back to Fridays with Jim Korkis! Jim, the dean of Disney historians, writes about Walt Disney World history every Friday on yourfirstvisit.net.
THE STARSTRUCK DUCK
By Jim Korkis
Donald and Mickey: The Magic Kingdom Collection (Walt Disney's Comics & Stories), published by IDW in 2017,  is a collection of seven Disney comic book stories drawn from various sources (including some foreign publications) over the last 60 years that have the Disney cartoon characters exploring Disneyland.
Between 1955 and 1960 Dell produced ten giant-sized twenty-five cent Disneyland comic books containing over ninety pages each of new, original content in each issue. The 10 giant-sized issues were Donald Duck in Disneyland No. 1 (1955), Mickey Mouse in Frontierland No. 1 (1956), Mickey Mouse in Fantasyland No. 1 (1957), Uncle Scrooge Goes to Disneyland No. 1 (1957), Walt Disney's Christmas in Disneyland No. 1 (1957), Donald and Mickey in Disneyland No. 1 (1958), Walt Disney's Vacation in Disneyland No. 1 (1958), Disneyland Birthday Party No. 1 (1958), Walt Disney's Vacation in Disneyland Dell Four Color 1025 (1959, only 36 pages), Walt Disney's Disneyland U.S.A. (1960).
However, Walt Disney World never received the same attention (unless you count the 1985 Exxon giveaway Mickey Mouse and Goofy Explore the Universe of Energy) except for one issue of Walt Disney Comics Digest, #32.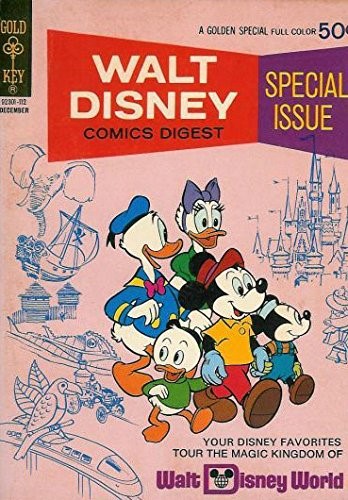 Walt Disney Comics Digest #32 is the only comic book ever published that has the Disney characters exploring the newly opened Magic Kingdom in Florida, and is 160 pages long.
For that collection of reprinted stories (some of which are actually from Disneyland), there is a new opening splash page drawn by well-known Disney comics artist Tony Strobl (with the realistic backgrounds most likely done by artist Dan Spiegle who drew some of the more realistic live action Disney comic book adaptations).
However, there were also two original stories included in the issue. One featured Scrooge McDuck going back to the Main Street of his youth, drawn by Disney comics artist Pete Alvarado.
Alvarado also drew a nineteen page Frontierland story where Mickey Mouse and Donald Duck go to enjoy the Country Bear Jamboree except three of the bears (Ernest, Big Al and Teddi Barra) have disappeared and must be found for the show to go on. This is the only comic book appearance of these beloved audio-animatronics characters.
I recently discovered there was yet another comic book story, this time about Donald Duck and his nephews trying to get Mickey Mouse's autograph at the newly opened Disney-MGM Studios that was written and drawn by Don Rosa (to help promote the park) but never published. It was done in 1989.
The story opens with Donald and his nephews in the car driving past the Mickey-eared water tower at the new park. Huey exclaims: "Wow! What a great Florida vacation this is! Disneyworld is the neatest place on earth!" Dewey replies: "I can't decide which was more fun…the Magic Kingdom or Epcot Center!" Donald interrupts by saying: "Today, we visit Disneyworld's brand new Third theme park. The Disney-MGM Studios! It just opened!"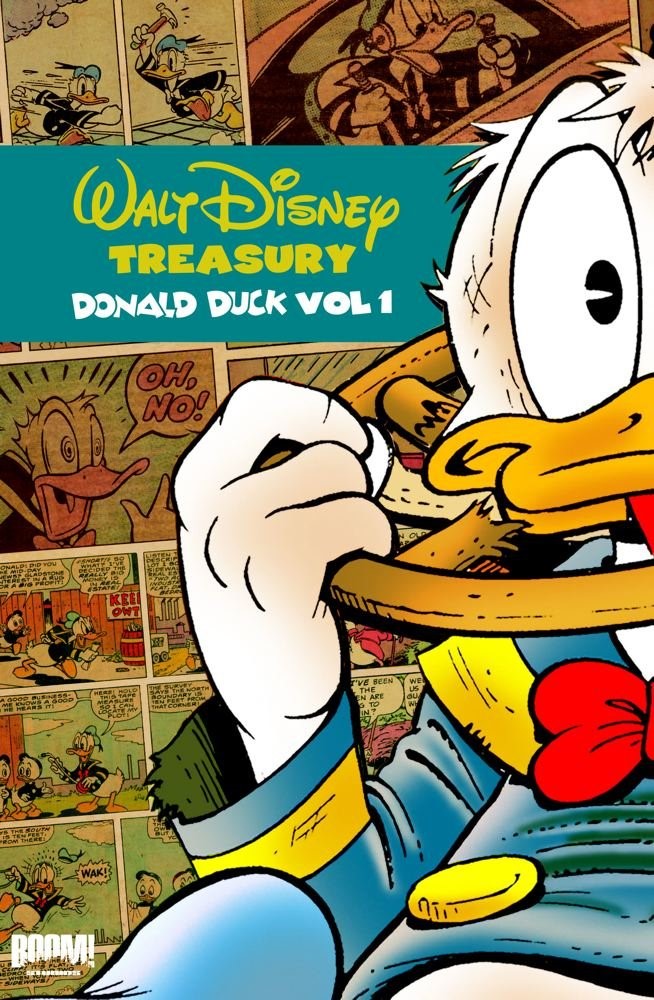 Fortunately, Rosa's complete pencilled script for "The Starstruck Duck" was printed in Walt Disney Treasury: Donald Duck Volume 1 (KaBoom 2011), but I bet few if any WDW fans like myself knew it even existed.
Donald and the nephews visit the Sid Cahuenga One-of-a-Kind shop that also figures into the finale of the story. Donald runs around both onstage and backstage trying to find Mickey. He gets set on fire in Catastrophe Canyon, knocks over the forced perspective scenery on New York Street, tosses out free ice cream bars from the top of Gertie's head, destroys the ships in the backstage tram tour show ("This isn't a Duckzilla movie! Grab that guy!") and more.
Amusingly the stunt show is the traditional cowboy saloon fight done at amusement parks rather than the Indiana Jones show.
For WDW or Don Rosa fans, this is definitely an interesting oddity worth tracking down to add to your collection.
*  *  *  *  *
Thanks, Jim! And come back next Friday for more from Jim Korkis!
In the meantime, check out his books, including his latest, Disney Never Lands, and about planned but unbuilt concepts, and Secret Stories of Walt Disney World: Things You Never You Never Knew
, which reprints much material first written for this site, all published by Theme Park Press.


Follow yourfirstvisit.net on Facebook or Twitter or Pinterest!!
RELATED STUFF