A Friday Visit with Jim Korkis: "Hotel Mel" at the Studios
By Dave Shute
Welcome back to Fridays with Jim Korkis! Jim, the dean of Disney historians, writes about Walt Disney World history every Friday on yourfirstvisit.net.
HOTEL MEL
By Jim Korkis
While today it is acknowledged that Walt Disney World's Twilight Zone Tower of Terror is an iconic Disney theme park attraction, it was not the first choice when Disney decided in 1989 to expand what was then Disney MGM Studios (now Disney's Hollywood Studios) to meet the unexpected increased demand when the park opened.
The first idea that was suggested was an elaborate Roger Rabbit Toontown, with several attractions like a Toon Town Trolley simulator, shops, and food and beverage locations.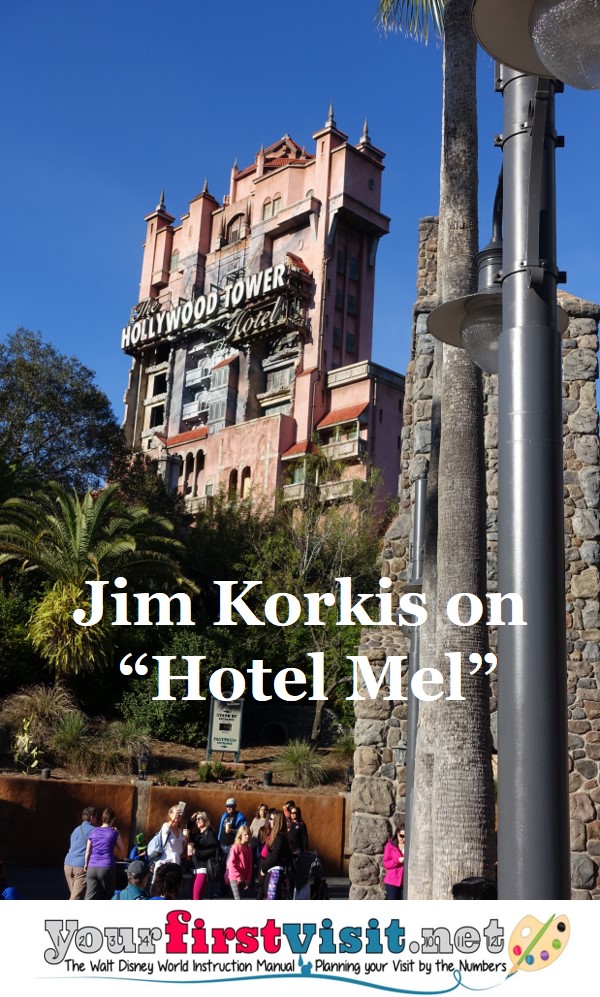 Then, with hopes that the Dick Tracy Touchstone film would spark a successful and financially lucrative franchise, the idea was discussed to build a 1930s era Chicago street where Sunset Boulevard is today. It would have had an attraction called Dick Tracy Crimestoppers where guests would be riding in vintage cars and shooting tommy guns at gangsters.
In late 1989, CEO Michael Eisner pitched the idea to filmmaker Mel Brooks to collaborate on a new Disney theme park attraction in hopes it would also lead to Brooks producing films for Disney. After several trips to Imagineering, Mel wanted to combine scary and funny into a Castle Young Frankenstein based on his popular comedic film that would have had a Bavarian village area leading to a drawbridge and the castle where the attraction would be.
The idea further evolved into Mel Brooks' Hollywood Horror Hotel. The Imagineers jokingly referred to the project as Hotel Mel. Guests would have seen this huge abandoned hotel that might be haunted, and through television monitors be informed that Mel Brooks was directing a new comedy horror movie inside.
Guests would be given a chance to visit the "Hot Set" and maybe even get to be an extra in the film. They would have boarded golf carts (guided by a magnetic wire embedded in the floor) and would experience a coven of witches cooking in their cauldron in the hotel kitchen, encounter Quasimodo the hotel "bellboy", and even visit the men's room where Dracula is trying to shave himself in a mirror where he can't see his reflection and the wolfman is combing himself while Frankenstein is in a stall trying to grab the Mummy's wrappings from the nearby stall to use as toilet paper.
However, the Imagineers could not come up with a coherent story to tie it all together, and the price for creating these elaborate audio-animatronics figures was cost prohibitive.
Other ideas were pitched, including an attraction featuring the various characters that appeared in author Stephen King's novels, as well as a partially walking tour narrated by Vincent Price (who had recorded the original Disneyland Paris Phantom Manor narration) about a group of movie stars who had been staying at the hotel but mysteriously disappeared. Throughout the tour, guests would discover clues, and when they finally entered the elevator what had happened to those missing people became very clear, but it was too late to get out.
Eisner suggested making the hotel an actual in-park Disney resort themed to a "film noir" murder mystery revolving around a hotel manager who had gone crazy, that would have included costumed staff interacting with guests and a haunted elevator experience.
Imagineers realized they might be able to incorporate a freefall idea into the haunted elevator. Since Disney MGM Studios was themed to the Hollywood of the 1930s and 1940s, it seemed logical to have a classic Hollywood hotel from that era be the focus of the attraction.
*  *  *  *  *
Thanks, Jim! And come back next Friday for more from Jim Korkis!
In the meantime, check out his books, including his latest, Disney Never Lands, and about planned but unbuilt concepts, and Secret Stories of Walt Disney World: Things You Never You Never Knew
, which reprints much material first written for this site, all published by Theme Park Press.


Follow yourfirstvisit.net on Facebook or Twitter or Pinterest!!
RELATED STUFF