A Friday Visit with Jim Korkis: Bob Gurr
By Dave Shute
Welcome back to Fridays with Jim Korkis! Jim, the dean of Disney historians, writes about Walt Disney World history every Friday on yourfirstvisit.net.
YOUR PERSONAL DISNEY LIBRARY (25)
By Jim Korkis
I've known Bob Gurr for years, and he even wrote the foreword for my book The Unofficial Disneyland 1955 Companion, but that friendship does not influence my saying that both of his books are valuable additions to your Disney library.
They give insight into the process of Imagineering as well as never-before revealed stories about some of the incidents and people who worked on building Disneyland and Walt Disney World. He is justifiably proud of what he has done but does not brag or overstate his accomplishments, which is refreshing.
Imagineer Gurr designed and built most, if not all, the major ride vehicles at Disneyland and later at Walt Disney World including the Autopia cars, Monorail, Doombuggy, Submarine, Main Street "antique" cars and more. He is a no-nonsense, opinionated Disney Legend, and his honesty comes across in his books, where he doesn't hesitate to tell it like it is, rather than putting a positive "Disney spin" on the story.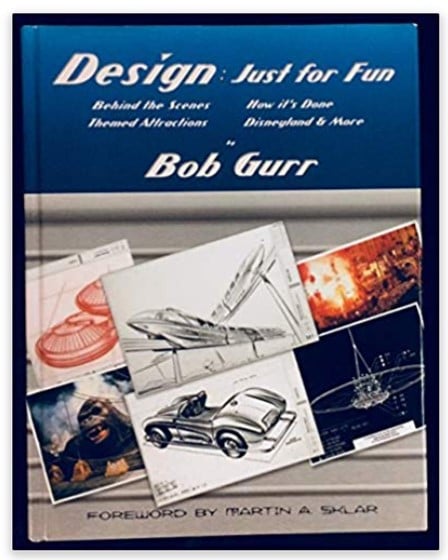 Design Just for Fun is a hardcover book with just over two hundred pages that came in two editions (red cover that was autographed and blue cover that was not, but both contain the exact same content) for a limited edition of only one thousand copies and was released in 2012. It quickly went out of print and Bob insists he will never reprint it because it was a limited edition. Trying to obtain a copy today can cost a couple hundred dollars.
The book is a compilation (revised and expanded) of columns he originally wrote for the Laughing Place website that have since been removed from there. Roughly two-thirds of the book covers his work at Disney from 1954 until he left in 1981 and formed GurrDesign, Inc. with the other third looking at his subsequent work, including the creation of the original King Kong for Universal Studios Hollywood.
The chapters are short since they started as a simple column. There are 65 of them, meaning that they generally run about two or three pages and are filled with many black-and-white as well as color photos that you probably never previously saw anywhere else. The concentration is not on his life but the jobs he did. It is anecdotal and sometimes technical but always fascinating. The foreword is by Marty Sklar.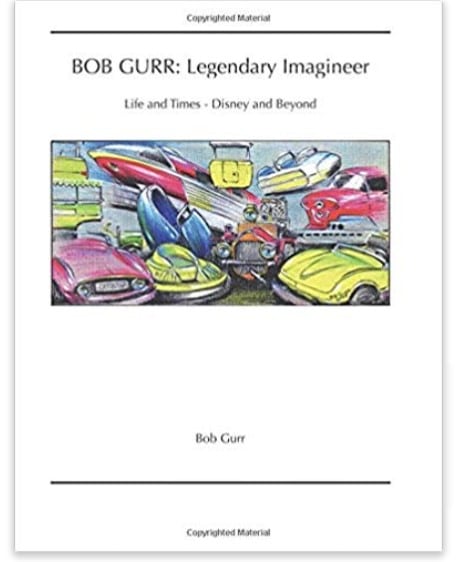 Bob Gurr Legendary Imagineer: Life and Times – Disney and Beyond is a softcover that runs just less than two hundred pages and was released in 2019. There are thirty-two chapters and again each is short. Unfortunately, there are no photos or illustrations at all other than the cover. Bob intended this to be a "companion" to his previous book so doesn't rehash that information.
Like the first book, the content here is "chatty" and reveals a little more personal information. He doesn't limit himself to Disney but talks about his love of aviation and auto racing, and his philosophy of living among other things so only about a dozen chapters focus just on Disney.
If you are a real fanatic, you can try tracking down Bob Gurr's first book, How To Draw Cars of Tomorrow (by "Henry Gurr") was published in 1952 followed up with Automobile Design: The Complete Styling Book (by "R.H. Gurr") in 1955.
These books were written before his involvement with Disney, and focus on car design and technique. Why the "other" names? Over the decades Bob has gone by Robert Henry Gurr, Henry Gurr, R.H. Gurr, Bob Gurr, and even Gurrini ("Italian sports cars were the big thing. My sports car sketches in 1952 carried the identity – Stabilimenti Gurrini, as in Stabilimenti Ferrari."). Walt Disney called him "Bobby".
You won't find this information in his books. This is something extra for readers of this website. In addition, there is also a DVD documentary sometimes available Bob Gurr: Turning Dreams into Reality.
*  *  *  *  *
Thanks, Jim! And come back next Friday for more from Jim Korkis!
In the meantime, check out his books, including his latest, Disney Never Lands, and about planned but unbuilt concepts, and Secret Stories of Walt Disney World: Things You Never You Never Knew
, which reprints much material first written for this site, all published by Theme Park Press.


Follow yourfirstvisit.net on Facebook or Twitter or Pinterest!!
RELATED STUFF