Possible August Dates for Mickey's Not-So-Scary Halloween Party
By Dave Shute
While as of this morning, Disney World's official calendar only goes through July 20, August dates are beginning to leak.
One unofficial calendar that I have found to track quite well with actual operating hours shows the Magic Kingdom closing at 6p on the following August dates:
Thursday, August 13
Saturday, August 15
Tuesday, August 18
Friday, August 21
Tuesday, August 25
Friday, August 28
The odds are pretty high that the last four represent dates for the 2020 version of Mickey's Not-So-Scary Halloween Party ("MNSSHP"—for more on this party, see this), as they are fully consistent with the 2019 pattern, and largely consistent with the 2018 pattern.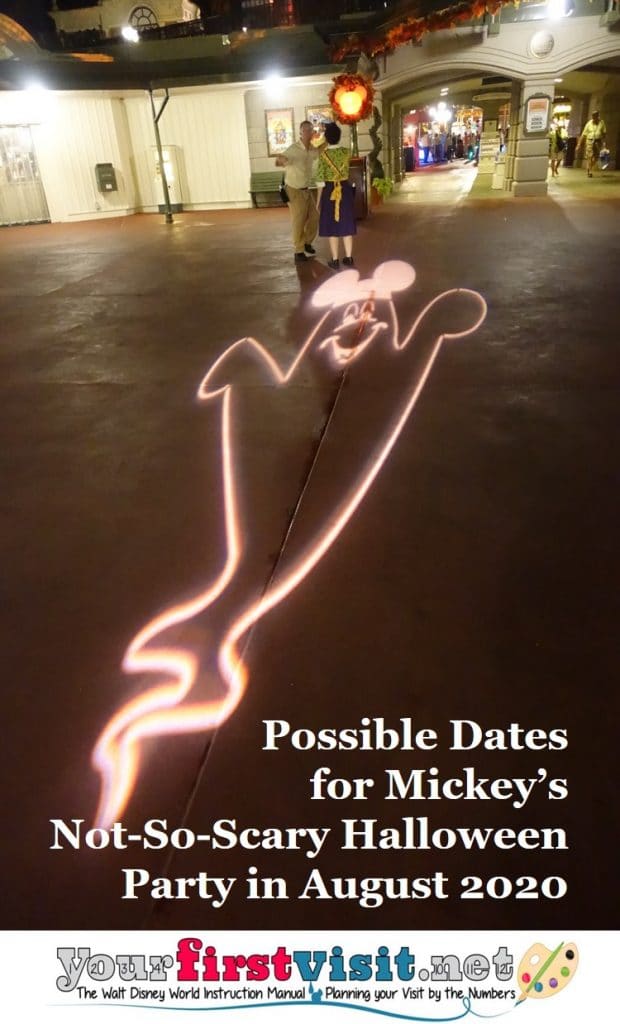 The first two dates are off pattern—based on 2018 and 2019, one would have expected to see the first Party Friday the 14th, not Thursday the 13th, and Saturday parties are quite rare—I can recall seeing them only at the end of October.
Moreover, if both these are parties, there would be an unprecedented six parties in August—compared to five in 2019, and four in 2018. But I would not read too much into this, as a way for Disney to grow earnings year over year is to have more parties.
Magic Kingdom closes at 6p for reason other than parties—for cast member appreciation events, and, more rarely, if a big-pocketed convention is in town and buys out the park for the evening.
Based on all this, I'd put the odds at greater than 90% that the last four dates will be the 2020 version of Mickey's Not-So-Scary Halloween Party, about 80% that the first date will be, and about 50-50 that the Saturday date will be.
The party dates for 2019 were announced on Tuesday, January 15, 2019, so we may get the official answer to this quite soon.
(Update February 9–the Disney calendar is now out through 8/17, so the first two 6p closes are official–although the official 2020 party dates have not yet been released.  For thoughts on September dates following the same approach, see this.)

Follow yourfirstvisit.net on Facebook or Twitter or Pinterest!!
RELATED STUFF