Review: Mickey's Not-So-Scary Halloween Party 2019
By Dave Shute
MICKEY'S NOT-SO-SCARY HALLOWEEN PARTY 2019
Mickey's Not-So-Scary Halloween Party ("MNSSHP") is a special, separately ticketed party that happens on certain nights every September, October and some years–like 2019–even early November at Magic Kingdom at Walt Disney World.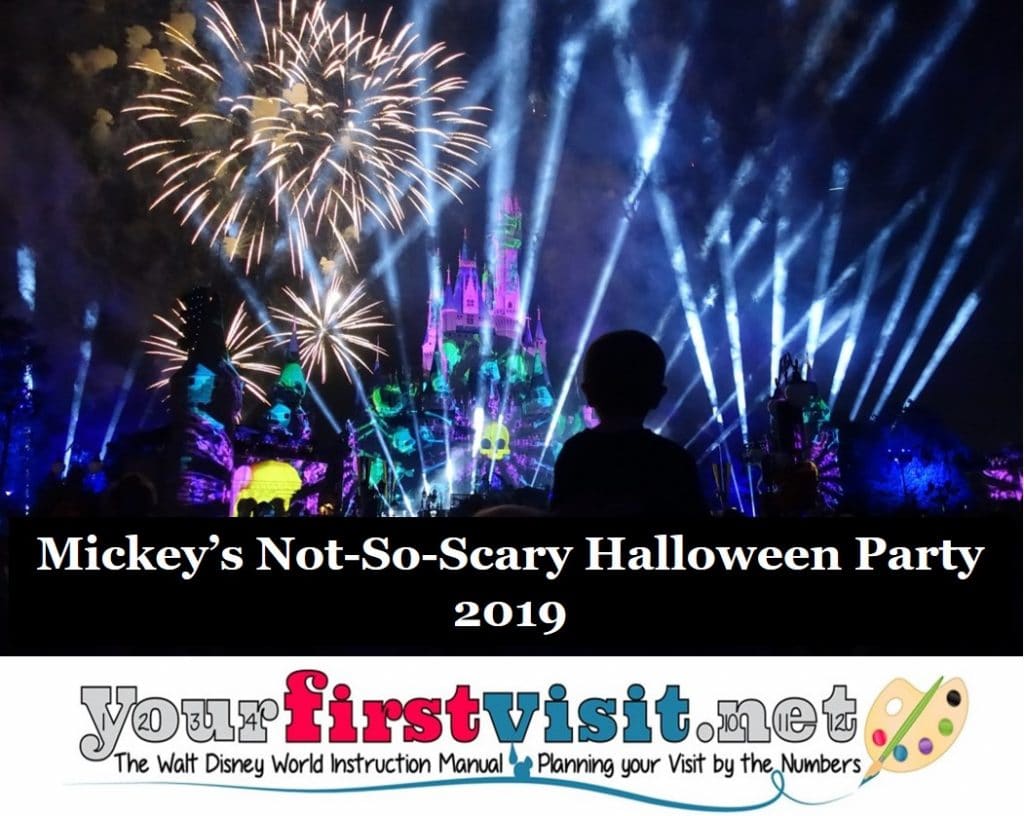 At the party you will find un-crowded rides, a special parade (shown twice, at 9.15 and 11.15p), special fireworks at 10.15p, a Hocus Pocus show, trick-or-treating, a dance party…and a ton of guests in costumes!
I had a chance to see it again in mid-September 2019, and the scoop follows!
(See this for more on logistics–Mickey's Not-So-Scary Halloween Party dates, ticket prices, etc.)
WHAT'S NEW FOR 2019 AT MICKEY'S NOT-SO-SCARY HALLOWEEN PARTY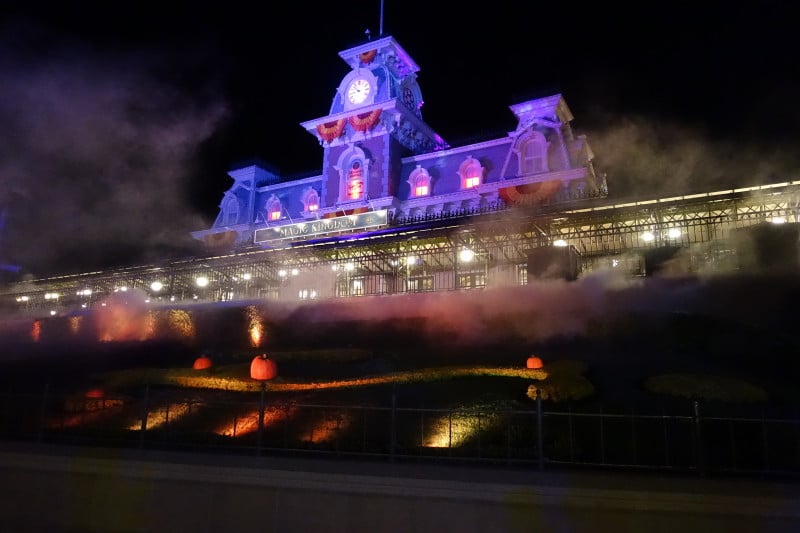 The 2019 party pretty much follows the pattern set in 2015 and continued since. The most important change over the period is that the first parade is later.  This limits a bit the crowds in the hub during the first part of the party. You will still see crowds everywhere–ride waits are low to very low but the paths are mobbed.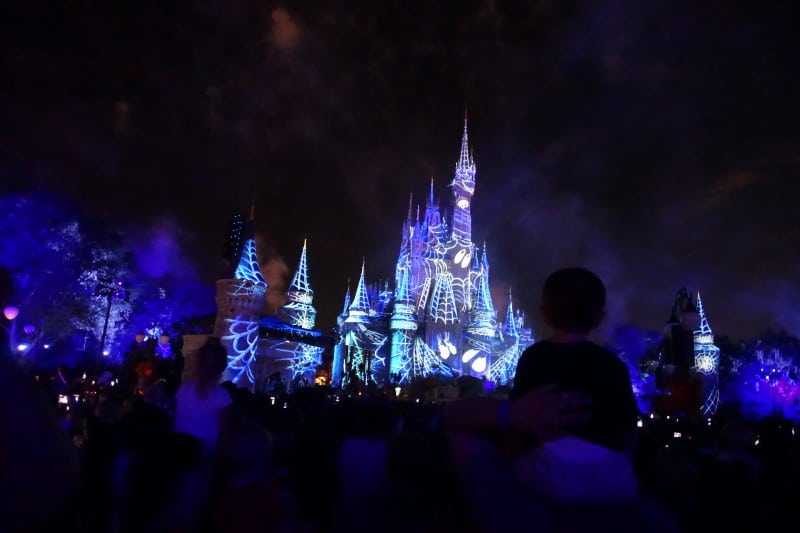 The big change for 2019 is a new fireworks and projection show, Disney's Not So Spooky Spectacular, replacing the old Hallowishes. There is a lot to like with the new show, but I liked the Hallowishes finale much better, and, because of the projections, you really need to be in the hub–with 15,000 of your twitter followers–to see it at its best.
In 2018, three rides were "plussed" for the party" and Pirates of the Caribbean is much better plusse din 2019 than it was in 2018.  I don't want to give anything away–just ride it and let me know what you think.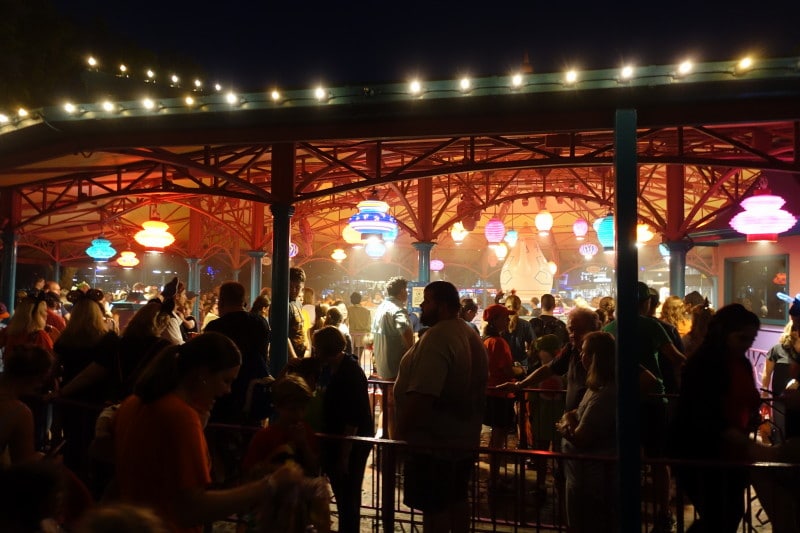 The Mad Tea Party gained a different soundtrack, lights, and spooky smoke effects, greatly increasing its popularity–except with me.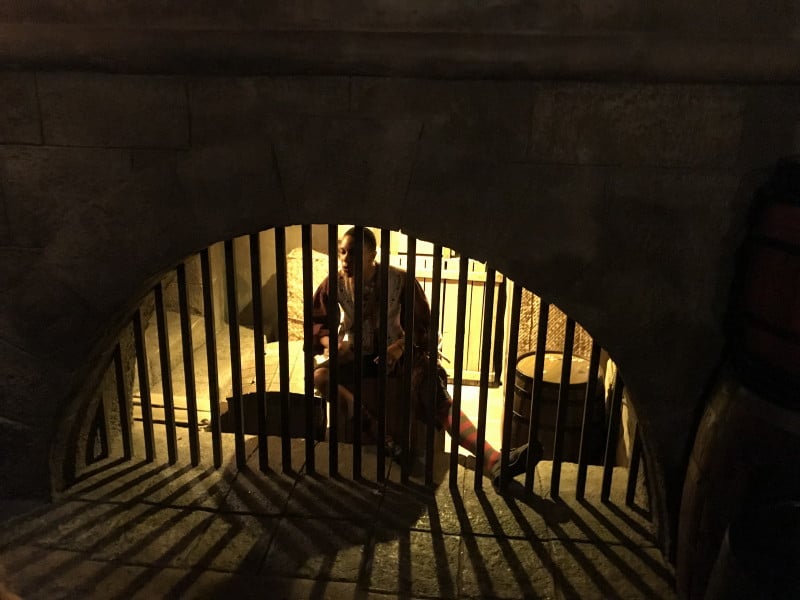 Pirates of the Caribbean gained some live characters…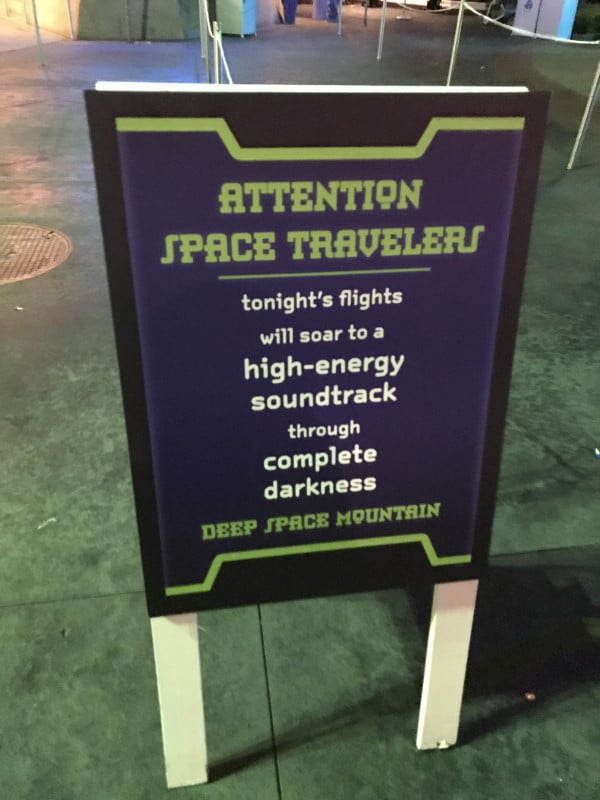 Finally, the experience of Space Mountain really changes with a near blackout of the ride.
A big part of the fun of Space Mountain has been not being able to see what comes next–and a refurb a few years ago made the ride even darker (though not everyone is a fan). For the party, we have something different–a near black-out.  All lighting effects are turned off, objects formerly lit are now dark, there's no stars in the sky.  All you can see is a few red dots here and there and some distant "EXIT" signs.
The effect is to make Space Mountain much more scary than before–as testified to by the quite louder screams, mostly of joy, you will hear while riding it. (Note that I did not ride Space Mountain this year, so my description is from last year.)
One reviewer innocent of analytical skill recently posed hat the plussing of these rides reduces crowds by pulling people into their lines. Hint: lengthening the lines of three rides by about ten minutes each is not enough to reduce the all-night pressure on the hub…
The best approach to the Party remains the same–skip the character meets, defer trick or treating until later, see rides until the fireworks, and watch the second parade rather than the first. If you do this will avoid crowds (except in the hub and around the parade route) and have a fun evening.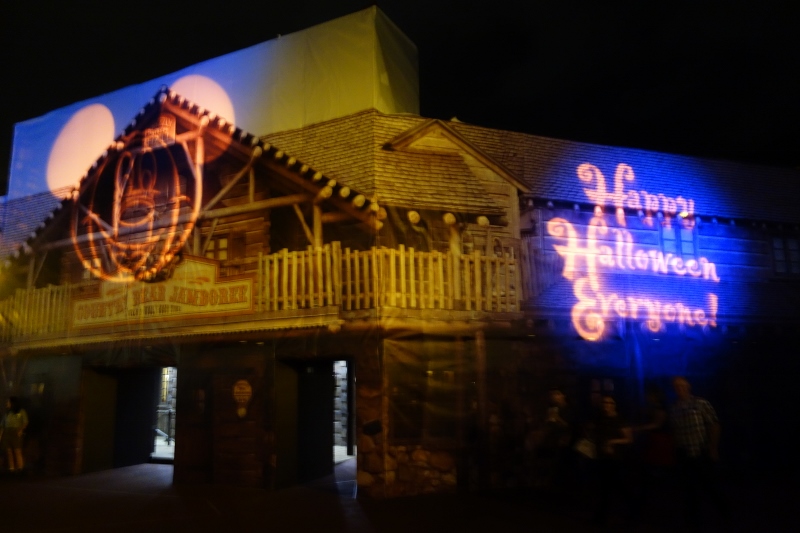 But because of the crowds remaining after the 9.15 parade, it will be hard to get to the hub to see the fireworks and projections from there. See my images later in this review to see how much the projections and such might appeal to you.  My advice is to make your way to the hub as soon as the first parade has passed through, a little before 10p.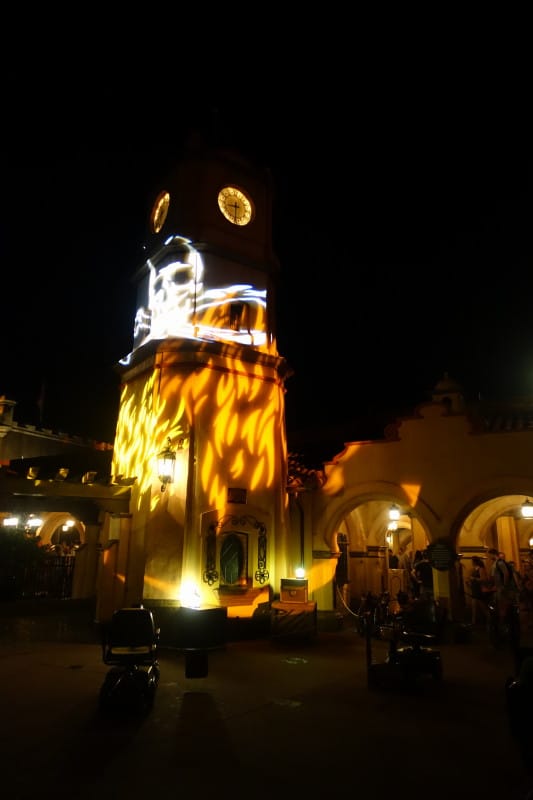 So do rides until just before ten, find a fireworks spot in the hub and see them, then see the characters and go trick or treating, see the 11.15p parade, and see the midnight Hocus Pocus show. A late night.
COSTUMES AT MICKEY'S NOT-SO-SCARY HALLOWEEN PARTY
Costumes are not required, and not everyone wears them. But even after the increased security that began in December 2015, they are still allowed at the party.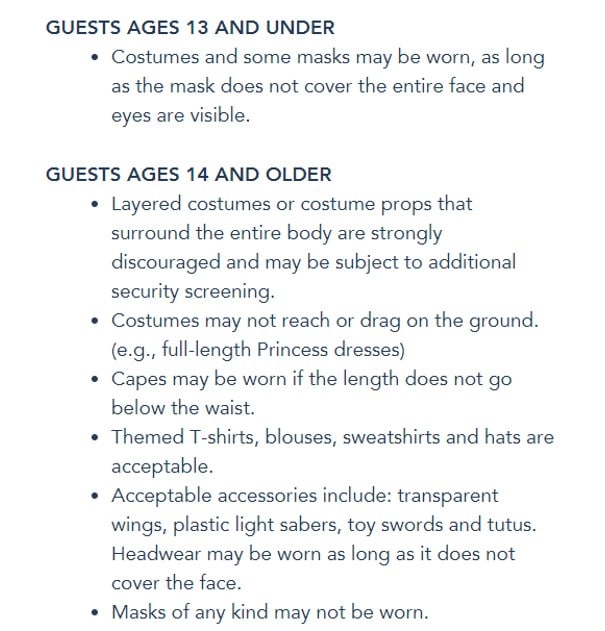 Above is the official Disney lingo (click it to enlarge it). Note that these guidelines are solely for the Halloween Party.  "Regular" attendance is subject to different rules, basically ruling out costumes for those 14 and older.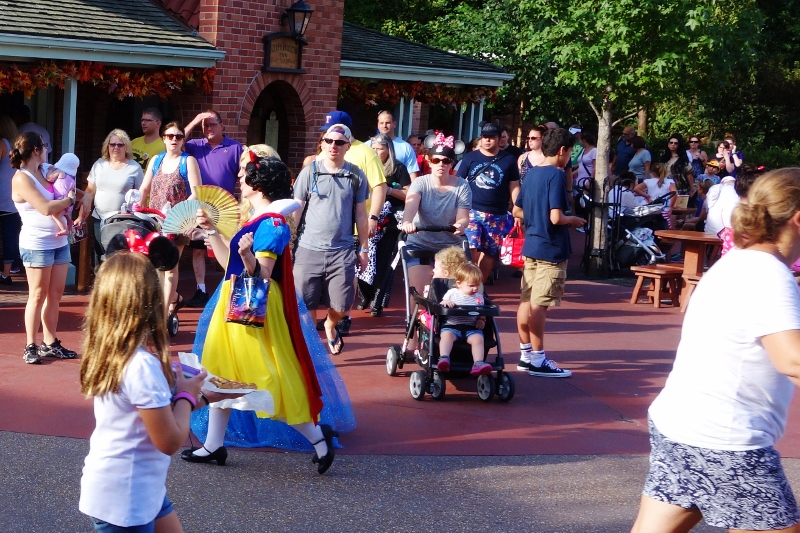 The most common costumes continue to be princess costumes and pirate costumes, and after that Star Wars costumes.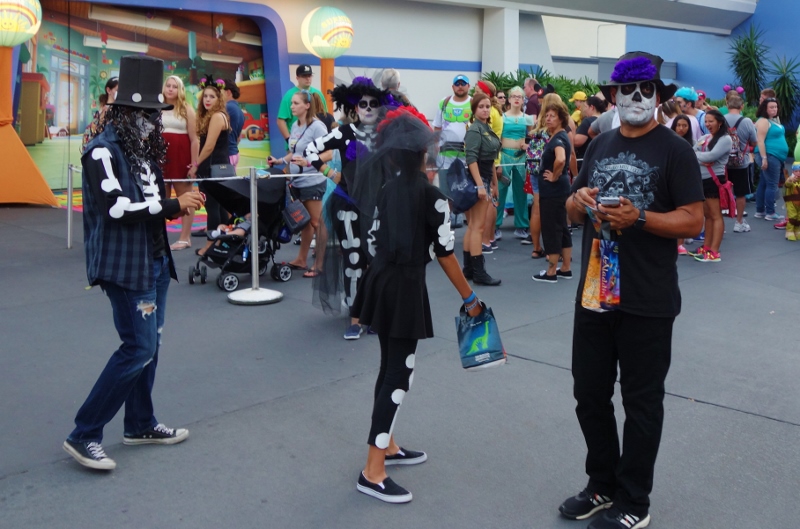 And this group in Tomorrowland proved a Disney princess theme was not required!
THE PARADE, FIREWORKS, DANCE PARTY, HOCUS POCUS SHOW AND TRICK-OR-TREATS AT MICKEY'S NOT-SO-SCARY HALLOWEEN PARTY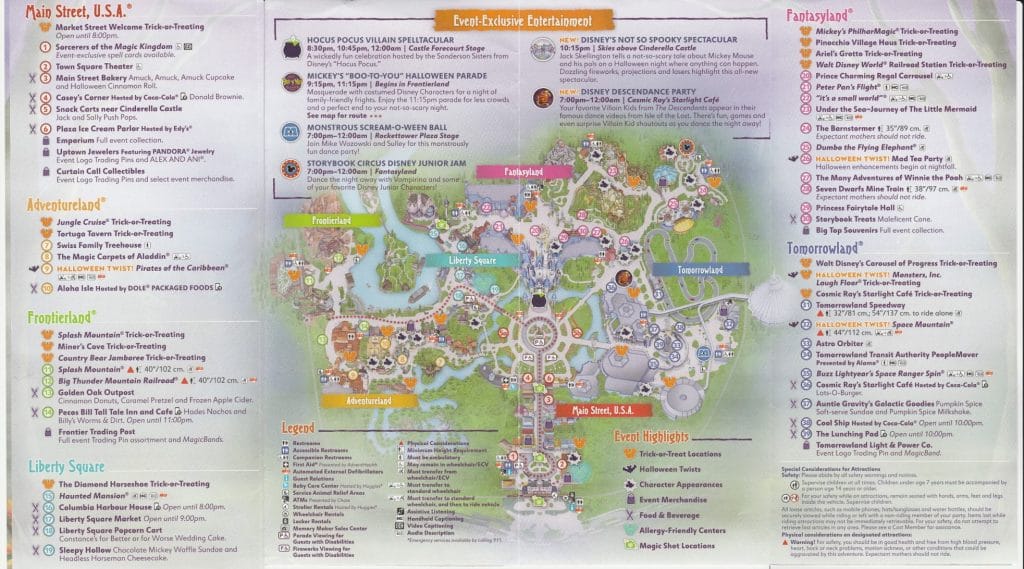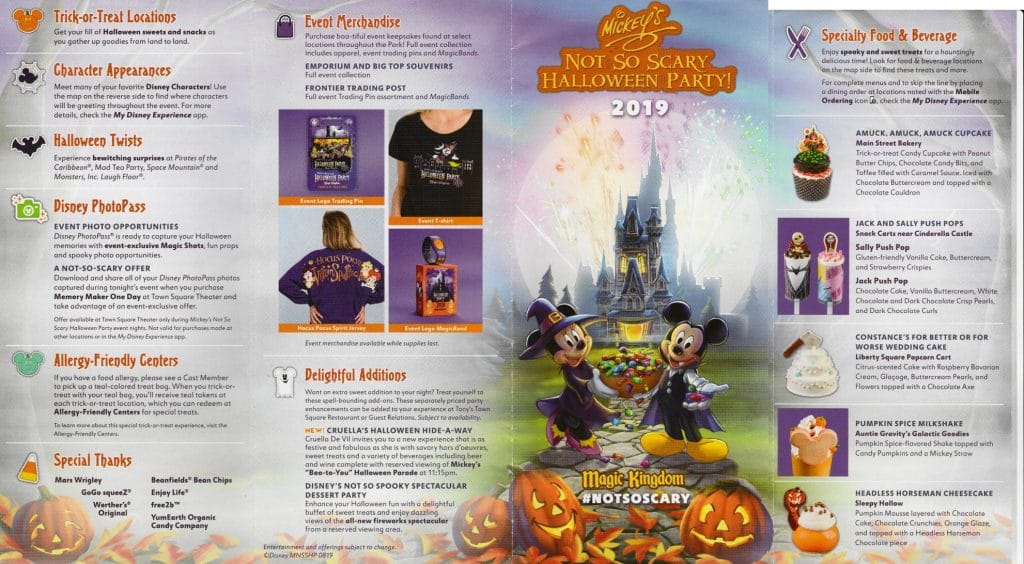 Besides most rides being open to short (or shorter) waits, MNSSHP has a special set of Halloween-themed activities (see above–click to enlarge it).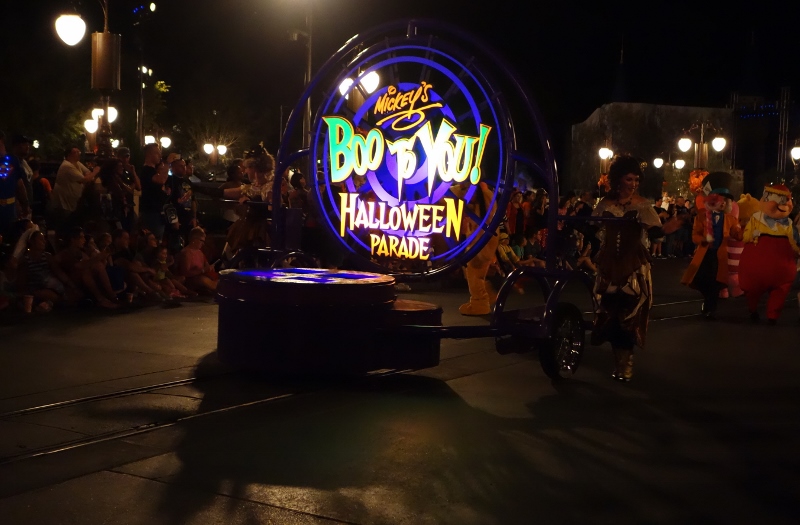 For example, the parade–Mickey's Boo-to-You Parade–is seen only at MNSSHP.
It begins with a surprise–pay attention when the cast members start to rope off the crosswalks (dampness on the streets may eliminate this first surprise).
Then a bunch of characters stroll by.
It then shifts to ducks and mice…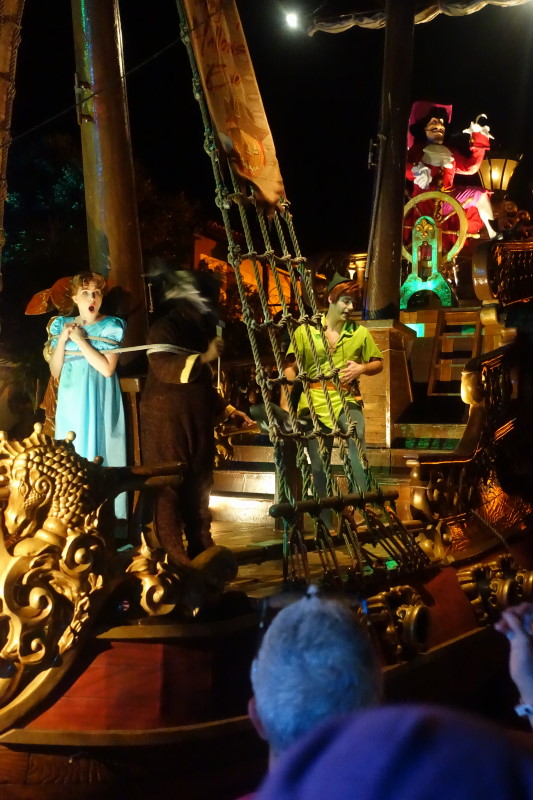 …then some pirates…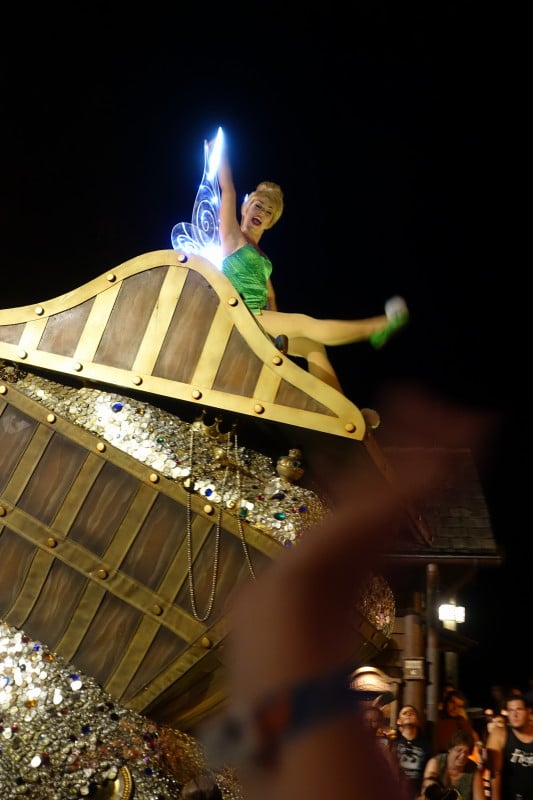 …a pirate friend…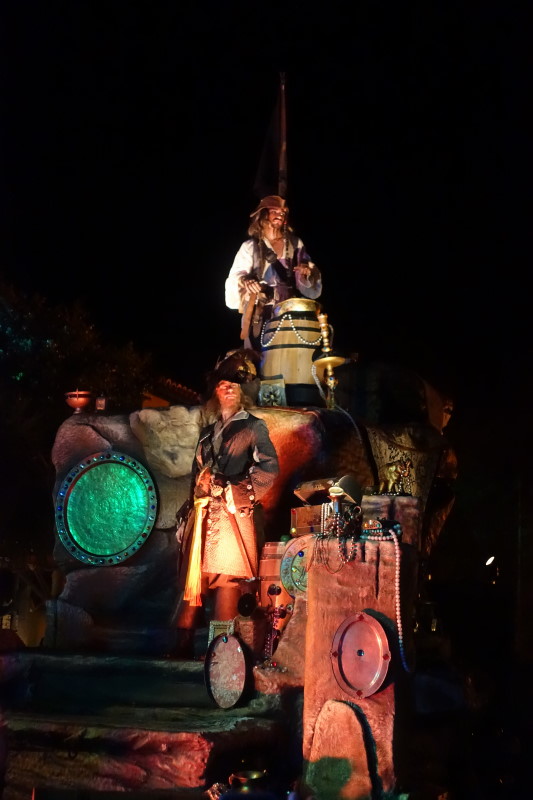 …more pirates…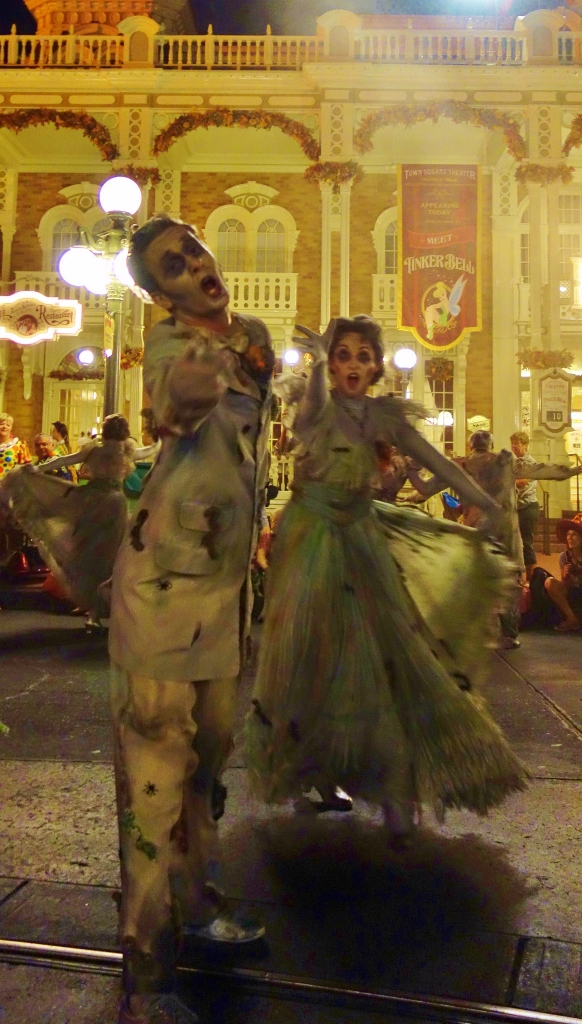 …but then shortly shifts to my favorite part, Haunted-Mansion themed dancing gravediggers and ghouls.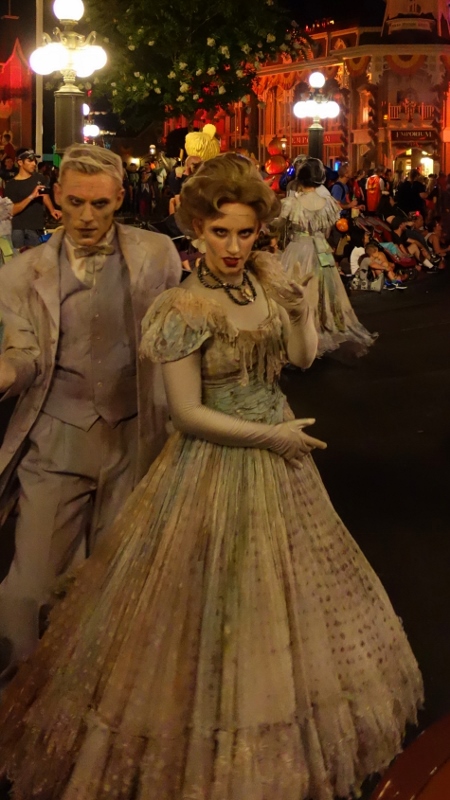 More ghouls.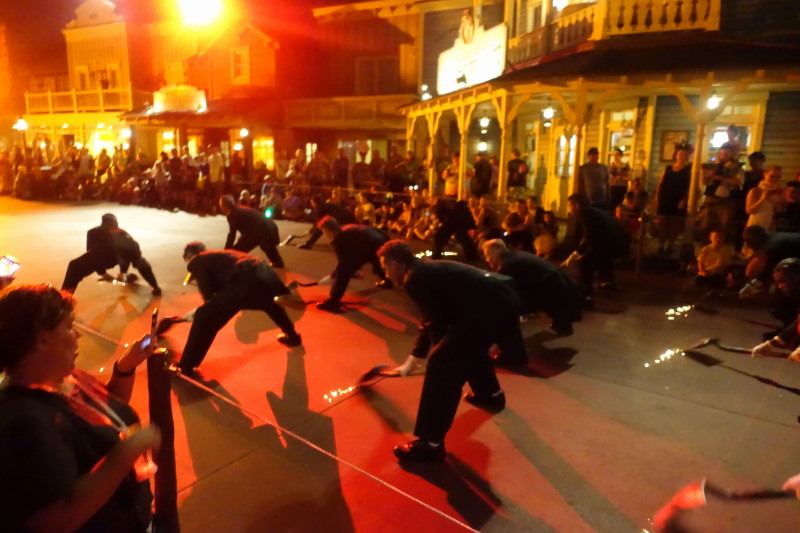 The gravedigger dance.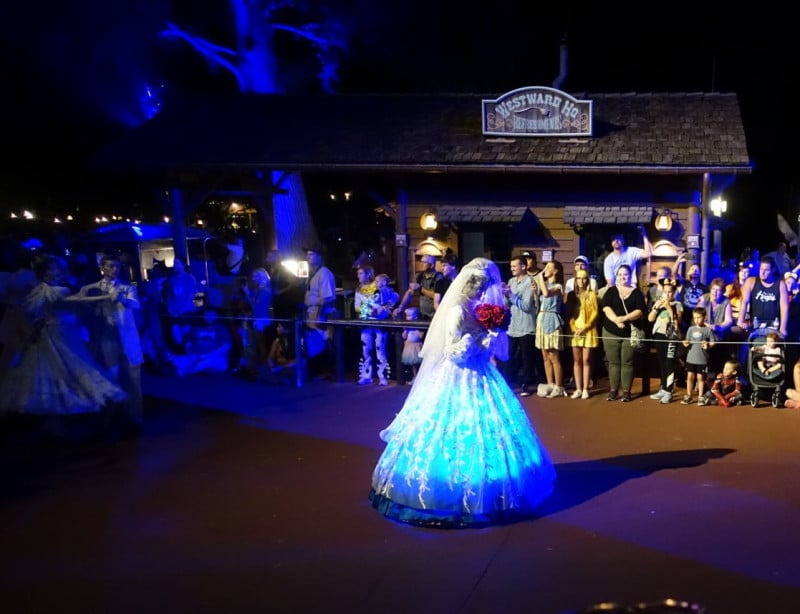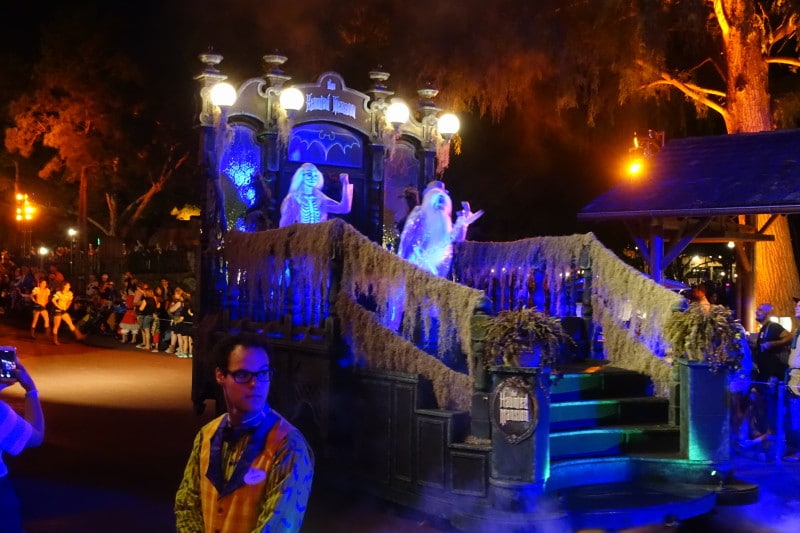 More from the Haunted Mansion.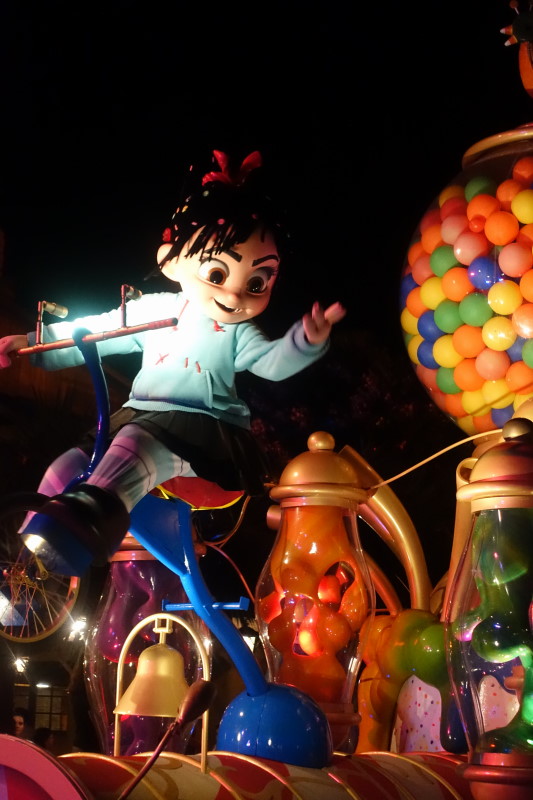 Soon comes candy…
…and added in 2019 more Pixar fun: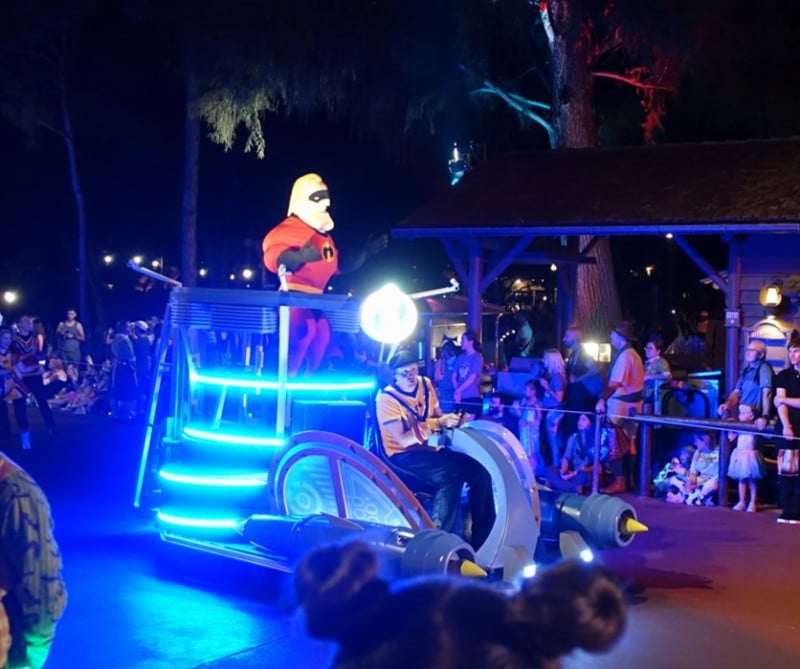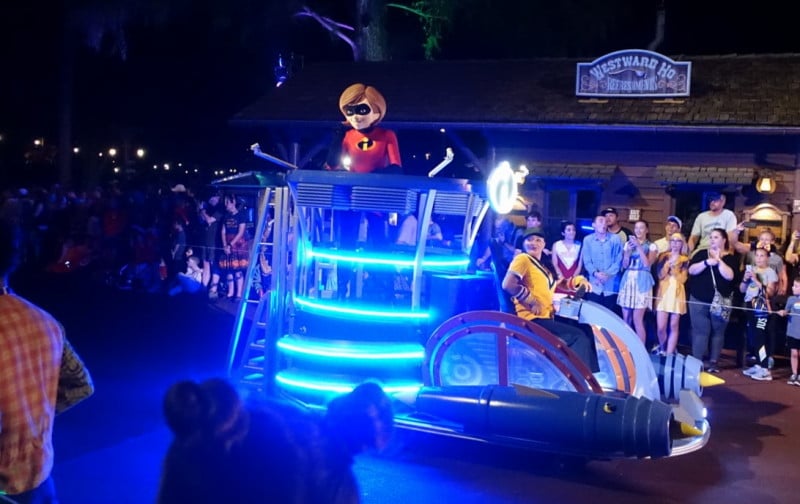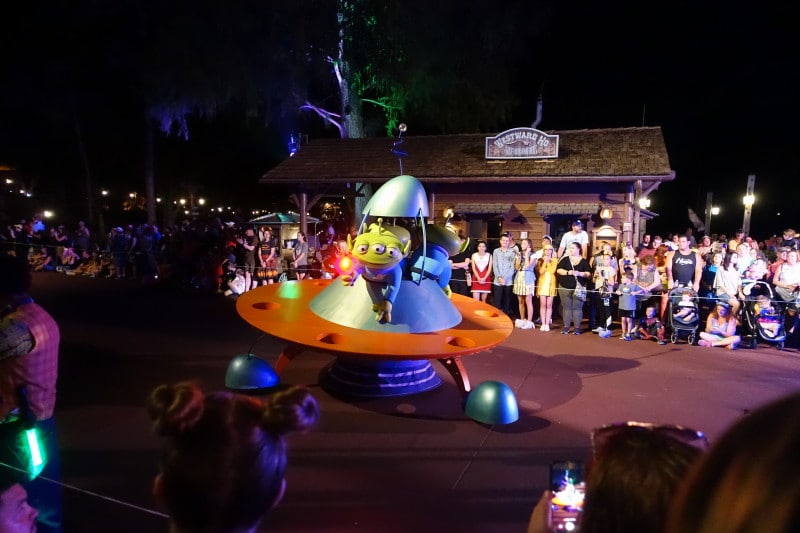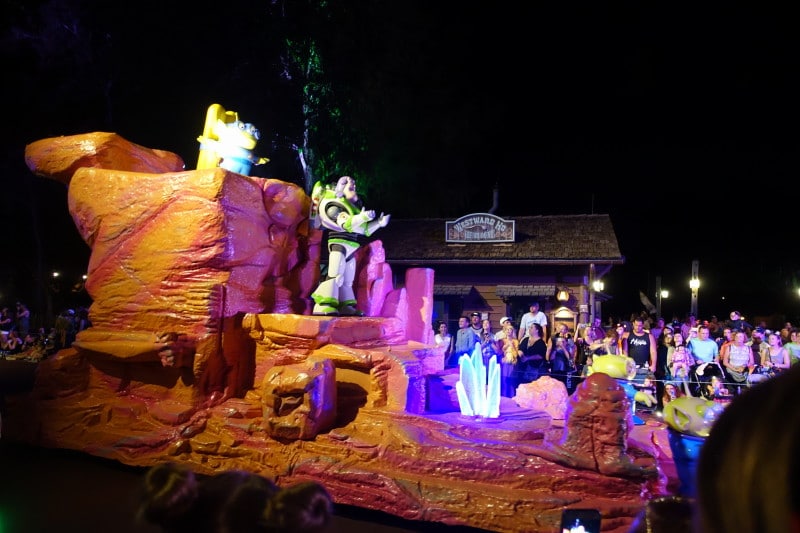 …then the parade goes back to scary, ending with Disney villains!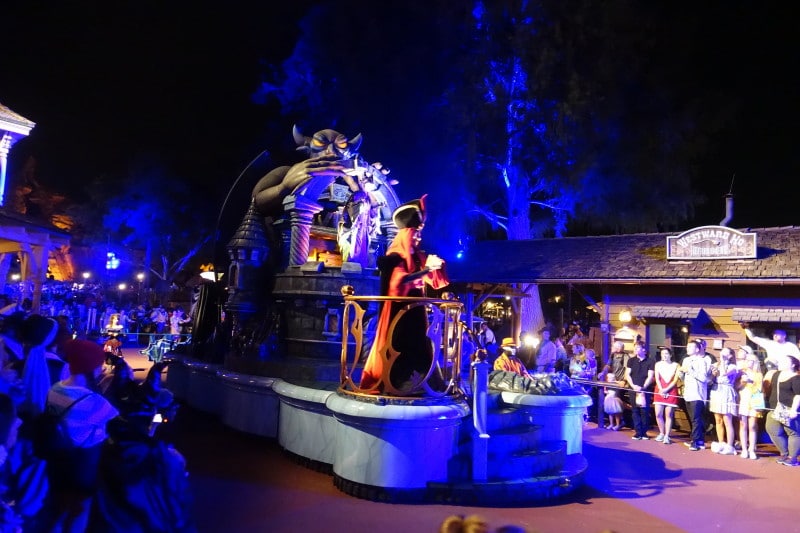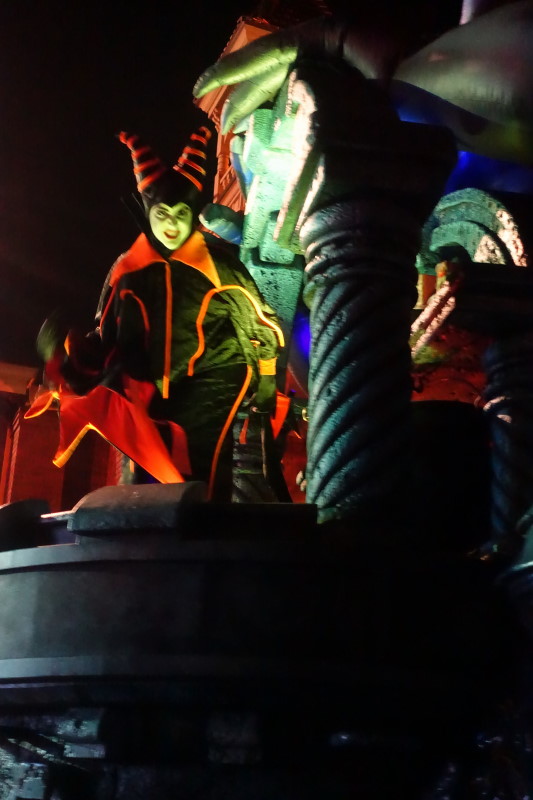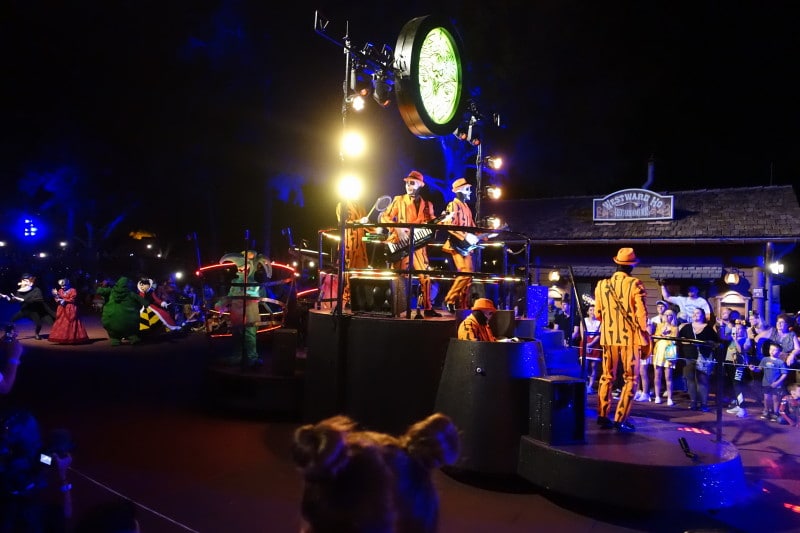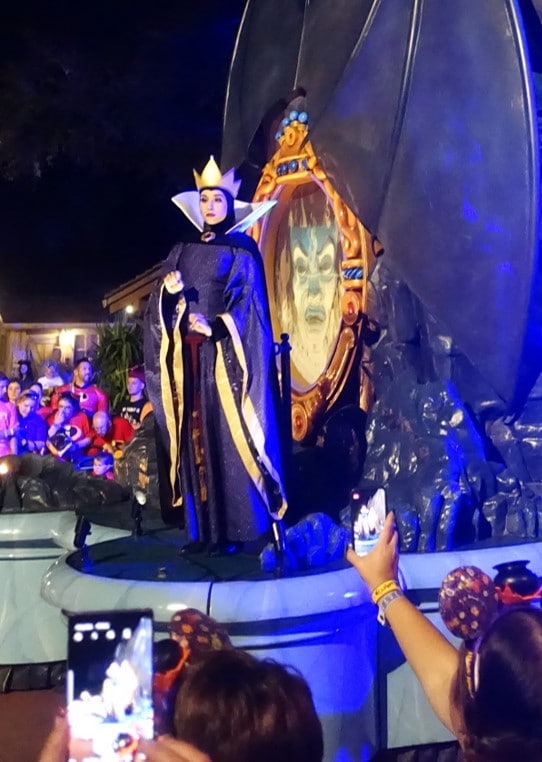 There's two showings of the parade, at 9.15p and 11.15p, with a Halloween-themed fireworks and projection show between at 10.15p.
The show is best seen from the hub, about halfway in.
Below are fireworks photos. Note the projections on the castle in particular.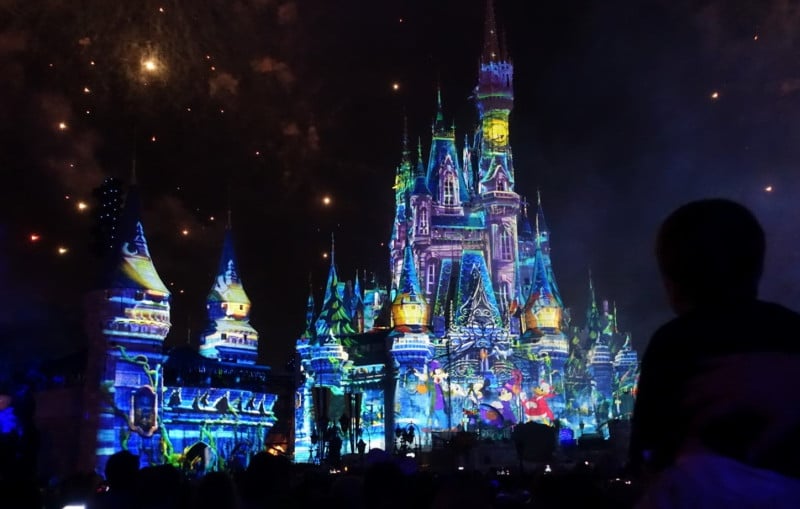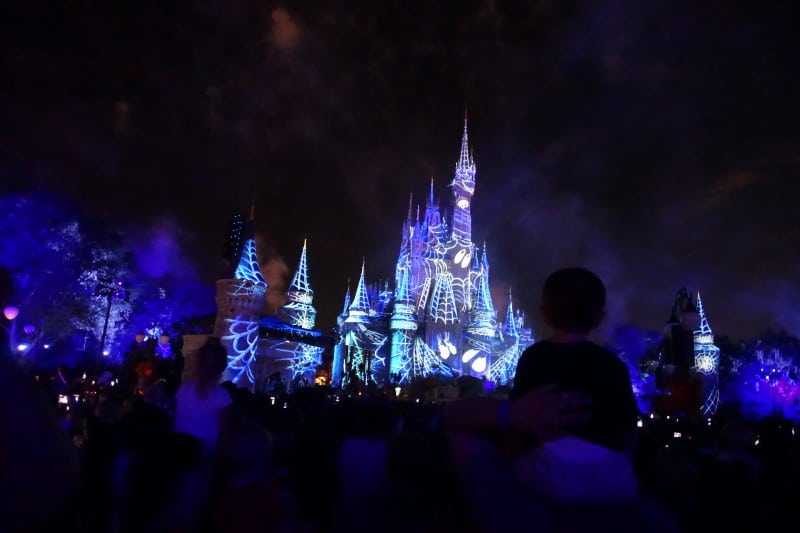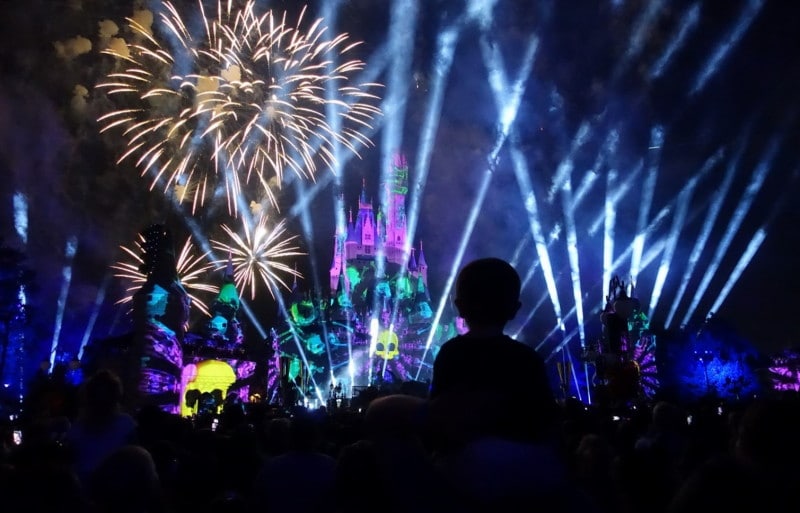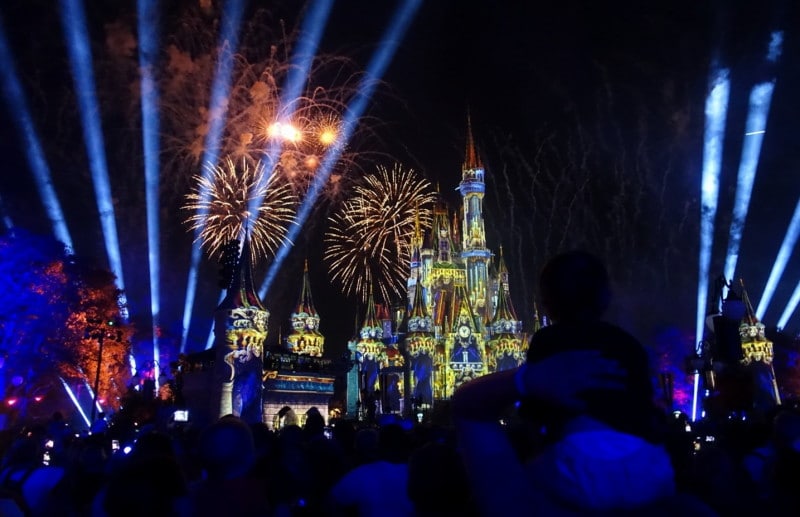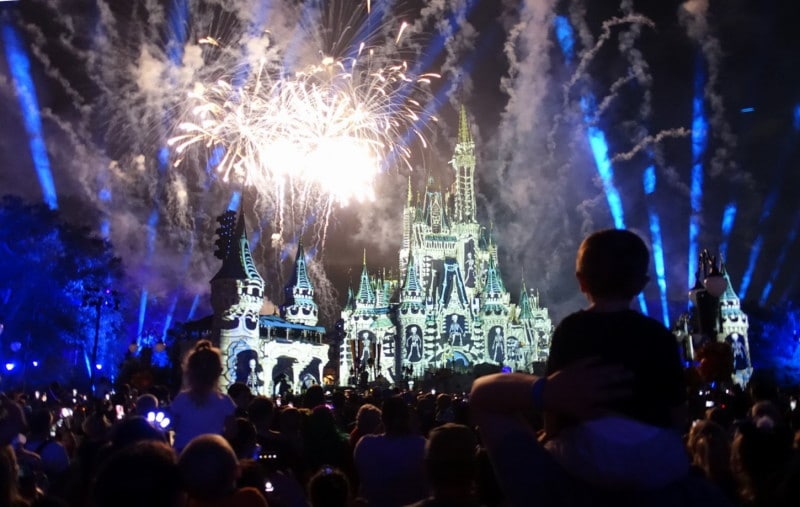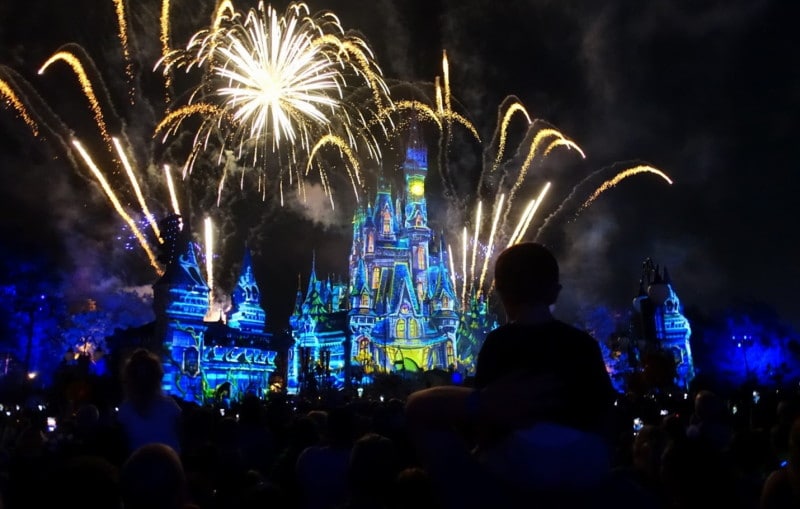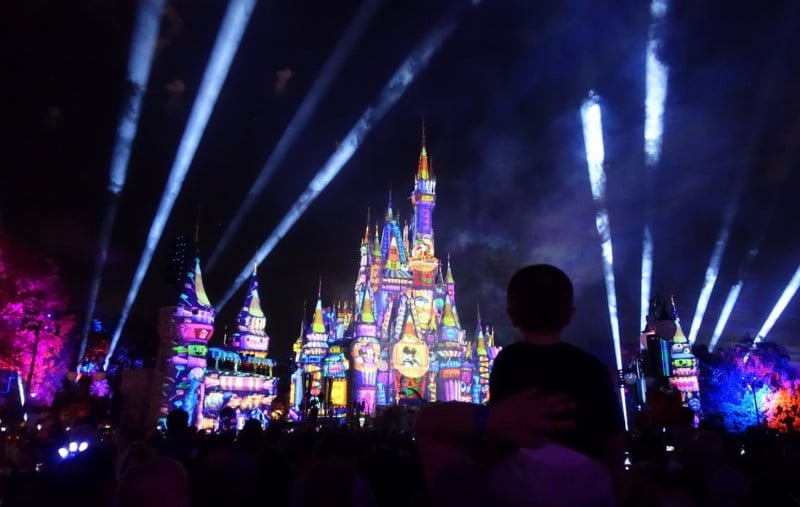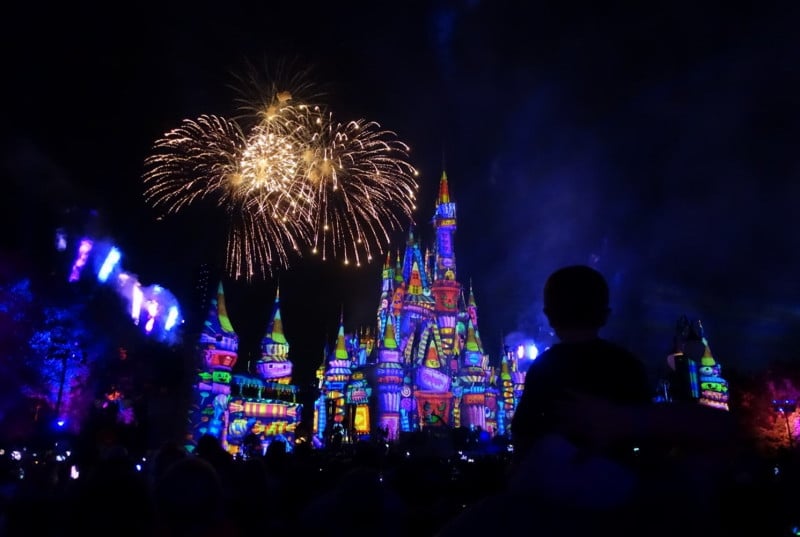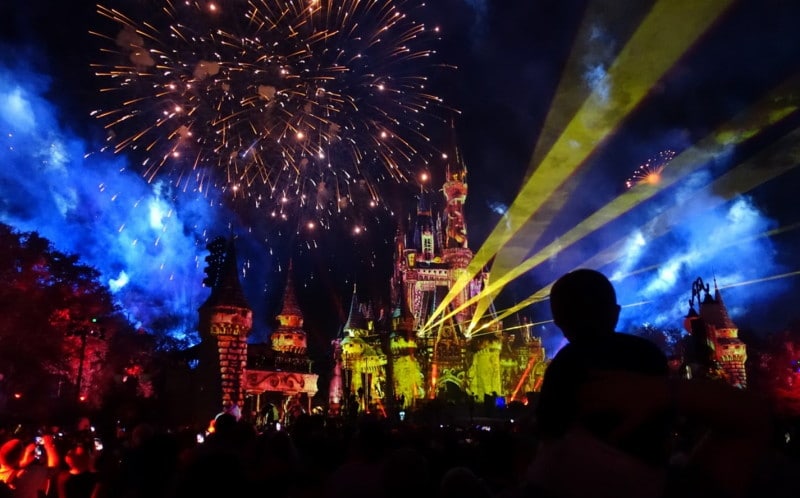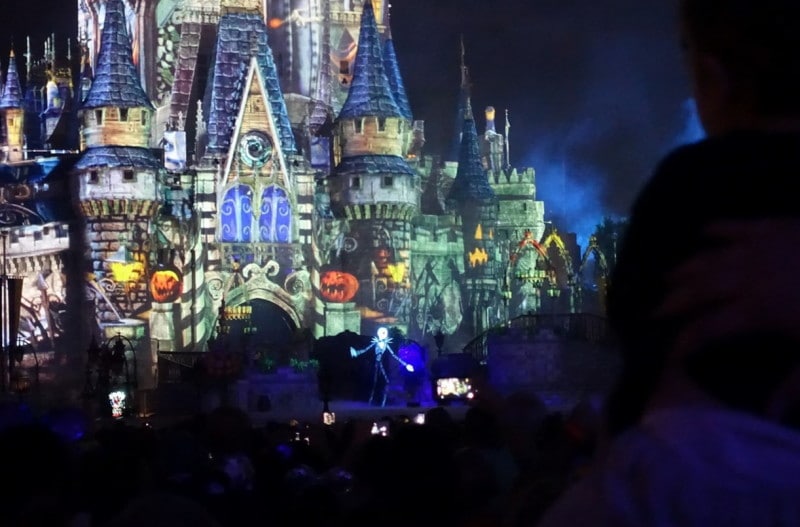 Also offered are some entertainments.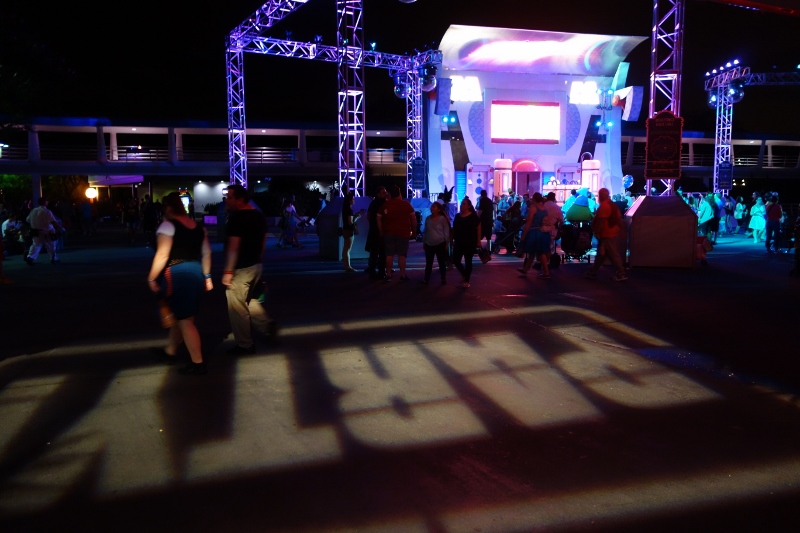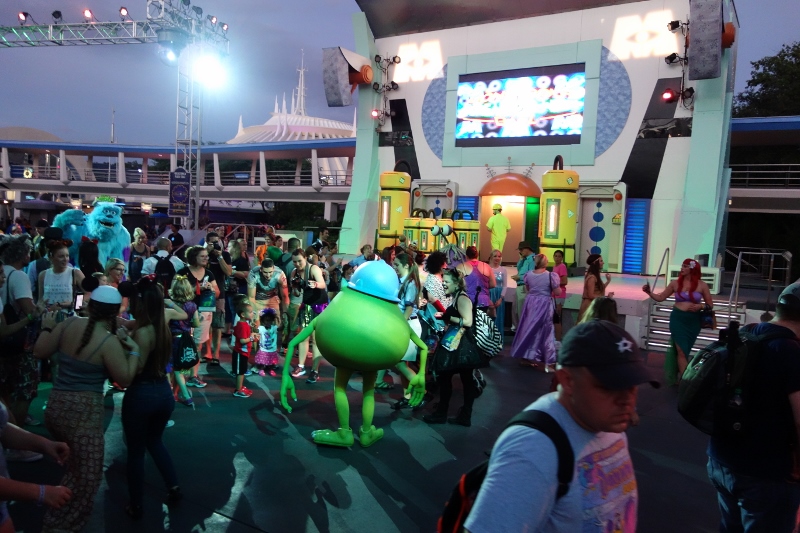 The Liberty Square dance party left years ago, but there's still an outdoor Monsters-themed dance party at the thingy between Astro-Orbiter and Space Mountain.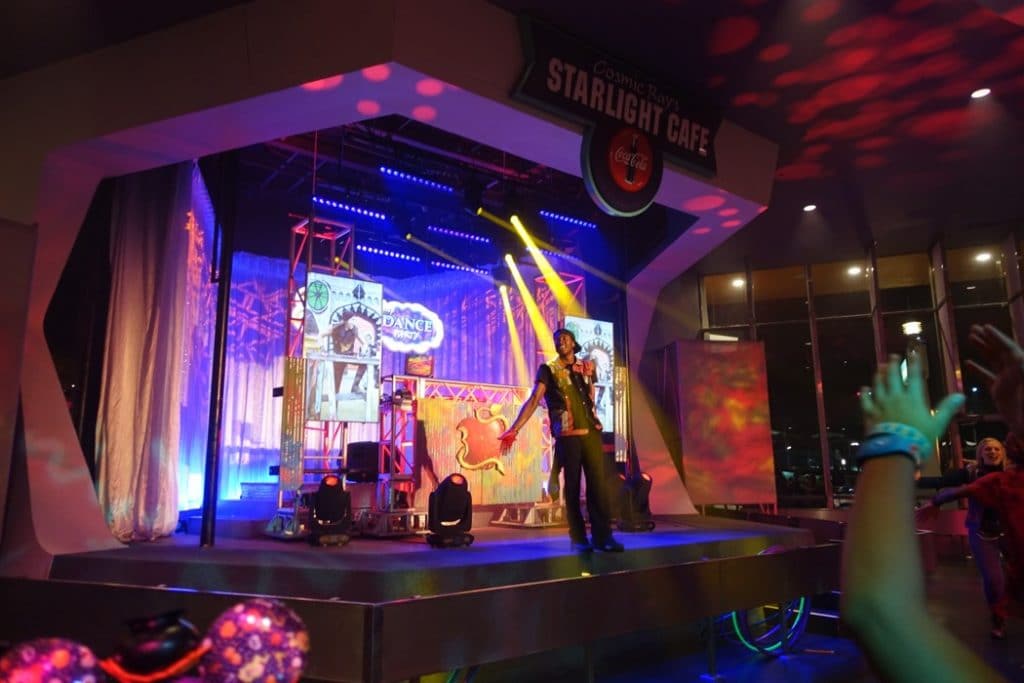 New for 2019 you'll find a Disney Descendants themed dance party in Cosmic Rays, which had a lot more energy than most prior parties in this space.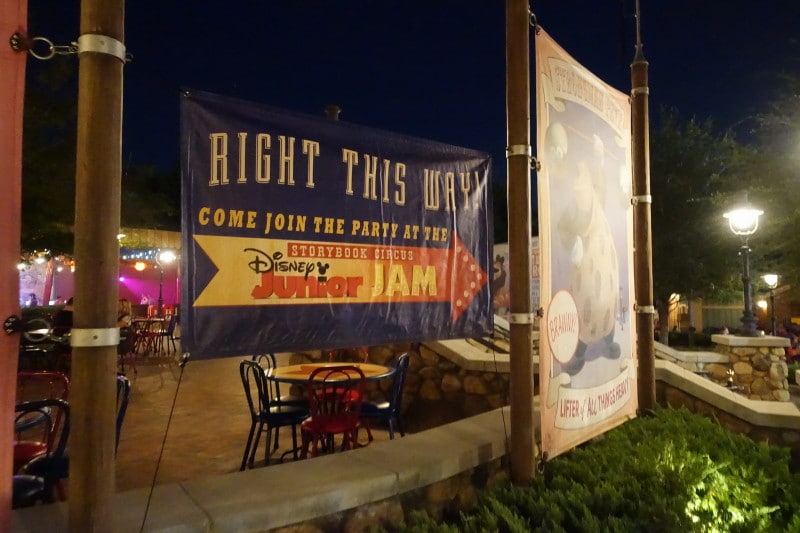 There's a Disney Junior dance party in Storybook Circus…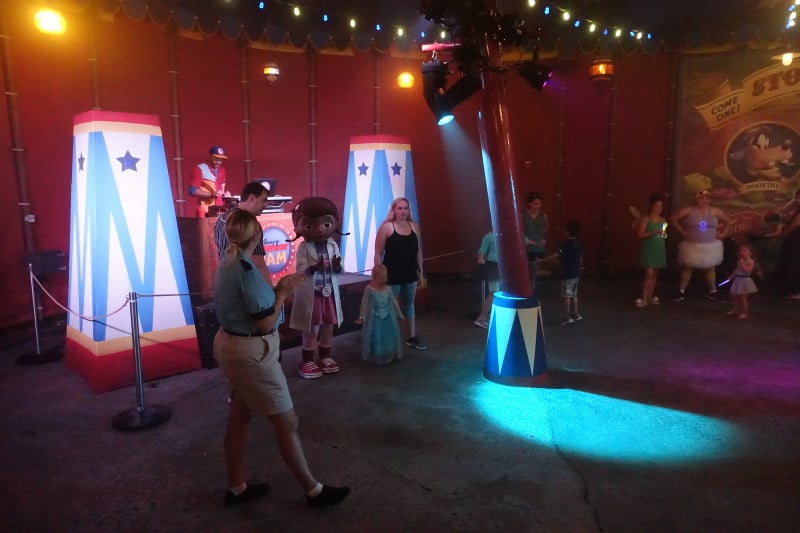 …not much attended, at least during my visit to it.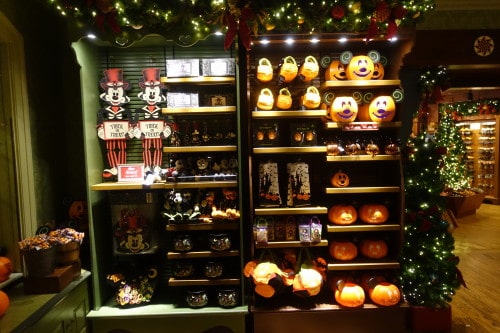 You'll also find lots of Halloween-themed merchandise.  Some is specific to the party (and may be sold out–see your brochure for locations) and the rest is generally available–including, somewhat jarringly, in the Christmas shop.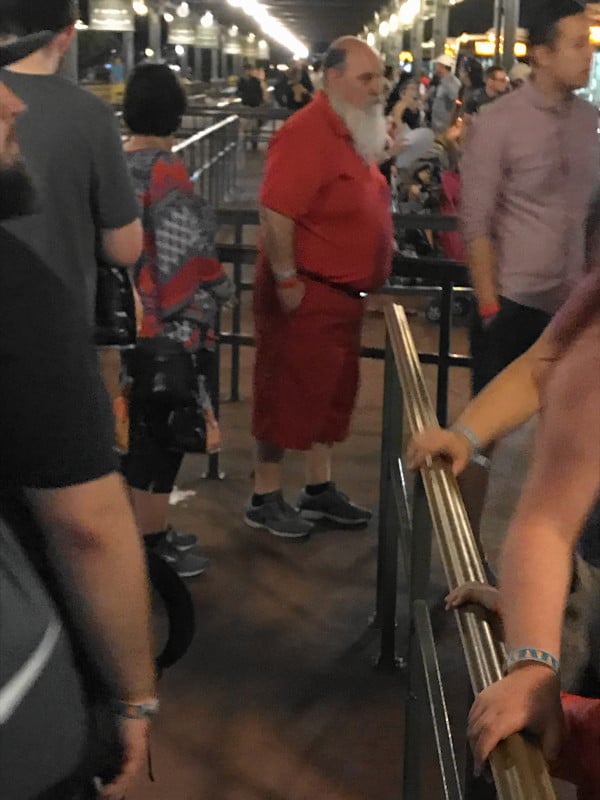 Although to be fair, it appeared that Santa Claus might have visited the party on holiday…I saw him in the Caribbean Beach bus line.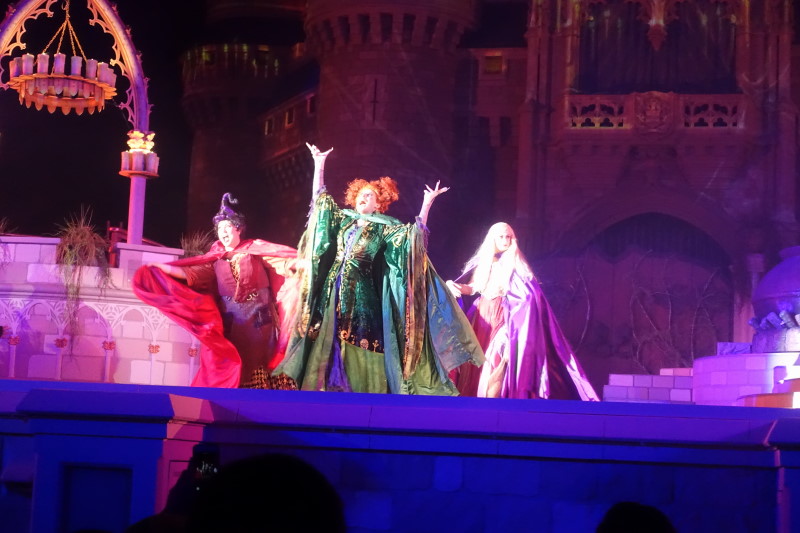 The Hocus Pocus show is quite popular.  The three sisters from the movie return…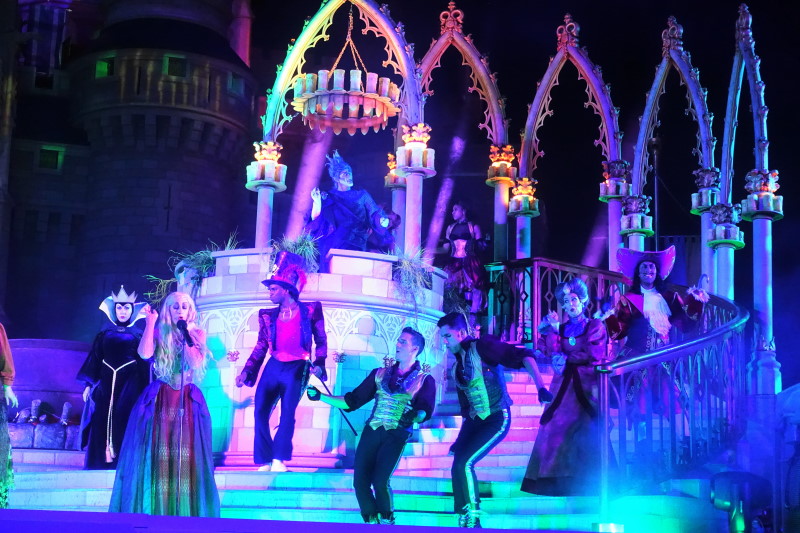 …and call on hordes of Disney villains to help them stay.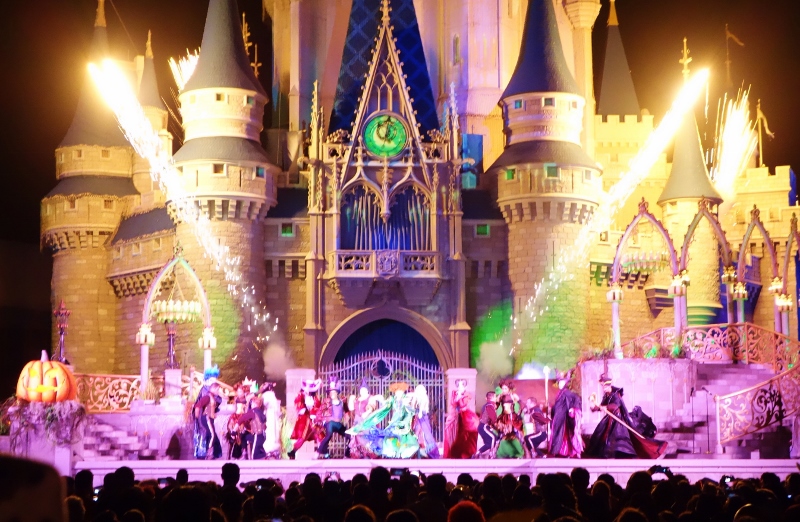 The show includes strong songs and dances, fun characters, and some spectacular effects. Those familiar with the movie need not get close to the stage (thought it can't hurt), but if you haven't seen it, the characters of the three sisters are much more apparent if you are closer to the stage.  This is easier at the midnight show, not so easy at the earlier shows.
Character meet-n-greets are all over the place–with both common and unusual characters.
Some more characters: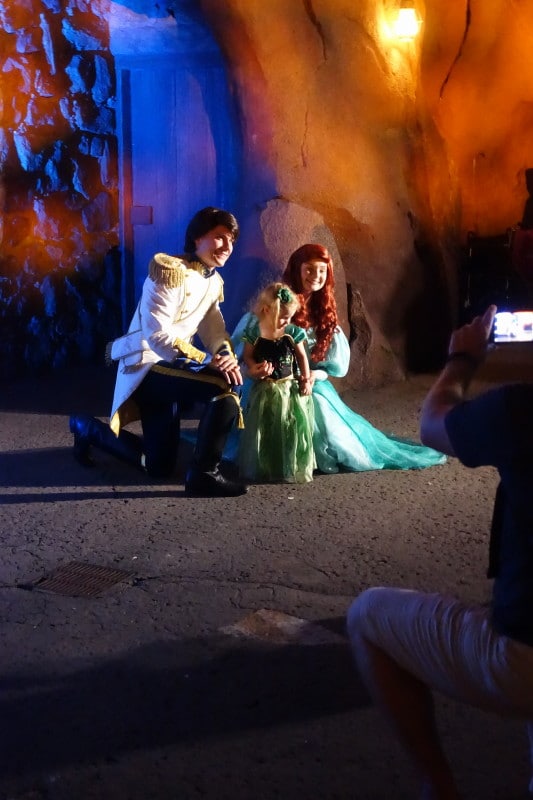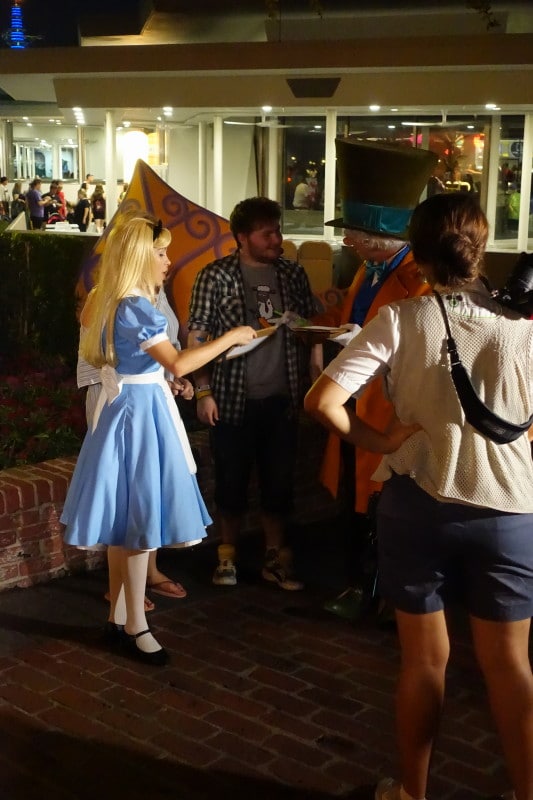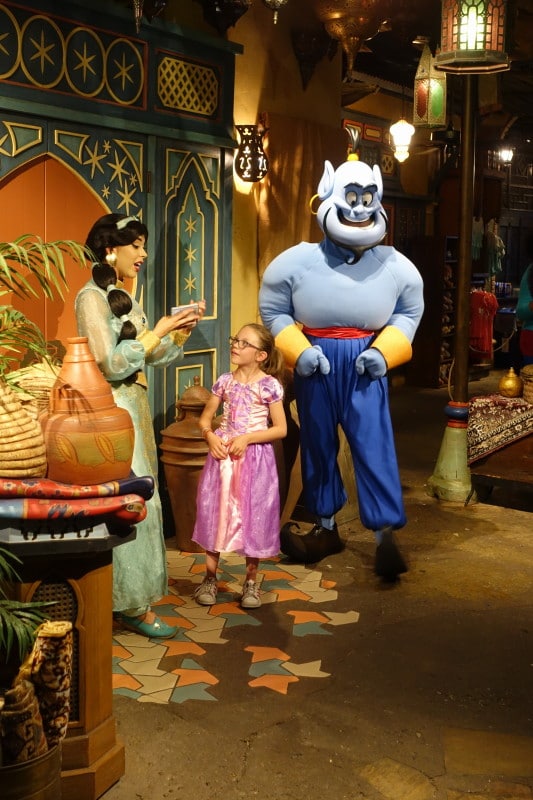 There's also a ton of trick or treat locations, marked by lighted columns.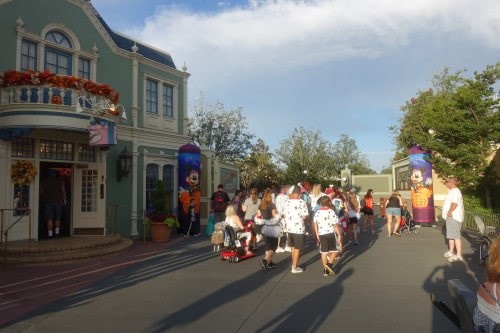 Get your trick-or-treat bag on the pathway that begins at the left of Town Square…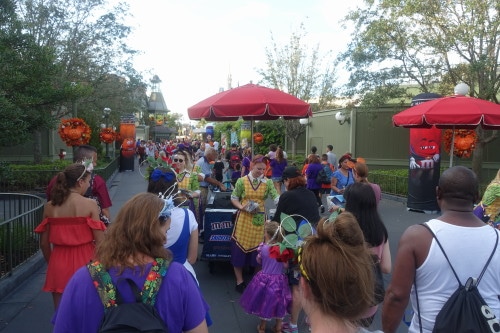 …and your first handful of candy, too.
But both the characters and trick-or-treating raise an issue.
STRATEGY AND RIDES AT MICKEY'S NOT-SO-SCARY HALLOWEEN PARTY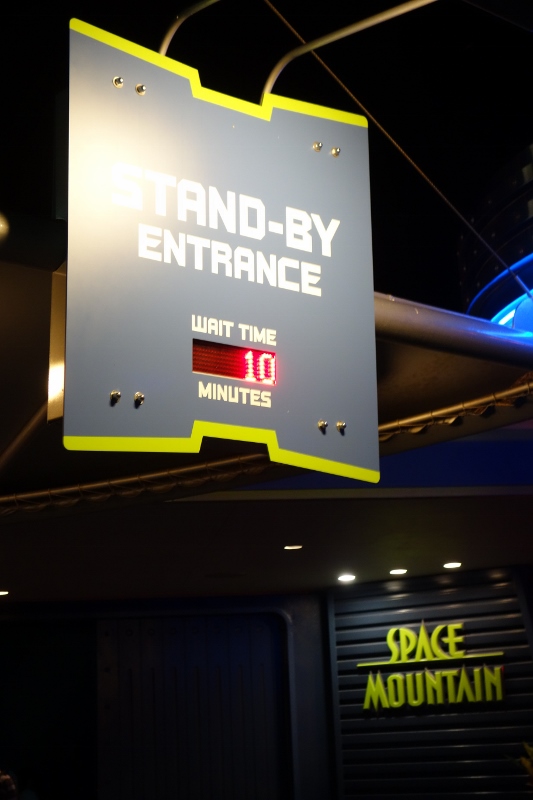 All the major rides are open, and many minor rides as well. Most have very short waits–e.g. 10 minutes for Space Mountain. Typically, only Peter Pan and Seven Dwarfs Mine Train have annoying waits.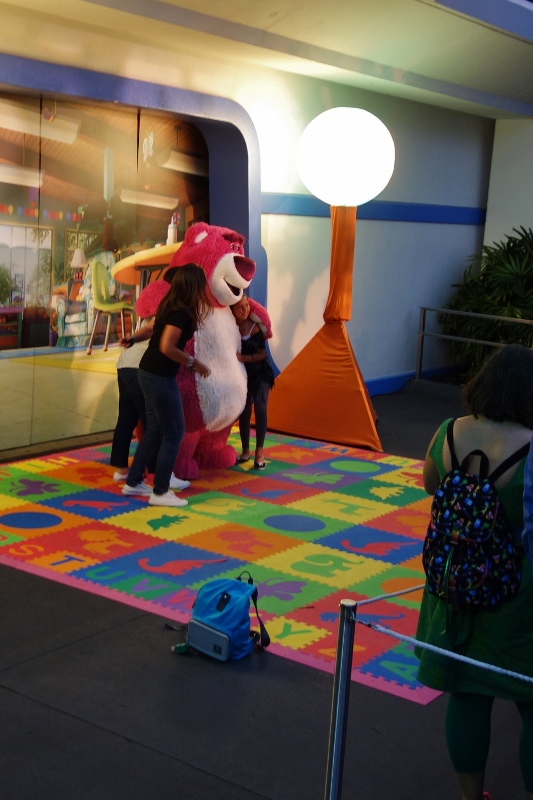 The trick-or-treat spots and especially the character greetings, on the other hand, have pretty long lines, and the hub is packed all evening.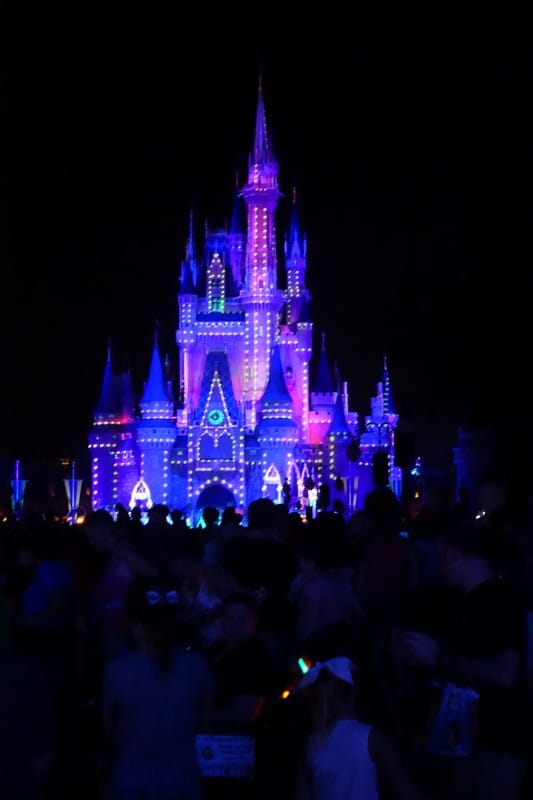 So the best approach is to skip the character greetings and trick-or-treats–or delay them until after the fireworks–and spend the first part of the evening on rides.
Do rides until 30 minutes or so before the 10.15p fireworks show, head to the hub then, and watch it.
Now try trick-or-treating or character meets. Then see the second (11.15p) parade and the midnight Hocus Pocus show.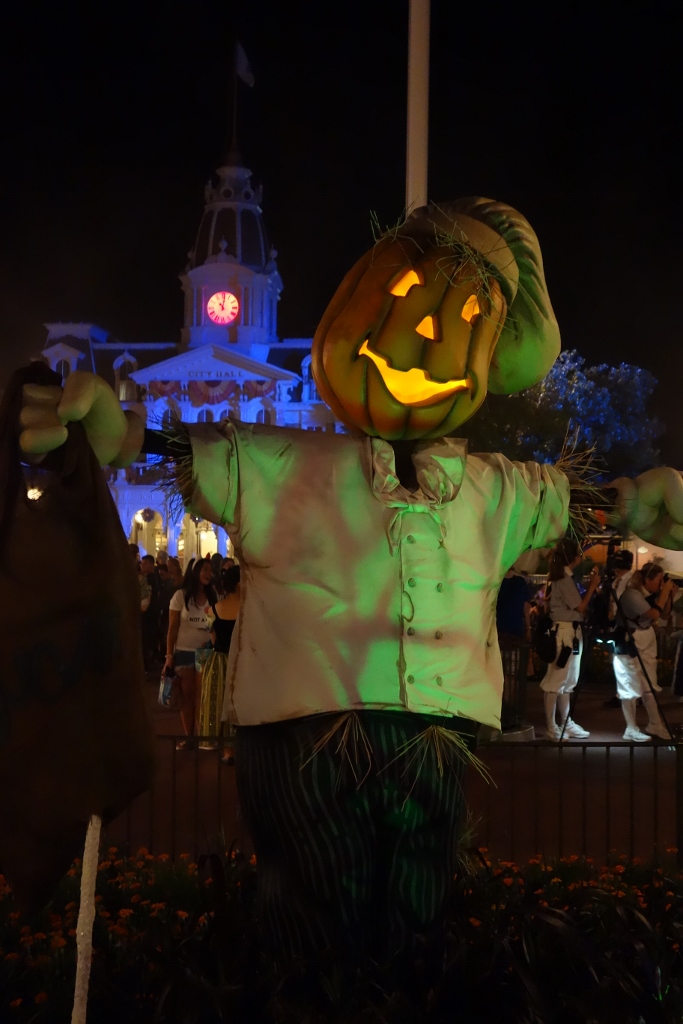 I struggle with whether or not this party is worth the money for first-time family visitors who may never return.
It's quite expensive–for a family of four, well over $300, and even over $400 on many dates. And it's just a five hour show (7p to midnight)–though Disney unofficially lets you in starting at 4p.
Yet the fireworks, while not I think as good as prior shows, are among the best Disney World offers, the parade is a hoot, the rides have short lines…and the costumes are fun!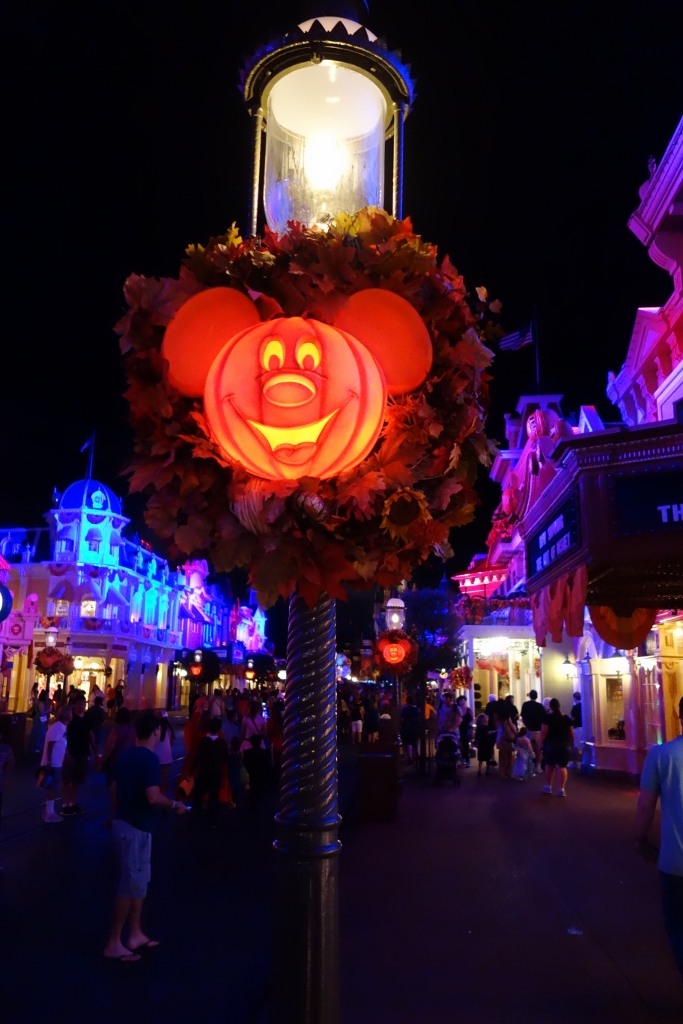 My overall take is that for first-timers this time and money is better spent elsewhere, but that's a really close call, and for sure I'd recommend it to returning visitors!


Follow yourfirstvisit.net on Facebook or Twitter or Pinterest!!
RELATED STUFF