A Friday Visit with Jim Korkis: An Epcot Comic Book with Mickey and Goofy
By Dave Shute
Welcome back to Fridays with Jim Korkis! Jim, the dean of Disney historians, writes about Walt Disney World history every Friday on yourfirstvisit.net.
MICKEY AND GOOFY EXPLORE THE UNIVERSE OF ENERGY
By Jim Korkis
Mickey Mouse and Goofy certainly were very concerned about energy. Thanks to the Walt Disney Educational Media Company, they were able to satisfy their curiosity and appeared in an unusual early Epcot Center collectible.
Starting in 1945, the Disney Company established an official 16mm film division to rent out its movies to schools and community groups. By the 1960s, the division was making well over a million dollars a year renting films and selling educational filmstrips and related material to schools, and expanded into the Walt Disney Educational Media Company that was especially active during the 1970s and 1980s.
The division produced original material ranging from filmstrips to comic books to kits with audio cassettes and workbooks, to even short new videos on a variety of subjects including Figment for elementary and junior high schools. For instance, WDEM created the thirty-six page full color comic book Mickey Mouse and Goofy Explore Energy (1967) included in its Wide World of Energy multimedia kit made with information assistance from Exxon.
The popularity of that comic and kit led to another comic book Mickey Mouse and Goofy Explore Energy Conservation (1976). Both comic books were written by Carl Fallberg and drawn by Tony Strobl, who were also producing the regular newsstand Disney comic books. Both these comics were available "in limited quantities without charge" from the Exxon Public Affairs Department in Texas, so they are not difficult to locate and obtain at a reasonable price.
When the Universe of Energy pavilion originally opened at Epcot in 1982 it was sponsored by Exxon, who made sure the attraction downplayed the value of alternative forms of energy like wind and solar power.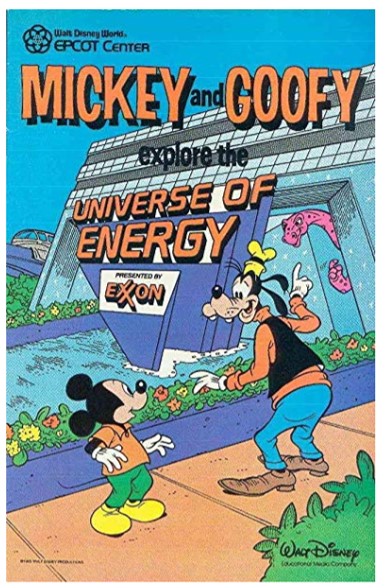 To help reinforce the proposition that oil was the most important source of energy, and that Exxon should be actively encouraged to develop methods like off-shore drilling to make sure there would be enough, the company partnered with Walt Disney Educational Media to produce the comic book Mickey and Goofy Explore the Universe of Energy (1985).
This comic was illustrated by Jack Manning, another Disney comic book artist, and was sixteen pages long plus covers. For awhile, it was given away free at the Epcot Energy Exchange in Communicore East to children. It could also be obtained for free directly from Exxon.
The cover features Mickey and Goofy standing in front of the pavilion and a pink dinosaur is peeking out and motioning them to come inside. The book itself does not really feature the attraction itself but is just a springboard for Mickey to lecture Goofy on the importance of oil as the primary source of energy.
There is a brief glimpse of the pre-show circular theater screen, the vehicles (where all the males are wearing bow ties and hats as if they had stepped out of a 1950s comic book), a brief encounter with a cartoon brontosaurus and at the end a prompting for guests to go to Exxon's Energy Exhange to learn more.
The Energy Exchange (which closed in 1994) had dozens of interactive exhibits, videos, models and more on energy. The Video Bicycle allowed guests to pedal a stationary bicycle to generate electricity. A video monitor displayed how much power the guest was generating through their pedaling. (Nine days of pedaling was needed to generate the same amount of energy as one gallon of gasoline.) How many Walt Disney World fans recall that location?
*  *  *  *  *
Thanks, Jim! And come back next Friday for more from Jim Korkis!
In the meantime, check out his books, including his latest, Disney Never Lands, and about planned but unbuilt concepts, and Secret Stories of Walt Disney World: Things You Never You Never Knew
, which reprints much material first written for this site, all published by Theme Park Press.


Follow yourfirstvisit.net on Facebook or Twitter or Pinterest!!
RELATED STUFF