Review: Epcot Forever
By Dave Shute
EPCOT FOREVER
Note: this show returns to Epcot July 1, 2021, but missing the kites, because the structures for Epcot's soon-to-open Harmonious are in the way of them.
Epcot Forever is the current evening show at Epcot, showing most nights at 9p, but at 9.30p during the Festival of the Holidays, at 10p on Fridays and Saturdays during the Food & Wine Festival, and at other times New Years Eve and the Fourth of July.
Epcot Forever replaced the long-running IllumiNations on October 1, 2019, and in turn will be replaced with a new permanent show, HarmonioUS, which I can neither spell nor pronounce, and which I deeply hope will be renamed.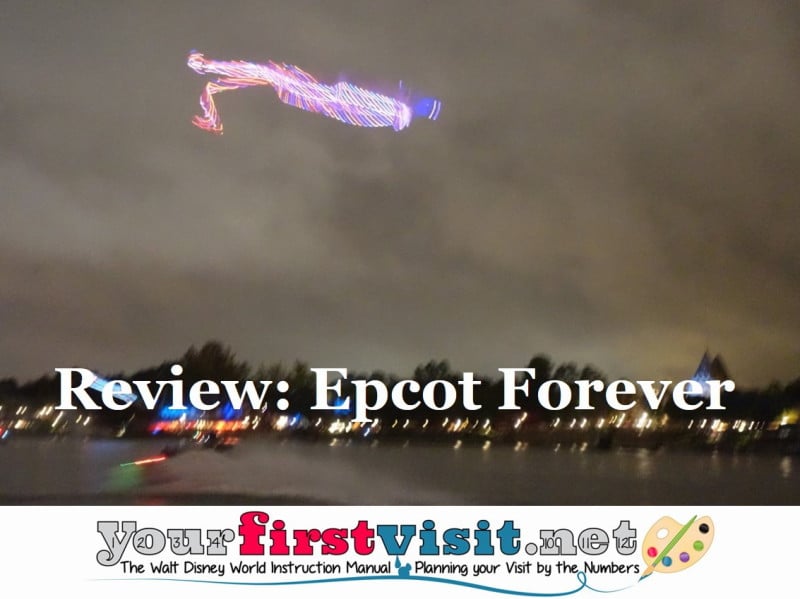 HARMonious is expected to debut in 2020—I have heard October 1, but much depends on the scope and pace of reconstruction needed to support the new show, and also its timely achievement of its technical ambitions.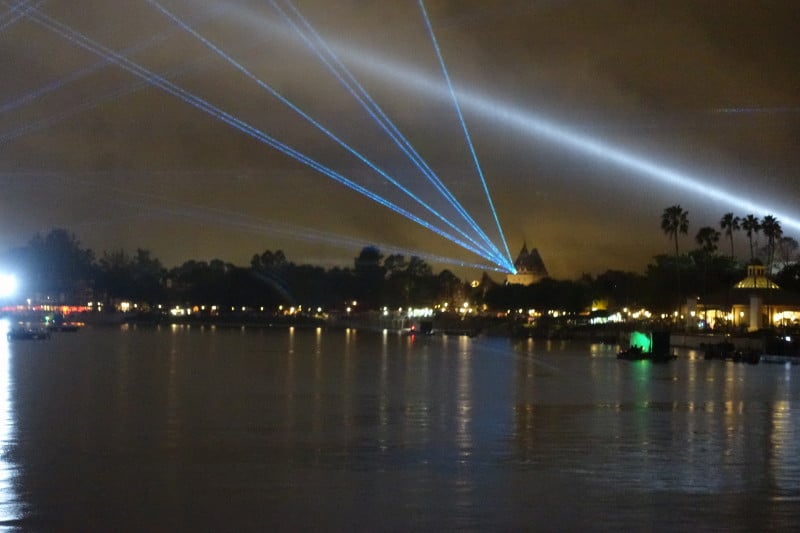 In the meantime, Epcot Forever is a fireworks, laser, kites and music show on the World Showcase Lagoon that, according to Disney, celebrates "the past, present and future of Epcot through [a] dazzling fireworks and special-effects spectacular."
This brief description skips the most important part of the show, and elides the other: music and kites. The celebration of Epcot is through new arrangements of music from past and present attractions, introduced or sung in children's voices, with Walt Disney's voice here and there, and a surprise finale related to the Morocco Pavilion that sets the stage for Epcot's future.
The variety and quality of the music is a wonderful reminder of how important music and song is to the Disney World theme parks—a contribution that can get overlooked in their primarily visual environments. There's a number of standouts, with the Soarin' theme and Golden Dream (from The American Adventure) serving as particularly apt reminders of the quality of composing behind many of the park's attractions.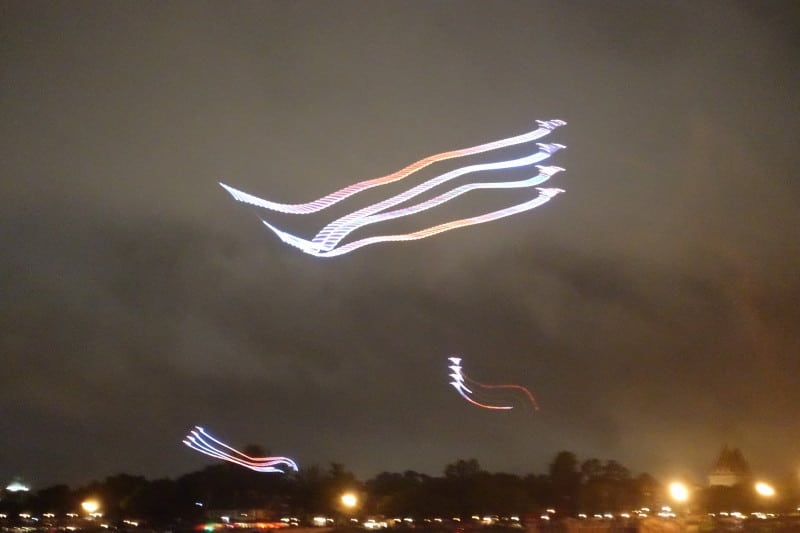 The other distinctive feature of the show is its kites, which are delightful, and need to be seen in person to be fully appreciated.  Images and videos don't capture their full impact.
Lasers and fireworks are part of the program as well. The night I saw it, it was raining so hard that many fireworks were left out—they were shot off later that evening, after park close, to clear the apparatus. And I got no usable photos of the ones I did see–even by my low standards–but I'll post photos here after my next visit. In the meantime, you can get a flavor for the new fireworks in this Disney video:
IllumiNations was deeply loved by many, and its own great music—not present in Epcot Forever—has had a life of its own, showing up in settings ranging from Olympics coverage to wedding ceremonies. I was astonished the first time I saw Illuminations, but did not find it overly re-watchable, with a limited fireworks color palette and a marvelous globe that after a few experiences did not much bear the amount of time dedicated to it.
Epcot Forever—and especially its surprise ending—are the first stake in the ground of the transformation of Epcot that we will see over the next few years. Epcot started as Walt Disney's concept for showcasing the best ways in which urban design could contribute to well-being and better communities, a wildly impractical and mildly totalitarian concept whose scope, in the absence of a practical business model, would have led eventually to its early abandonment had he remained alive. Walt Disney was a man whose fertile imagination yielded many more ideas than good ideas, and like most deeply creative people he depended on the passage of time and the voices of others to help sort the best ones out.
Walt's concept was largely abandoned by the time the park first opened, and in its place came World Showcase, a sort of permanent World's Fair, and Future World, an architecturally undistinguished place to celebrate human achievement in general and in particular technological innovation.
The initial business driver of Epcot—in contrast to its thematic drivers—was to be as little like Magic Kingdom as possible, both to avoid cannibalization of that park and also to incent longer stays at the resort. So when it opened, Epcot became the least Disney and least child-friendly of the Disney parks, a distinction it still holds today. Poor reaction quickly led to incorporation of some Disney characters and other playful Disney elements that had previously been banned.
Over the years, Epcot's edutainment offerings stagnated as they became outdated, and as museums—inspired by Epcot—did a much better job at educating while entertaining. The concept was not wrong, as a visit to any good museum targeted at middle school kids will tell you. So will a visit to Disney's Animal Kingdom, which does a breathtakingly better job of integrating as much education as you would like within the context of a fun theme park. But the ability to keep the Epcot edutainment good, current, and interesting to many was not there.
This version of Epcot—great at neither education nor entertainment—will soon be gone, with a reconceptualization of Epcot as a fun—and Disney—park, especially in Future World. Today, Future World is a sea of construction walls (all the rides remain accessible), and from them will emerge three new lands—Disney calls them neighborhoods—that will join World Showcase: World Discovery, World Nature, and World Celebration. This added set of Worlds, by the way, is the reason for the surprise finale to Epcot Forever, and their promise of increased appeal to children is why the voices of children dominate the narration.
The new Epcot has been emergent for more than a decade, but the new emphasis will start to show soon with the opening of the Ratatouille ride, Remy's Ratatouille Adventure, later in 2020. Disney articulates that the reconceptualization of Epcot will "be filled with new experiences rooted in authenticity and innovation that take you to new destinations, where the real is made fantastic in a celebration of curiosity, hands-on wonder and the magic of possibility." I can't wait…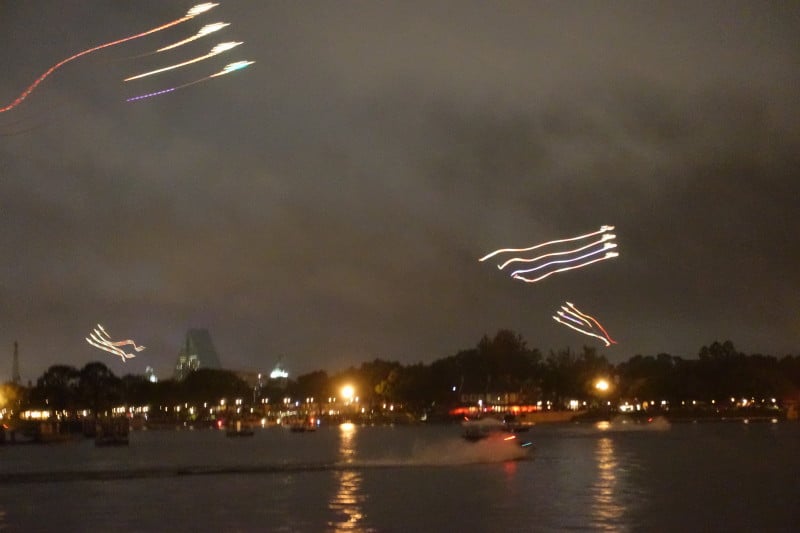 In the meantime, Epcot Forever will run for a year or so, celebrating Epcot's past through 2019, and the music that added so much to it. And kites!!


Follow yourfirstvisit.net on Facebook or Twitter or Pinterest!!
RELATED STUFF