A Friday Visit with Jim Korkis: Maps of the Disney Parks
By Dave Shute
Welcome back to Fridays with Jim Korkis! Jim, the dean of Disney historians, writes about Walt Disney World history every Friday on yourfirstvisit.net.
YOUR PERSONAL DISNEY LIBRARY (22)
By Jim Korkis
A 144 page book from Disney Editions filled with pretty much nothing but maps may not sound exciting, but I thought it sounded like a terrific idea to see how the various parks have changed over the years with things disappearing and other things being added.
Unfortunately, the book seems to be a hodgepodge of material, and while it is nice to see rare concept art like Imagineer Joe Rohde's 1991 painted aerial view of Disney's Animal Kingdom, primarily the book is not devoted to the guidemaps that were handed out each year, but rather to the novelty maps like artist Paul Hartley's impressionistic map that hung in Walt Disney World resort hotels in 1971, and the aerial view cartoony map he painted for the Walt Disney World Preview brochure.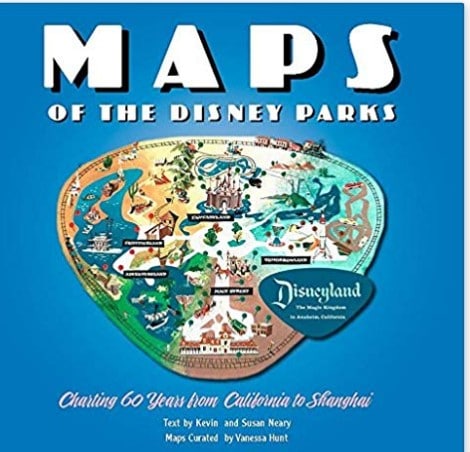 While those are nice pieces of art, they do little to help me understand what the park actually looked like at that time. For me, the early Sam McKim Disneyland maps were an amazingly detailed view of what was at the park and I treasured them, especially when he was so accurate that on one map he inadvertently revealed that the Haunted Mansion show building was on the other side of the railroad tracks.
This book is indeed a beautiful art book with its full color images, but I think most readers like myself wanted to see the guidemaps they remembered and would be able to use as reference. For me, the title was misleading.
But where else will you see a full color reproduction of Morgan Ditta's 2014 load area mural map of Neverland from Walt Disney World's Peter Pan's Flight attraction and see how it was inspired by the artwork of the same fantasy location by John Hench and Al Dempster for a 1953 Golden Book?
Sometimes the maps–like the 1979 Walt Disney World map–are printed so small that it is difficult to read and appreciate the details. The maps are grouped by decade, not by individual park, so to find a WDW map requires some patience flipping through the pages, and you may be disappointed with the small percentage devoted to Walt Disney World.
Each decade section is preceded by a one page introduction that fails to help the reader understand what he is about to see or reveal some treasures or connections that might be discovered. Text is very minimal and does not attempt to explain how and why maps were produced and how the presentation of the geographical material has changed over the years.
I did appreciate that at the back of the book there are short biographies of six of the artists who drew some of the maps, especially Paul Hartley and Sam McKim. While there is a short index, there is no bibliography.
Author Kevin Neary has previously written four Disney trivia books with the late Disney Archivist Dave Smith, but in recent years seems to have devoted his talents to books about baseball.
Vanessa Hunt is an Imagineer and has curated several art exhibits as well as consulting for The Walt Disney Family Museum.
As long as you buy the book knowing full well what it is and what it is not, you may find this a valuable edition to your personal Disney library.
*  *  *  *  *
Thanks, Jim! And come back next Friday for more from Jim Korkis!
In the meantime, check out his books, including his latest, Disney Never Lands, and about planned but unbuilt concepts, and Secret Stories of Walt Disney World: Things You Never You Never Knew
, which reprints much material first written for this site, all published by Theme Park Press.

Follow yourfirstvisit.net on Facebook or Twitter or Pinterest!!
RELATED STUFF