A Friday Visit with Jim Korkis: The Orange Bird in Adventureland–and the Comics
By Dave Shute
Welcome back to Fridays with Jim Korkis! Jim, the dean of Disney historians, writes about Walt Disney World history every Friday on yourfirstvisit.net.
ORANGE BIRD COMIC BOOK
By Jim Korkis
A Disney character unique to Walt Disney World is the little Orange Bird who recently returned to Magic Kingdom's Adventureland.
In 1967, Walt Disney Productions entered into negotiations with the Florida Citrus Commission (FCC) for a Florida Citrus Growers sponsored Magic Kingdom attraction at a cost of $3 million that was a version of Disneyland's The Enchanted Tiki Room, called the Tropical Serenade show.
In 1970, WED Enterprises (today's Walt Disney Imagineering) created the Orange Bird character to serve as the FCC's official mascot in promotional campaigns. Orange Bird was designed by Disney artist C. Robert "Bob" Moore and it decorated billboards, appeared in commercials, was on multiple souvenir items from sipper cups to keychains, and even had a song written about him by the legendary Sherman Brothers.
However, I think most Walt Disney World fans are unaware that the character also appeared in his own animated short and comic book.
Foods and Fun: A Nutrition Adventure (1980) was a 12-minute animated short for the Walt Disney Educational Media department produced and animated by Rick Reinert Productions.
Rick Reinert Productions was a small, independent animation studio in the North Hollywood, California area that was responsible for later producing and animating Winnie the Pooh and A Day for Eeyore (1983).
The Orange Bird short narrated by Rex Allen told the tale of the Orange Bird, who could not speak or sing but could only produce images over his head in a puff of orange smoke like a thought balloon but with a picture.
He is sad, and a nearsighted Dr. Owl gives him advice to get a good night's sleep, a balanced diet (grain, protein, calcium, fruit/vegetables) and exercise. The bird does so and flies to the Florida Everglades where he befriends a family at the beach. The father does not want to take the bird home with them despite the protests of his two children, but changes his mind when he is saved from going out to fish on an unsafe pier by the little bird.
There is a family picnic on the beach where the family sings about the joys of a balanced diet while the Orange Bird makes a healthy sandwich.
To tie in with the release of this animated film, Walt Disney Educational Media produced a supplemental comic book, very similar to other comics it produced at that time, including Mickey and Goofy Explore Energy and Mickey and Goofy Explore Business.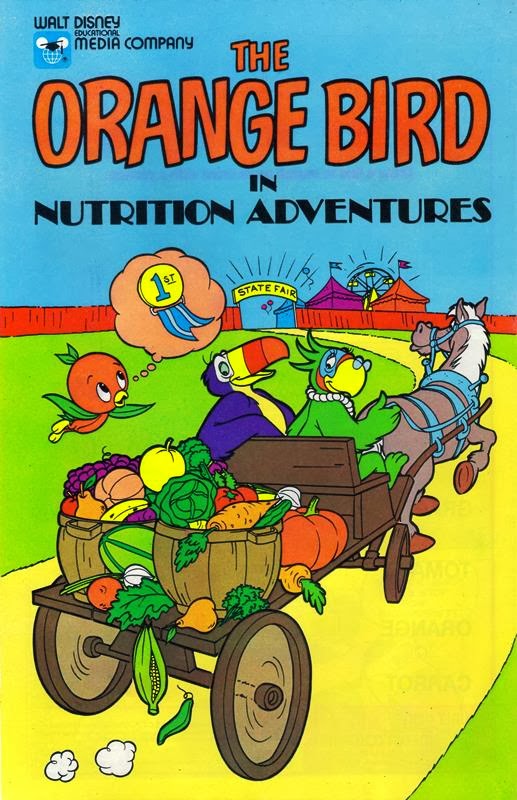 Orange Bird in Nutrition Adventures (1980) is a 32-page comic book with three separate stories written by Diana Gabaldon and drawn by Tony Strobl. Gabaldon is an award-winning, best-selling novelist. Strobl worked as a Disney animator on several features starting in 1938 before moving over into drawing comic books, especially stories featuring Donald Duck.
As animator Dave Bennett remembers, "Tony Strobl came to our studios [Rick Reinert Productions] for as much reference material on the Orange Bird as he could carry! Disney had not created an official model sheet."
The comic book included three stories:
"Helping Out" (11 pages) where Orange Bird and his friends Toucan and Macaw agree to help Farmer Brown with his chores and learn the necessity of a healthy breakfast in order to get the day's work done;
"A Day Off" (11 pages) has Toucan, Macaw and Orange Bird going on a relaxing picnic to Coconut Island but a series of misadventures including monkeys stealing some of their food results in Toucan realizing he should have stayed home;
"Fair Day" (10 pages), Toucan, Macaw and Orange Bird go to the State Fair but a black bird competitor steals all the prize vegetable entries and hides them in the human cannonball's cannon. When the cannon goes off, the vegetables scatter throughout the air and Orange Bird makes a healthy vegetable salad for everyone.
In 2012 the Orange Bird returned to Adventureland.
*  *  *  *  *
Thanks, Jim! And come back next Friday for more from Jim Korkis!
In the meantime, check out his books, including his latest, Disney Never Lands, and about planned but unbuilt concepts, and Secret Stories of Walt Disney World: Things You Never You Never Knew
, which reprints much material first written for this site, all published by Theme Park Press.

Follow yourfirstvisit.net on Facebook or Twitter or Pinterest!!
RELATED STUFF