The Skyliner Price Premium: ~$60 Million in 2020
By Dave Shute
I've been curious as to what the premium might be for the Skyliner resorts in 2020–partly as a guide to what Disney sees the incremental value of the Skyliner to be, and partly to illuminate the question about whether bus service will continue at these resorts.
(The Skyliner resorts are Disney's Caribbean Beach Resort, Pop Century Resort, and Art of Animation Resort. These will all be served by a new gondola system that will connect them to two of Disney World's theme parks, Disney's Hollywood Studios and Epcot. The formal opening of the Skyliner has been announced to be September 29. Disney's new DVC offering, Disney's Riviera Resort, will also be on the Skyliner when it opens in later December, but is has no material 2019 prices for comparison.)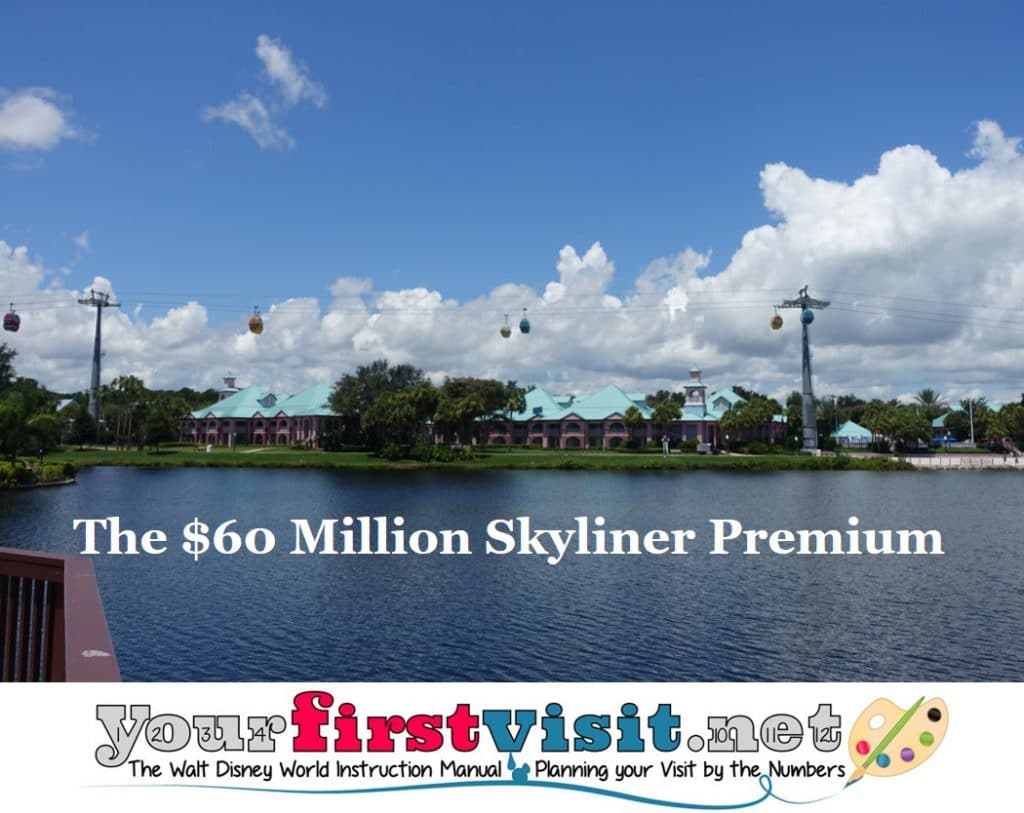 I've heard glib lines about this on podcasts, e.g. that "the Skyliner resorts will be $10 to $20 more," but no percentage increases, nor comparisons of the full year of 2020 vs 2019.
Because every year I do charts like the below (from 2020 Disney World Resort Hotel Price Seasons) I have daily price data for 2020 vs 2019 for standard view rooms at all the Skyliner resorts.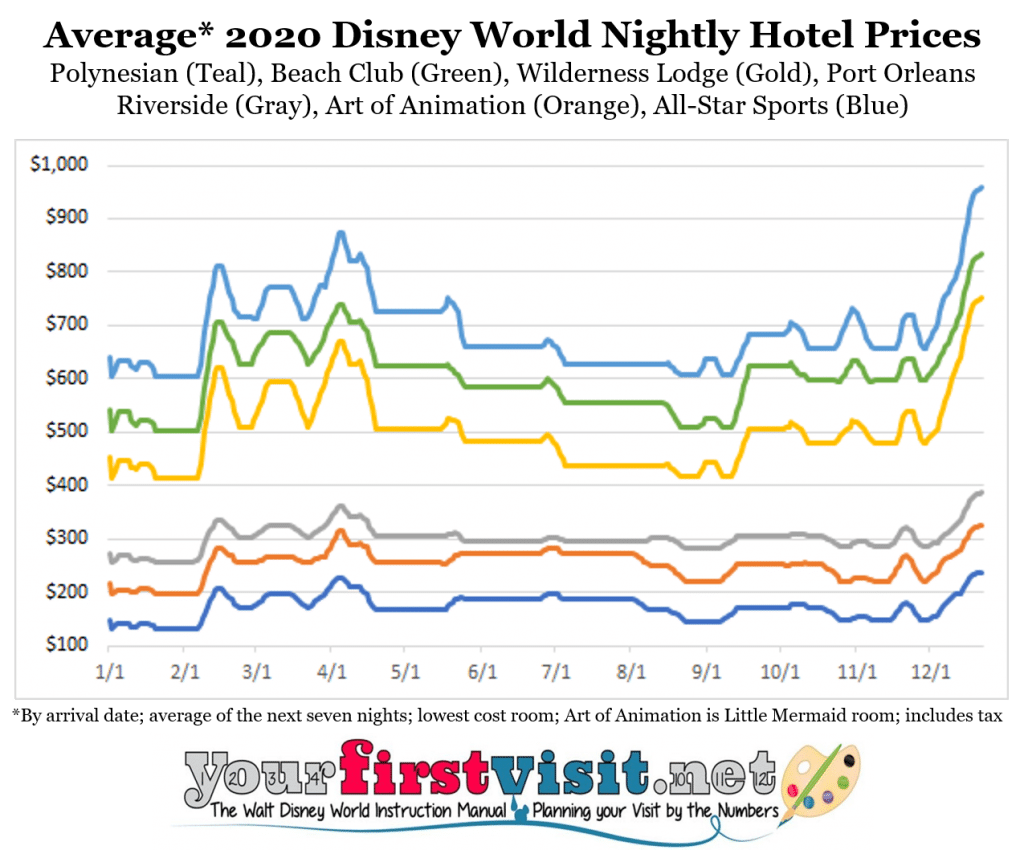 So from this data I can calculate what it would cost to stay every night of 2019 and 2020 in one of these rooms, and from that (adjusting for the 2020 leap year) figure average nightly costs over the year, and changes year to year in that number. (I've also checked most or all of the higher priced room options at these resorts (see the note at the bottom of the page) and they all follow the same pattern).
So here's the basics:
Skyliner value resort Pop Century standard room average 2020 prices are up 20.1% compared to 2019, and increases at Skyliner value resort Art of Animation spaces are similar–Art of Animation Little Mermaid rooms are up 19.6%, and Art of Animation Family Suites are up 18.9% for Lion King and Cars suites, and 19.2% for Nemo suites. Meanwhile, prices at the non-Skyliner All-Star value resorts are up "just" 6.5%. There was already a substantial price gap among these resorts, and after the disparate price increases, Little Mermaid rooms are now ~$80 more, on average, than All-Star rooms, and $40 more on average than Pop rooms.
Skyliner moderate resort Caribbean Beach standard rooms went up on average 20.7% for 2020 compared to 2019. Other room types had similar increases. Non-Skyliner moderates Coronado Springs, Port Orleans Riverside, and Port Orleans French Quarter went up 9.4%, 8.4% and 8.4% respectively. The price premium between the Port Orleans resorts and Caribbean Beach on average over 2020 has almost disappeared, and Coronado Springs is now on average about $20/night less than the other three traditional moderate resorts.
The total 365 day price increase for 2020 for the three Skyliner resorts at 100% occupancy is about 19.7% compared to 365 days in 2019, which translates into more* than $117 million.
If you just use the $117 million figure, and then deduct from it what the other values and moderates went up in total for 2020 (about 6.5% and 8.6%, respectively)—on the premise that without the Skyliner, the Skyliner resorts would have gone up about this much—then you get about $75.5 million.
If you take 15% of this off for occupancy being below 100%, then you get to about $64 million. If you take 10% more off for various discounts and deals across the year, then you get to $58 million. For the reasons explained in the note at the bottom of the page, I know I am actually low in my numbers at Caribbean Beach and Pop Century, so I round this up to $60 million.
So that's my answer for the value Disney World will gain from the Skyliner resorts–about $60 million a year in new top line revenue.
You will find online a vast number of claims that "the Skyliner is being done to reduce bus costs, so don't expect buses on these routes at these resorts after it opens." Well, the revenue premium for the Skyliner would pay for on the order of 1,200 full time bus drivers. Since it takes by my back of the envelope estimates about 20 full time equivalent bus drivers to cover each of the three resorts' Epcot and Hollywood Studios routes, I'm not entirely sure that the ROI of this project depends on eliminating bus service and 60 jobs.
But I suppose we will see. Disney World has shown remarkable propensity to nickel and dime on costs while implementing  vast price increases.
*At Art of Animation, I modeled all three bookable types, so my number here—just over $50 million–is pretty exact. At both Pop Century and Caribbean Beach, I multiplied the price increase for lowest cost rooms across all rooms of every bookable type. I did this because I don't have a good source for the number of rooms in each class, especially for Caribbean Beach, which has eight bookable room types. (I did check cross a sample of price seasons for all bookable Pop rooms, and most bookable Caribbean Beach rooms, to confirm that they also saw a comparable ~20% price increase—they did.) The numbers for Pop (~$38 million) and Caribbean Beach (~$29 million) are thus low.
The long-time travel agent partner of this site, Kelly, can help you book–or avoid!–one of these Skyliner resorts. Contact her using the form below.


Follow yourfirstvisit.net on Facebook or Twitter or Pinterest!!
RELATED STUFF