New Disney World Room Rate Deal for Many September-December Dates
By Dave Shute
A new Disney World room rate deal came out today.
Deals of 10% to 20% off are offered, and discounts are available most nights September 1 through September 28, 2019; most Sunday through Thursday nights September 29 through November 7, 2019; and most nights November 10, 2019 through December 24, 2019.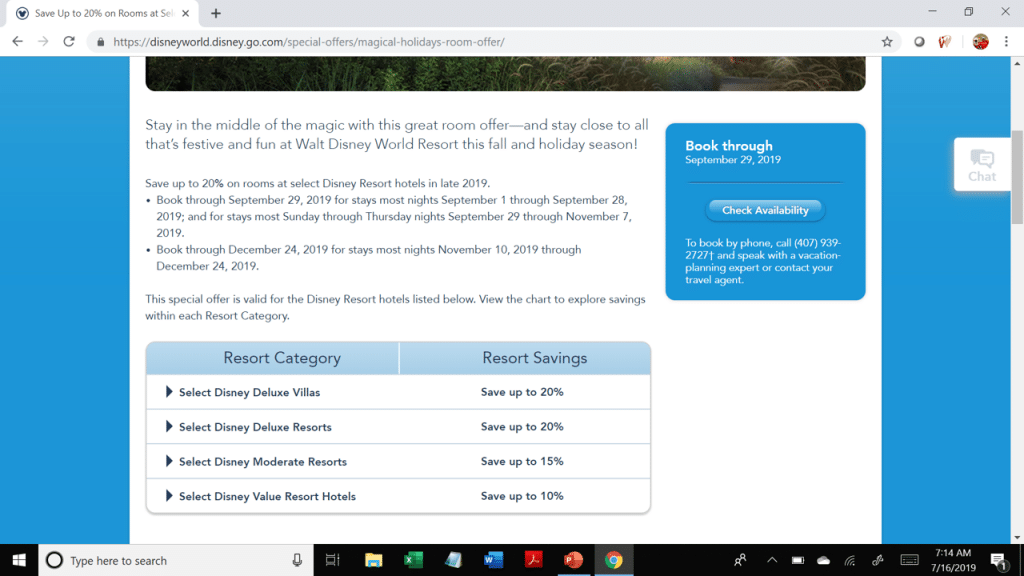 At the values, 10% discounts are available, but only Family Suites at Art of Animation are in the deal through November 7.  All the value resorts are in the last set of dates–I'm not seeing the usual Little Mermaid exclusions.  Those rooms may in fact be excluded–I'll recheck tonight after I get out of my board meeting for my day job today.
At the moderates, all the resorts are in the deal all dates, but the Port Orleans resorts offer only 10% discounts. The other moderates offer 15%.
At the deluxes, all the resorts are in the deal all dates, but the Contemporary, Polynesian and Wilderness Lodge offer only 10% off, the Beach Club 15% off, and the other resorts offer 20% off.
All the DVC resorts except the Villas at the Grand Floridian are in the deal, but savings range from 10% to 20%.
See this page on Disney's website for more details.
A free dining deal for a more restricted set of dates came out today too. Larger groups, and groups in less expensive resorts, may do better with free dining if the dates work for you. See it here.
The long-time travel agent partner of this site, Kelly, can try to book you into one of these deals after she's taken care of her current customers. Contact her using the form below. Availability is limited so contact her now!

Follow yourfirstvisit.net on Facebook or Twitter or Pinterest!! 
RELATED STUFF