A Friday Visit with Jim Korkis: Joe Rohde on Adventurers Club
By Dave Shute
Welcome back to Fridays with Jim Korkis! Jim, the dean of Disney historians, writes about Walt Disney World history every Friday on yourfirstvisit.net.
JOE ROHDE TALKS ADVENTURERS CLUB
By Jim Korkis
I attended a cast member presentation April 3, 2006 where Imagineer Joe Rohde was talking about Disney's Animal Kingdom and in particular the philosophy behind the Yeti in Expedition Everest. During the Question and Answer session following his talk, he talked about his work on the Adventurers Club.
Rohde: "I'll tell you the whole story. So, Rick Rothschild was in charge of everything on Pleasure Island, as the chief show producer of Pleasure Island. And I had had a party at my house and he had come over to this party and my house is full of wild stuff: masks, and carvings and weird things. And so he called me in Monday morning and goes, 'I have a project you should work on. You should work on this Adventurers Club concept.'
"The few of us who were working on it had tremendous freedom to do what we thought was cool. To call people up. Make deals. Go places. See things. Make things happen. And the Adventurers Club happened under those circumstances.
"I hope it's not some kind of deep-rooted psychological thing; but these two projects, Animal Kingdom and Adventurers Club, both of them have this oppositional kind of point of view. Like we're gonna deliberately do something that is not the thing that you commonly see around you.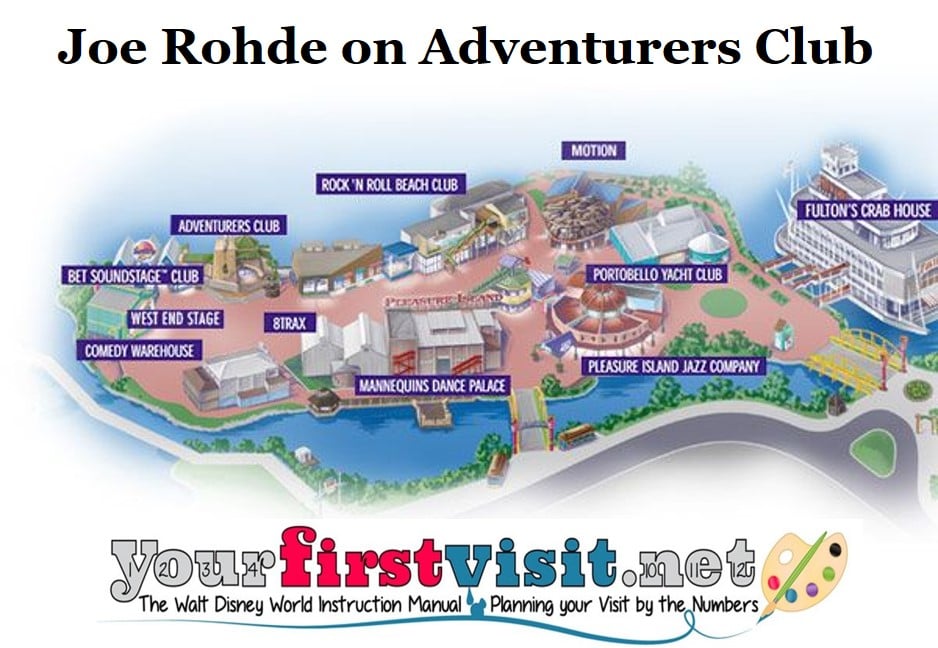 "So, with the Adventurers Club the idea was: People have been in the parks all day long. And they have been programmed, by being in these parks, to expect certain things to be true. For example: If an inanimate object does something, it's gonna do that same thing again later. Right?
"People think, 'Nothing is gonna happen in this environment except the things that are gonna happen. This environment is on a loop. It will stay like this for an hour, for a day and for a year it will retain its sameness. It's built to do that.
"Everything in this environment was designed and made by designers out of fiberglass and plastic and things. So nothing in this environment is made of real things. Everything in this environment is made, designed and built." And I don't mean this in a negative way. It's just what you know.
"So we wanted to mess with all of that with the Adventurers Club, right? And create an environment where you'd walk into the environment and first you'd think, "Wait a minute. This stuff is like real. That…that's like really a real thing. Is that fake? I think that's real!"
"So, the most real stuff's where you can get right up to it and go, "I swear that is real." Then the second thing was that things would not repeat the same way. . The Adventurers Club would know that you were there and things would change based on the fact that you were there. And if it didn't talk to you, it would talk to somebody. So, you know, inanimate things would come to life but they would not be on cycles.
"If you think back to the early, early Adventurers Club to where the performers' outfits were as close as we could get them to real clothes people might wear in everyday life. So, when Hathaway Browne would come sit at the bar with somebody, it would be like a minute before you'd go, 'Wait a minute. This guy is like not real. I thought this guy was real.'
"It plays against expectations that have been set up by other experiences, right? And that's kind of how it was meant to work.
"I don't go very often, because you know you wanna mess with it and tweak with it and change. But I check in on it every so often and I think it has endured fairly well, really. You think about it, it's a theatrical performance running for almost twenty years. But it was deliberately constructed to be the counterpoint to the more programmed kinds of things you would experience in the parks."
*  *  *  *  *
Thanks, Jim! And come back next Friday for more from Jim Korkis!
In the meantime, check out his books, including his latest, The Unofficial Walt Disney World 1971 Companion: Stories of How the World Began, and Secret Stories of Walt Disney World: Things You Never You Never Knew
, which reprints much material first written for this site, all published by Theme Park Press.

Follow yourfirstvisit.net on Facebook or Twitter or Pinterest!!
RELATED STUFF