A Friday Visit with Jim Korkis: President Trump in the Hall of Presidents
By Dave Shute
Welcome back to Fridays with Jim Korkis! Jim, the dean of Disney historians, writes about Walt Disney World history every Friday on yourfirstvisit.net.
TRUMP IN THE HALL OF PRESIDENTS
By Jim Korkis
Without fanfare, a new audio-animatronics figure representing President Donald J. Trump premiered quietly at the Hall of Presidents in the Magic Kingdom on Tuesday December 19, 2017. Anticipating possible problems, a Disney security guard was stationed at the back of the auditorium for a clear view of the entire audience.
There had been a petition that garnered more than 15,000 signatures "to stop the inevitable Donald Trump animatronic figure from speaking" claiming that he "ran a Presidential campaign on hateful speech, misogyny, racism and xenophobia."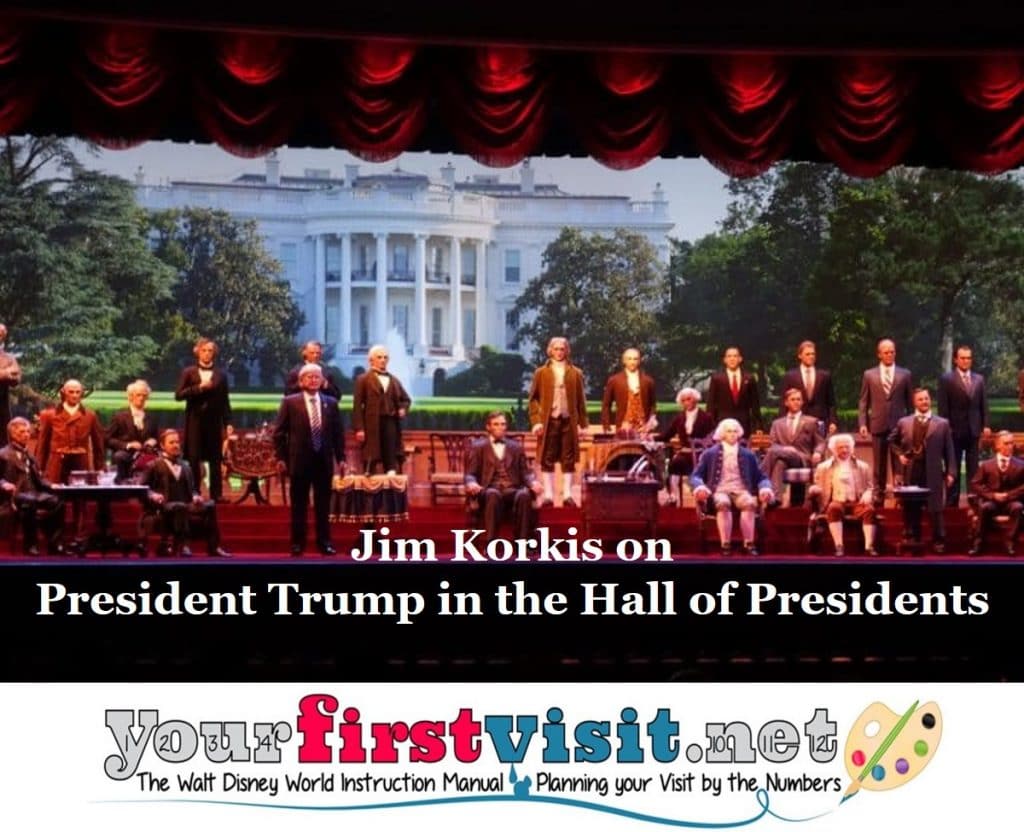 The anticipated negative reaction never materialized, certainly not in a physical manner, and the figure continues to perform to this day.
Having President Trump speak continues a tradition of having a sitting president speak that began with President Bill Clinton in 1993. Thomas Smith, editorial content director for the Disney Parks wrote, "We worked closely with the current White House just as we have with previous administrations."
Disney CEO Bob Iger stated, "There was already a script that was written for his team to edit; we were hopeful that by the first anniversary of his election, he'll be there with all the other presidents that preceded him but it is always a challenge."
The President recorded his speech sometime after June 2017, which resulted in a delay in installation of the figure from its previously announced July appearance.
The Trump figure with an unbuttoned suit jacket with extra long white and blue tie stands between a seated Abraham Lincoln and Ulysses S. Grant. As with previous presidents, Imagineers requested Trump's exact measurements and carefully studied film footage and still photos. The Trump figure moves his head during the traditional roll call of leaders, motions with his arms and gives a brief speech.
While most agreed that Disney was able to capture the hairstyle and hand gestures pretty exactly, there was controversy that the face was not completely accurate, although there is ample evidence that many of the previous presidents did not look exactly like their counterparts either.
A Disney press releases states the figure "features the latest advances in technology that enable smoother and more lifelike movements." In addition to the new figure, when the attraction was closed it underwent an elaborate renovation, including a high definition projection system and updated sound and lighting equipment.
After George Washington speaks briefly, the audio-animatronics Trump figure recites the Oath of Office and then delivers the following speech in front of the backdrop of the White House:
"From the beginning, America has been a nation defined by its people. At our founding, it was the American people who rose up to defend our freedoms and win our independence.
"It is why our founders began our great Constitution with three very simple words: We The People.
"Since that moment, each generation of Americans has taken its place in defense of our freedom, our flag, our nation under God.
"These are the achievements of the American spirit—the spirit of a people who fought and died to bring the blessings of liberty to all our people. Above all, to be an American is to be an optimist, to believe that we can always do better and that the best days of our great nation are still ahead of us.
"It's a privilege to serve as the president of the United States, to stand here among so many great leaders of our past, and to work on behalf of the American people."
*  *  *  *  *
Thanks, Jim! For more on the updates to the Hall of Presidents, see this.
And come back next Friday for more from Jim Korkis!
In the meantime, check out his books, including his latest, The Unofficial Walt Disney World 1971 Companion: Stories of How the World Began, and Secret Stories of Walt Disney World: Things You Never You Never Knew
, which reprints much material first written for this site, all published by Theme Park Press.


Follow yourfirstvisit.net on Facebook or Twitter or Pinterest!!
RELATED STUFF