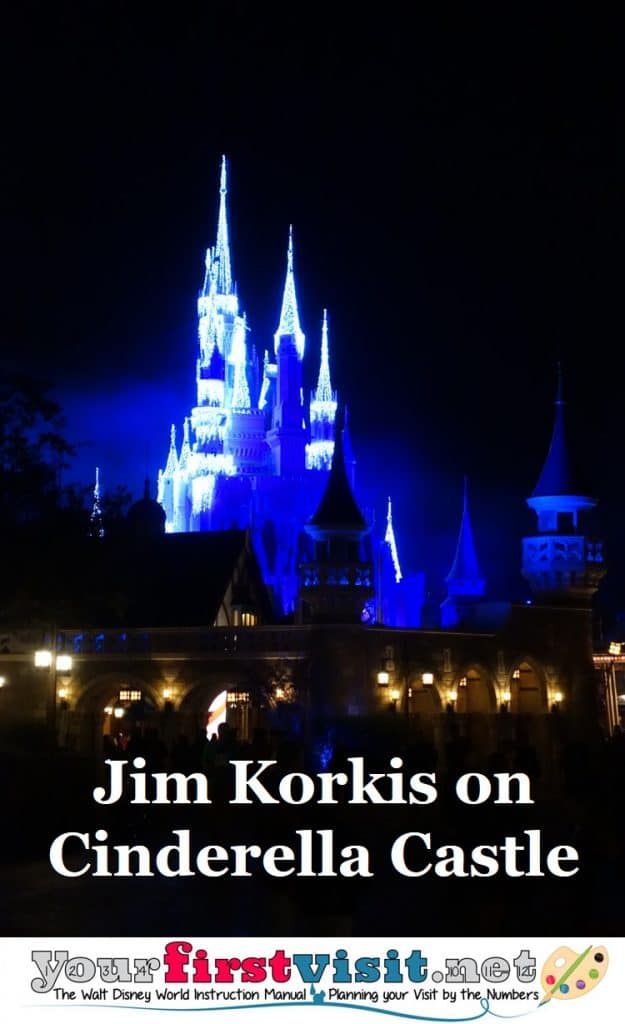 Welcome back to Fridays with Jim Korkis! Jim, the dean of Disney historians, writes about Walt Disney World history every Friday on yourfirstvisit.net.
CINDERELLA CASTLE AT THE MAGIC KINGDOM
By Jim Korkis
Cinderella Castle quickly became the icon for Walt Disney World.
The design for it by Imagineer Herb Ryman took the form of a romanticized composite of such fabled French courts as Fontainebleau, Versailles, and a dozen famed chateaux of the Loire Valley including Chenonceau, Chambord and Chaumont since the Disney animated feature Cinderella was based on the French version of the fairy tale. Ryman was also influenced by the blue-tipped turrets of the Alcazar in Segovia in Spain and even the Tyn Church in Prague.
People have always had a fascination for castles, and a desire to explore inside them, which is why King Stefan's Banquet Hall (now Cinderella's Royal Table) was originally included.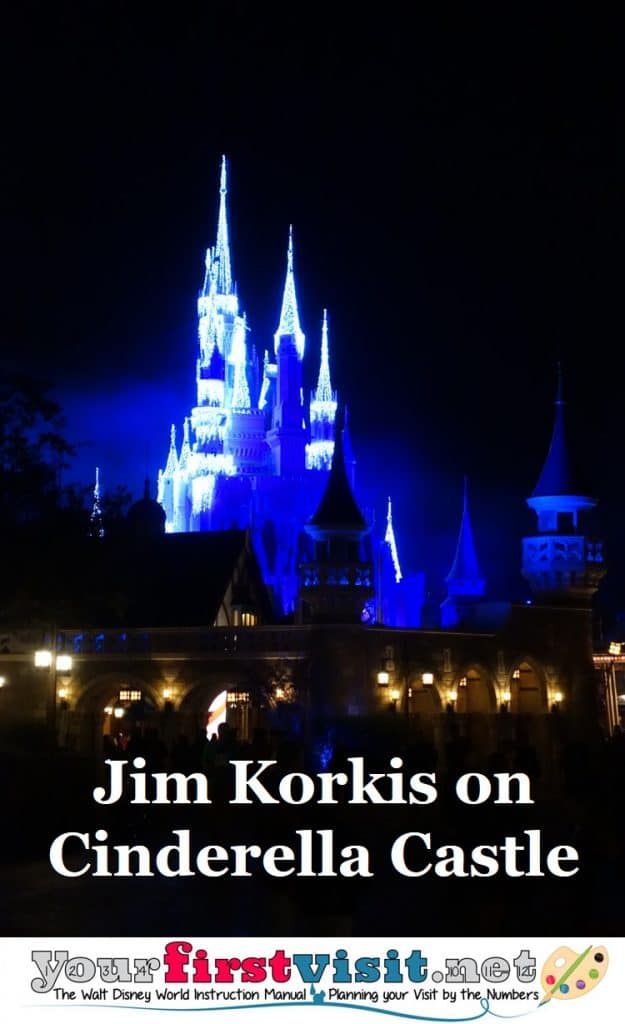 It took eighteen months of construction to complete it by July 1971. It is 189 feet tall measured from the concrete bottom of the surrounding moat that contains approximately 3.37 million gallons of water.
The castle is made of steel and concrete. Six hundred tons of steel make up the inner structure, which is encircled by a ten inch reinforced concrete wall. It sits on a concrete drilled caisson foundation that is 100-by-100-foot.
Most of the exterior appearance that suggests stones is a very hard fiber-reinforced gypsum plaster supported by metal studs. Fiberglass was used for the more ornate exterior walls of the upper towers. Roofs are made of the same type of plastic that computer monitor shells are made from.
Towers were raised by crane, welded and bolted permanently in place. There are 27 towers on the castle, numbered 1-29. Tower numbers 13 and 17 were deleted before construction since they could not easily be seen from anywhere in the park, primarily because of obstruction from other Fantasyland buildings.
The tower with the clock in front is number 10, the tallest is number 20, and number 23 is the other golden-roofed tower. In 2015, Disney added an additional four turrets to Cinderella Castle.
The turrets cannot be removed. It made more sense to build the castle to withstand 110 mile per hour or more hurricane force winds than to build it so that it could be quickly disassembled before a hurricane. Disassembly would have been a time and labor intensive process, not to mention reassembling it.
In 2010, dismantling the castle turrets was listed by Time magazine as one of the top five most popular urban legends about Walt Disney World. The castle has survived several hurricanes during the last nearly half century.
As a result of the September 11th attacks in 2001, amid concerns that general aviation could pose a threat to public safety, the Federal Aviation Administration placed a permanent Flight Restriction over the entire Walt Disney World Resort in Orlando, Florida.
Law enforcement and Walt Disney World aircraft are exempt from this restriction. Since the castle is smaller than two hundred feet high, it does not need to comply with the FAA regulation that would require flashing warning lights at the top.
There are two other Disney Cinderella Castles. The one at Tokyo Disneyland is also 189 feet high. The Cinderella Castle that most Disney fans forget stands proudly in the Storybook Land attraction in Disneyland.
*  *  *  *  *
Thanks, Jim! And come back next Friday for more from Jim Korkis!
In the meantime, check out his books, including his latest,  The Vault of Walt Volume 7: Christmas Edition, and his Secret Stories of Walt Disney World: Things You Never You Never Knew
, which reprints much material first written for this site, all published by Theme Park Press.


Follow yourfirstvisit.net on Facebook or Twitter or Pinterest!!