A Friday Visit with Jim Korkis: David John Marley on the Jungle Cruise
By Dave Shute
Welcome back to Fridays with Jim Korkis! Jim, the dean of Disney historians, writes about Walt Disney World history every Friday on yourfirstvisit.net.
YOUR PERSONAL DISNEY LIBRARY (16)
By Jim Korkis
Walt Disney once famously said that it takes people to make the dream a reality, and that is certainly true of the cast members who work at the Disney theme parks. In fact, for some attractions like the Haunted Mansion and the Tower of Terror, the personalities of the individual cast members add tremendously to the overall experience.
However, the one attraction that has always been dependent upon the personality of a cast member is the iconic Jungle Cruise in Adventureland. It is infamous for its bad puns and corny jokes that developed almost from the opening of the ride in 1955.
Being a Jungle Cruise skipper is considered one of the prime and most coveted positions for a cast member.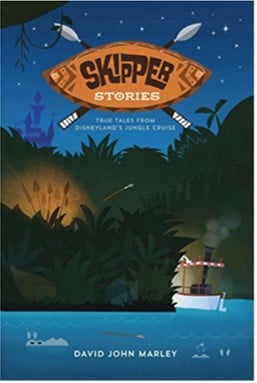 David John Marley was a Disneyland skipper on the Jungle Cruise for three years. Currently, he is a professor at California State University, Fullerton with a background in history.
He had the idea to contact dozens of former Jungle Cruise skippers who worked the attraction over six decades to create an anecdotal oral history recounting humorous and horrific tales of working on the ride. The result is a fascinating and entertaining glimpse into the life of a Disney cast member.
Some former skippers asked that they remain anonymous as they shared their tales, but the overwhelming majority are identified by their entire name and by decade. Interestingly, some of the current skippers had to have their thoughts reviewed by Disney Media Relations.
The book is divided into twenty-three short chapters devoted to different topics from training to interactions with guests to accidents and much more. Each chapter is filled with many different skippers offering a paragraph or two discussing their personal experiences about that topic.
Marley allows each participant to tell their own story without any interjection from himself. However, Marley does share a few of his own stories just like the other skippers.
Not all of the memories are memorable, or in some cases even that interesting, but those that aren't help provide a wider perspective, and make those that are amusing stand out even more.
Those funny moments run the gamut from the clueless questions asked by guests ("Is that water real?" "Where is Adventureland?") to the various pranks devised by the skippers (like the five gallon jug of liquid soap that was dumped into the water, transforming the river into a bubble bath, or the skipper who showed up in the elephant bathing pool one trip wearing just his boxer shorts and holding a bar of soap).
Marley even had Jason Schultz from the Richard Nixon Presidential Library dig out information about a former skipper, Ron Ziegler, who later became Nixon's press secretary.
The book was so well received that a sequel following the same format, More Skipper Tales, was released in December 2018.
Thankfully, these books debunk the theory that what happens in the jungle stays in the jungle.
*  *  *  *  *
Thanks, Jim! And come back next Friday for more from Jim Korkis!
In the meantime, check out his books, including his latest,  The Vault of Walt Volume 7: Christmas Edition, and his Secret Stories of Walt Disney World: Things You Never You Never Knew
, which reprints much material first written for this site, all published by Theme Park Press.


Follow yourfirstvisit.net on Facebook or Twitter or Pinterest!!
RELATED STUFF