A Friday Visit with Jim Korkis: Disney's Animal Kingdom–An Unofficial History
By Dave Shute
Welcome back to Fridays with Jim Korkis! Jim, the dean of Disney historians, writes about Walt Disney World history every Friday on yourfirstvisit.net.
YOUR PERSONAL DISNEY LIBRARY (15)
By Jim Korkis
Other than The Making of Disney's Animal Kingdom Theme Park by Melody Malmberg, released when the park first opened in 1998. and the later Imagineering Field Guide to Disney's Animal Kingdom by Alex Wright (2007), there has been up to now no book solely devoted to Walt Disney World's fourth theme park or the many significant changes that have occurred at it over the last decade and more.
Of course, there are other books that do include a section devoted to Disney's Animal Kingdom, but this book is completely devoted to just the Animal Kingdom, and its coverage includes not only the park but also the Animal Kingdom Lodge, attractions never built, and also the recent Pandora: The World of Avatar expansion..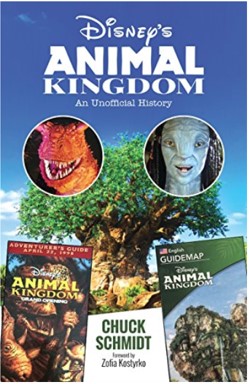 The book has sixteen chapters as well as a laudatory foreword by Zofia Kostyrko, an Imagineer who worked for years as part of the team that created and opened the park.
The book is very concise, with only 140 some pages devoted to the park plus an additional chapter of impressions of a variety of Disney fans who have visited it over the years.
Each section of the park, from Safari Village/Discovery Island to Camp Mickey-Minnie, is given its own chapter, and the book itself follows a loose chronological format from the beginnings of the project to its most recent additions.
Chuck Schmidt has been a newspaper journalist for decades and spent some of that time attending multiple Disney events including the opening of Disney's Animal Kingdom. His media credentials also gave him access to talk with many of the Imagineers and others responsible for making the Disney dream a reality.
In fact, this book in particular benefits from contributions from Imagineers instrumental in the design and construction of Animal Kingdom, including Joe Rohde, Kevin Rafferty, Zofia Kostyrko (who had previously worked with Rohde on the Adventurers Club), and Marty Sklar (a final interview just a few weeks before he died). It also benefits from zoologist Rick Barongi and horticulturalist Paul Comstock, among others, who provide insights not available elsewhere.
For instance, Kostyrko revealed that inside the small temple that's located near the entrance of Asia (by the Rivers of Light amphitheater), the original design team placed a time capsule, filled with sketches and other memorabilia from their years of work in shaping Animal Kingdom.
A long time Disney fan, Schmidt even has his own blog devoted to Disney, and has written three other books, including one on Disneyland Paris. His reporter training provides a clear, accurate presentation of what actually exists as well as occasional insights into the reason behind that existence.
I especially appreciated his sharing the influence the late Roy E. Disney had on the development of the park. In the book, Schmidt wrote: "During opening day ceremonies, Roy E. Disney said, 'They [Walt & Roy] would have been thrilled with what has been created here and would have thought it a wonderfully appropriate addition to their company'."
*  *  *  *  *
Thanks, Jim! And come back next Friday for more from Jim Korkis!
In the meantime, check out his books, including his latest,  The Vault of Walt Volume 7: Christmas Edition, and his Secret Stories of Walt Disney World: Things You Never You Never Knew
, which reprints much material first written for this site, all published by Theme Park Press.


Follow yourfirstvisit.net on Facebook or Twitter or Pinterest!!
RELATED STUFF