A Friday Visit with Jim Korkis: Two Disney Legends
By Dave Shute
Welcome back to Fridays with Jim Korkis! Jim, the dean of Disney historians, writes about Walt Disney World history every Friday on yourfirstvisit.net.
YOUR PERSONAL DISNEY LIBRARY (14)
By Jim Korkis
Both of these books were released in 2015 by Theme Park Press as part of their series of having Disney Legends share the stories of their Disney careers in their own words.
For historians, it is important and insightful to hear from the people who were actually there, although there is always the caveat that the recollections may be flawed. Their memories might be chronologically imprecise, or they may only have seen their part of the contribution to a project, or they may have an agenda to over promote what they did.
In the case of Walt Disney World, it is important to remember that it opened nearly fifty years ago and most of the people involved with that event are now at least eighty years old, or passed away, which makes it even more important to try and capture those personal first-hand accounts for a better understanding.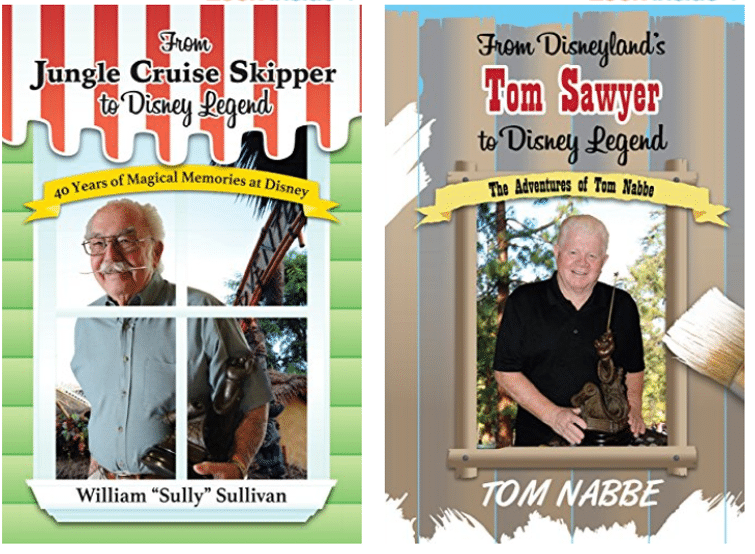 These are both short books, barely 125 pages each, and there are many unanswered questions that still need to be asked and documented of these two legends. However, what is in the books is very good stuff and has pretty much never appeared in print anywhere else before this publication. Great anecdotes, new revelations and interesting perspectives fill the pages, as well as putting some personalities to the names of others.
Both Tom and Sully started at Disneyland in 1955 so knew and worked with Walt Disney. Fifteen years later, when they moved to Florida to assist with the opening of Walt Disney World, they were seasoned veterans who were often assigned to help with problem solving at the new park.
Florida was a completely different world with an entirely different culture. Constant battles with bugs, heat and humidity, lack of supplies and lack of access to experienced labor resources were among the many other challenges. Neither man is shy about sharing the obstacles that confronted them while rushing to open Walt Disney World.
Tom was in charge of opening the Walt Disney World monorail system in 1971. He was the one who created the famous Nabbe Grabbers to reach down between the beams to recover items like hats, sunglasses, toys and more that guests dropped as they boarded or exited. Today, shorter versions are used by the WDW maintenance staff.
He ended up staying at WDW for the next 32 years and moving from the Monorail to one project after another. In 1972, he moved over to Frontierland during the construction of Tom Sawyer Island.  They dragged out a bunch of old photos of him as a young Tom Sawyer at Disneyland in the 1950s for publicity.  He later moved to Tomorrowland in 1973 for the building of Space Mountain and also a few other locations.
"Then I moved again to another project called EPCOT and in 1984 I finally made a key career change by going into Warehouse operations and that's where I retired from in June of 2003," said Tom.
"Sully" Sullivan came out in 1970 to train the cast who were going to work at the resorts in the Disney manner of how to do things. He was based at the Hilton Inn South off of International Drive. By the time, the Magic Kingdom opened in 1971, he was in charge of Security and Fire Prevention for Main Street, Adventureland, Frontierland, and Liberty Square. He was then transferred to the Resort Division, where he spent three and a half years, assisting and operating the Disney resort hotels.
Sully said, "I later had the opportunity to open and manage operations at Epcot Center. After operating Epcot Center for two years I went back to the Magic Kingdom as Vice President of the Magic Kingdom. And after thirty-nine and a half great years of working hard and playing hard at Disney, I decided to retire, which I did in February 1994."
Each book covers memories of working at both Disneyland and Walt Disney World in the early years, and helps us to better understand why these two men truly deserved being made Disney Legends.
*  *  *  *  *
Thanks, Jim! And come back next Friday for more from Jim Korkis!
In the meantime, check out his books, including his latest,  The Vault of Walt Volume 7: Christmas Edition, and his Secret Stories of Walt Disney World: Things You Never You Never Knew
, which reprints much material first written for this site, all published by Theme Park Press.


Follow yourfirstvisit.net on Facebook or Twitter or Pinterest!!
RELATED STUFF