A Friday Visit with Jim Korkis: Realityland
By Dave Shute
Welcome back to Fridays with Jim Korkis! Jim, the dean of Disney historians, writes about Walt Disney World history every Friday on yourfirstvisit.net.
YOUR PERSONAL DISNEY LIBRARY (12)
By Jim Korkis
David Koenig has been a columnist writing about Disney for over two decades, as well as the author of several Disney related books including Mouse Tales: A Behind the Scenes Look at Disneyland and its sequel.
In 2007, he decided to tackle the daunting task of documenting Walt Disney World and interviewed over a hundred past and present cast members to try to get an in-depth perspective.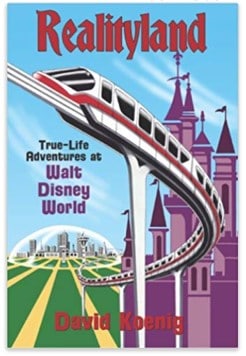 The majority of the book resulting from these interviews is on the creation of Walt Disney World, especially the Magic Kingdom and resort hotels. Leading up to just the opening of the Magic Kingdom takes nearly a third of the overall book. The latter part of the book is less chronological in approach, but still covers Epcot, Disney MGM Studios (the former name of Disney's Hollywood Studios) and the beginnings of Disney's Animal Kingdom.
Interestingly, the latter chapters showcase less of other people's memories, and Koenig seems to do more of his own personal summary to rush to the end of the story.
Koenig can not be faulted that there was so much to cover even in a book that is over three hundred pages that some items seem to get much less attention. He does not shy away from revealing some of the negative aspects and missteps of Disney in Florida. I know some people relish hearing about the "darker side" of Disney but I feel Koenig, for the most part, was justified in order to show the difficulties of building the vacation destination and is not unfair when he covers that material.
For the most part, Koenig's work is accurate but there are occasional slips throughout the text like claiming Walt was working on the St. Louis Riverfront Square project "by 1960" when the city fathers did not even approach Walt until 1963 and it wasn't until March 1964 that Walt announced his proposal for that indoor amusement venue.
Nor does Koenig point out how work on that project that ended in July 1965 ended up influencing aspects of Florida's Magic Kingdom and increased Florida's willingness to work with Disney seeing how easily he walked away from St. Louis when they didn't give him what he wanted. Yet these minor "speed bumps" do not detract from the main thrust of the text.
Koenig also tends to trust the quotes he got from his interview subjects without doing sufficient cross checking to confirm their accounts. I have found that sometimes interview subjects are not always accurate on chronology and proper nomenclature, maybe only saw their part of a much larger project or sometimes have an agenda they wish to promote about their accomplishments or to grind axes about old enemies.
Koenig's strength, as in his previous books, is preserving some of the many stories surrounding Walt Disney World and I smiled broadly at his recounting of his first visit to the now extinct Big Bamboo Lounge, a seedy bar hangout for vintage WDW cast members for years, because it mirrored my own first visit so closely.
One of the original WDW cast members, Bill Hoelscher, seems to be a major contributor and his perspective of the time has been sadly neglected in other works about WDW. In fact, Koenig went beyond "the same usual suspects" in gathering material for this book and I am grateful he did.
With so few books available solely about Walt Disney World, this is definitely one of the better ones available. Perhaps the strongest criticism I have is that I wish Koenig had written even more or produced a sequel volume like he did for his look at Disneyland but concentrating on the last half of the story that he had to quickly skim over here. Koenig's writing is clear and he did a good job of juggling so much material and still maintaining an understandable narrative.
*  *  *  *  *
Thanks, Jim! Realityland is one of the first books I read about Disney World, and I thought it was a hoot! The stories about Epcot especially remain with me.
And come back next Friday for more from Jim Korkis!
In the meantime, check out his books, including his latest,  The Vault of Walt Volume 7: Christmas Edition, and his Secret Stories of Walt Disney World: Things You Never You Never Knew
, which reprints much material first written for this site, all published by Theme Park Press.


Follow yourfirstvisit.net on Facebook or Twitter or Pinterest!!
RELATED STUFF