A Friday Visit with Jim Korkis: Joe Rohde on Africa in Epcot and the Animal Kingdom
By Dave Shute
Welcome back to Fridays with Jim Korkis! Jim, the dean of Disney historians, writes about Walt Disney World history every Friday on yourfirstvisit.net.
JOE ROHDE ON AFRICA IN EPCOT AND IN DISNEY'S ANIMAL KINGDOM
By Jim Korkis
When Disney's Animal Kingdom opened in 1996, I asked Imagineer Joe Rohde if that meant that the proposed African pavilion at World Showcase would now never be built.
"You don't understand the story," replied Rohde. "World Showcase is the story of people. Animal Kingdom is the story of the animals. I hope there will be an African pavilion built at World Showcase. It will help complete the story."
Recently, Rohde clarified that concept even further: "At Epcot's World Showcase, you're seeing replicas of famous buildings like the Temple of Heaven in China, the Doge's Palace in Italy, or the Eiffel Tower in France. And you're actively comparing those replicas to what you've seen in person or in media. You know they are just representations. Nobody looks up at the Eiffel Tower in Epcot and mistakes themselves for being in Paris.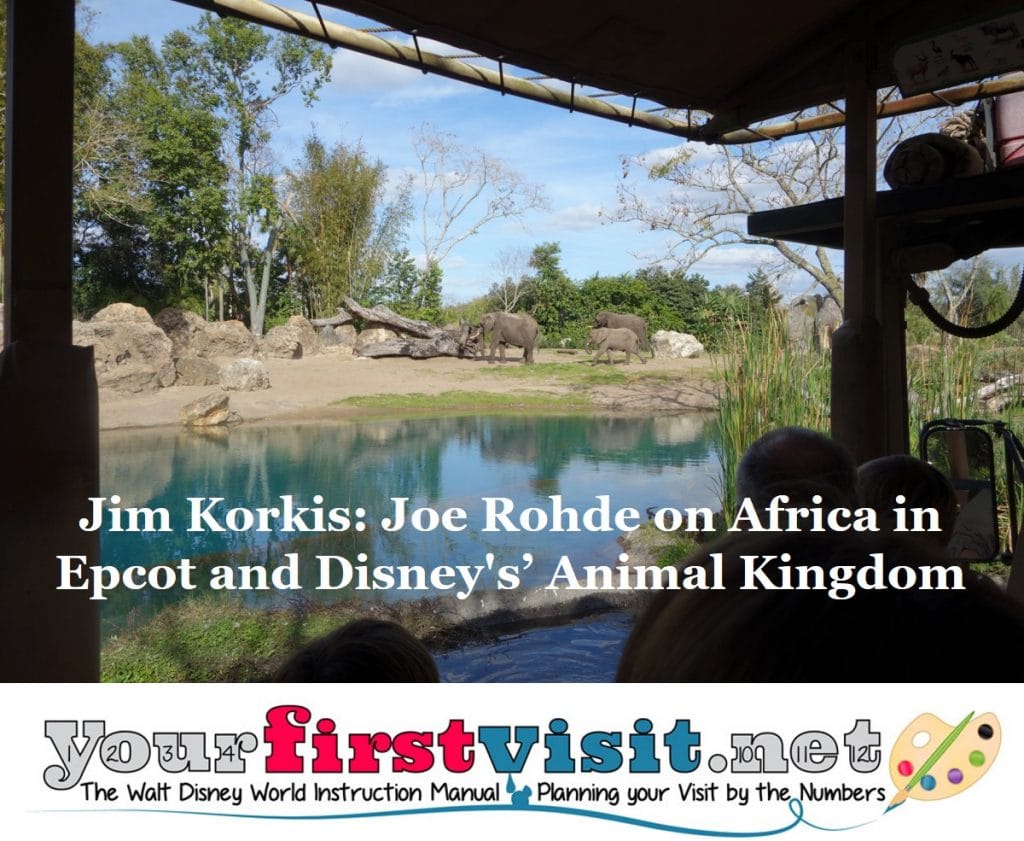 "At Animal Kingdom, we didn't want to theme the Lands around specific geopolitical places and their landmarks. That's just asking for trouble with all the changing politics for one reason. The Africa section of the Park is not Nairobi, for example. Instead of capturing the actual architectural icons as in World Showcase and elements that relate to a very real specific place like Paris, in Animal Kingdom we are capturing the emotional feeling of these exotic lands.
"Harambe is a fictional town meant to be reminiscent of an East African port catering to tourists in modern Africa. The details are real but they are a combination from things we found in many different areas and we mashed them together. The history we created is very much based on the reality of the region.
"Harambe is themed around the sorts of things that you would expect to see if you were in Africa alongside the elephants, hippos, gorillas, and other animals that call that section their home. You really 'feel' like you've been transported to a new place where you actually could go on a two week African safari."
On their six research trips to Africa, the Imagineering team kept being struck by how many elements of a typical theme park had been incorporated into the different tourist areas.
While in Kenya at Lake Nakuru, a popular safari park, this idea was starkly apparent. When word went out over the radios carried by the Land Rover drivers that a leopard had been sighted, the news created a traffic jam.
Nearly fifty vehicles converged on the tree where the leopard was perched. Dozens of tourists leaned out of windows to photograph the animal that was roughly three hundred feet away.
"That's when we realized that the tourists' Africa is already a theme park but just not a particularly well run one," recalled senior concept designer Kevin Brown. "We knew the experience we could provide in Animal Kingdom would be as good or better than that."
The research was intensive. The Imagineers took family-oriented package safari trips, from the lowest to the highest end, to get a full exposure of what a family might experience on such excursions.
They also created their own East African itinerary. They felt it was important to experience things as a group, just like theme park guests would. One discovery was that truly wild places were not accessible to the average tourist.
"The highlight of the trip was the hippos – big and strong and mean," said Rohde. "One surged out of the water with a snort and chased our boat, mouth open. We boated slowly over stretches of water where tell-tale eddies betrayed hippos lurking beneath – lots of them.
"That evening was the first time I have felt the exhilaration I expected from Africa. Fifteen-foot crocodiles and massive hostile hippos crashed through the water. As sunset drew on, the animals became more aggressive. We wanted to capture that same feeling in the park."
*  *  *  *  *
Thanks, Jim! For more on Disney's Animal Kingdom, see this.
And come back next Friday for more from Jim Korkis!
In the meantime, check out his books, including his latest, Secret Stories of Mickey Mouse, and his Secret Stories of Walt Disney World: Things You Never You Never Knew
, which reprints much material first written for this site, all published by Theme Park Press.


Follow yourfirstvisit.net on Facebook or Twitter or Pinterest!!
RELATED STUFF