Date-Based Ticket Pricing Soon to Launch at Disney World
By Dave Shute
As has been expected for some time, Disney World yesterday announced that theme park tickets purchased October 16 or after will have varying prices based on the start date of the ticket.
The prices themselves were not announced—that's expected on the 16th itself, although rumors, some accurate, will come out before then. Many were confused by apparent prices being used in an explanatory video—even though every image in that video had material like the following: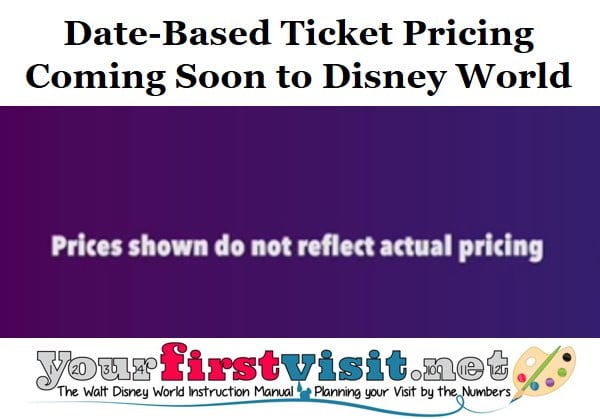 The way it will work is that ticket purchasers first select a ticket form or type.*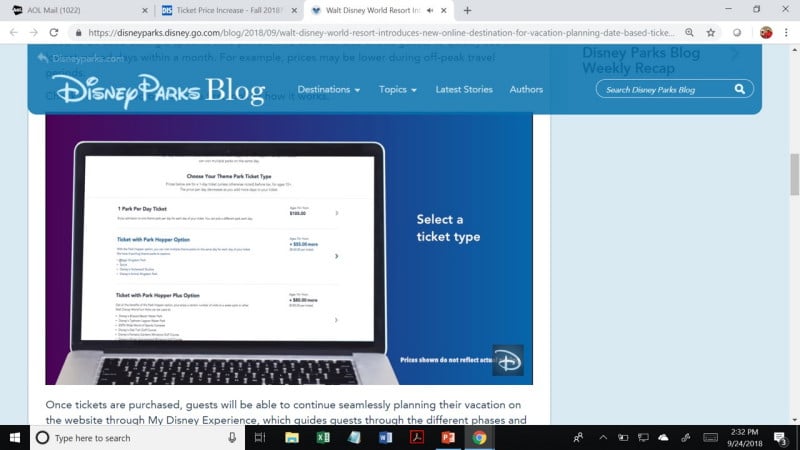 You choose from among the current ticket types:  "regular" one park per day tickets, "hopper" tickets that allow visiting different parks in the same day (multiple visits in a day to one park are covered by "regular" tickets), or "hopper plus" tickets that also include pre-paid admission to the minor parks (waterparks, mini-golf, etc.).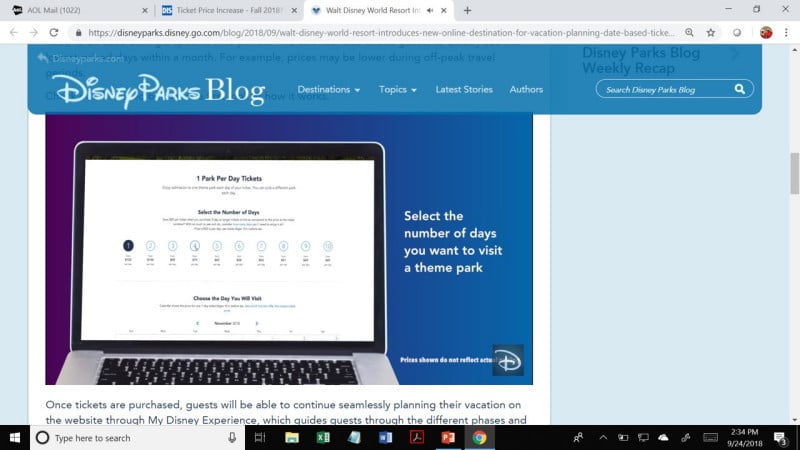 The next choice you make is how many park days.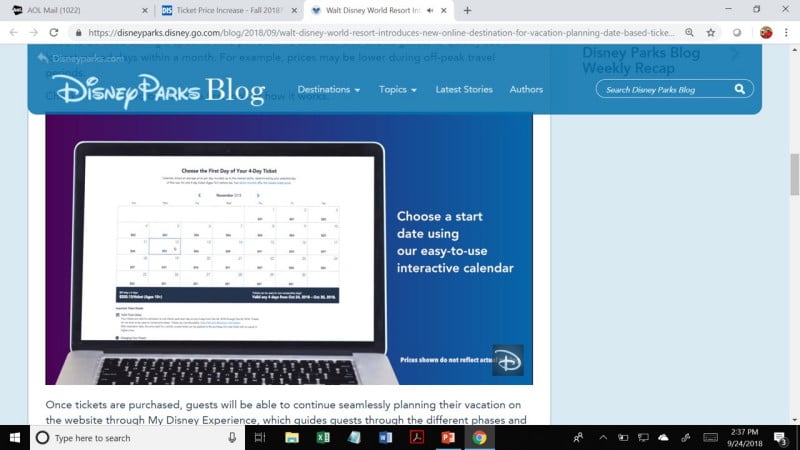 With these two choices in hand, you then pick your first possible day of use from a calendar that shows average daily prices by start day for a ticket of the already-selected form and number of days.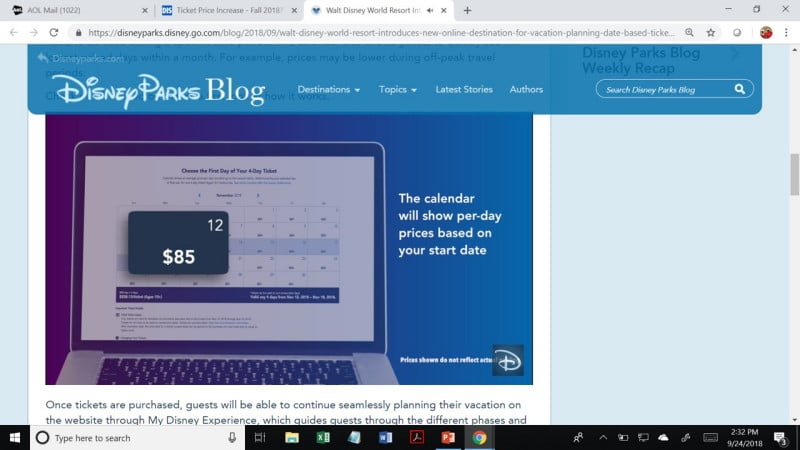 With a date clicked, the cost per day is highlighted…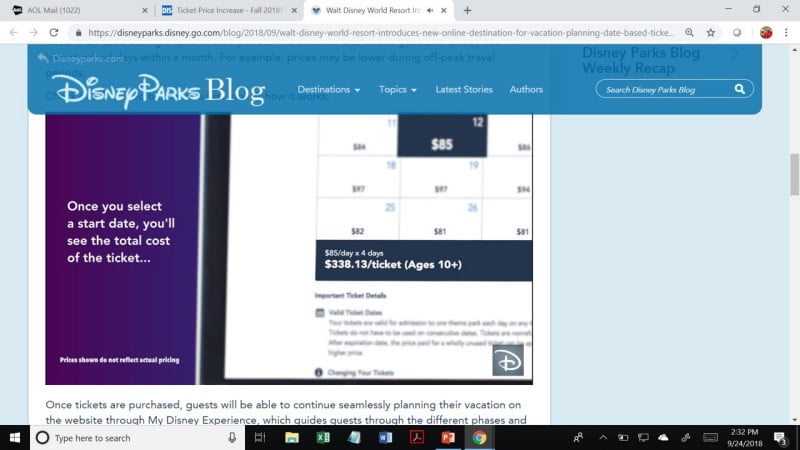 …and the system will then show the total cost of the tickets…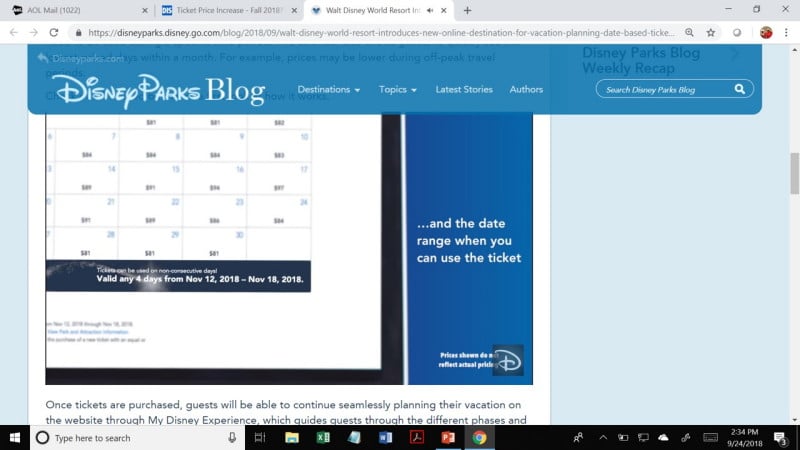 …and also the days the tickets are eligible to be used.
Except for one day tickets, these tickets have eligibility ranges greater than the actual number of park days that can be used. Two and three day tickets have two extra calendar days they might be used; tickets with four through seven days of park admission have three extra days, and tickets with eight to ten days have four extra days.
This allows guests some flexibility for off days, visits to other Orlando attractions, or for working around family, illness, or weather issues. It also allows, I would guess, for a bit of start-day arbitrage for guests who are willing to give up some flexibility.**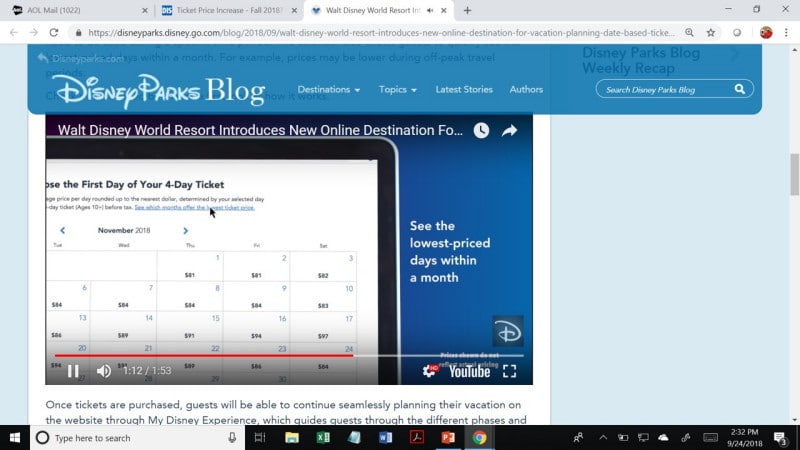 For guests with calendar flexibility, the system will also let you seek low cost days…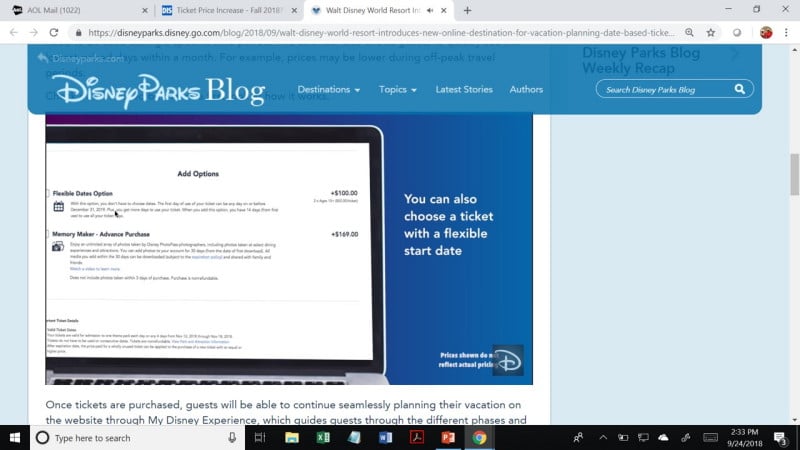 …and for those who want to lock into a set of tickets and not worry yet about start dates, an option to pay more for flexible dates will also be available. This option also provides the longest date range of eligible use—fourteen days—regardless of the actual number of days in the ticket.
Disney has two intentions behind this change.
One is to shift guests from higher-wait periods to lower wait ones, thereby increasing the satisfaction of the shifted guests (though not that of those who had already planned to go those dates because they held the promise of be see lower crowds)
The second is to extract more value from those who, regardless of pricing, choose the more popular dates
Both these have already been in place at Disney World in some fashion for years. Resort prices have worked this way from time out of memory. And over the last three years, Disney World has restructured the prices of its various types of annual passes to shift many people into lower-cost pass options that block out many of the most popular dates—resulting, for example, in starkly lower summer waits the past three summers.
The new approach to date-based pricing is much less complicated than many had feared it would be. Yes, you need to pick a date or pay a premium for flexible dates—but you always have had to pick a date; this new approach will simply incent that choice to even earlier. And yes, you will pay higher prices for some dates than others, even if you have no real choice in your dates—but this has also always been true for hotel prices.
The impact on park waits is still to be seen, and will be partly shaped by the actual price differences among dates. Higher price differences will level out crowds across the year to some as-yet unquantifiable extent, making formerly bad dates better and formerly good dates worse, although the impact is yet to be seen and good daily planning will still pay off quite a bit. Lower price differences will have less impact on the flow of crowds across the year.
*All screenshots are from Disney's video here.
**For example, say you plan to be in the parks for three days, on exact dates—e.g. February 3 through February 5. The two extra calendar days your ticket can be used on a three day ticket means your start dates could be February 1, February 2, or February 3. If you are willing to give up the option to use your tickets on February 6 or February 7, then picking February 1 or 2 as your start day, rather than February 3, in some scenarios might save you some money.


Follow yourfirstvisit.net on Facebook or Twitter or Pinterest!!
RELATED STUFF