A Friday Visit with Jim Korkis: Hidden Mickeys
By Dave Shute
Welcome back to Fridays with Jim Korkis! Jim, the dean of Disney historians, writes about Walt Disney World history every Friday on yourfirstvisit.net.
HIDDEN MICKEYS
By Jim Korkis
A Hidden Mickey is an image of Mickey Mouse found unexpectedly in a theme park, resort, cruise ship or other Disney location.
It is most commonly the tri-circled silhouette of Mickey's head that might be found in a swirl on a piece of furniture, or an arrangement of rocks and plants, or a carpet pattern or some other grouping in a context that might not normally contain Mickey.
However, some of these designs are intentional and are considered "Decorative Mickeys" because, after all, Mickey is the icon of the Disney Company and is utilized throughout these same locations.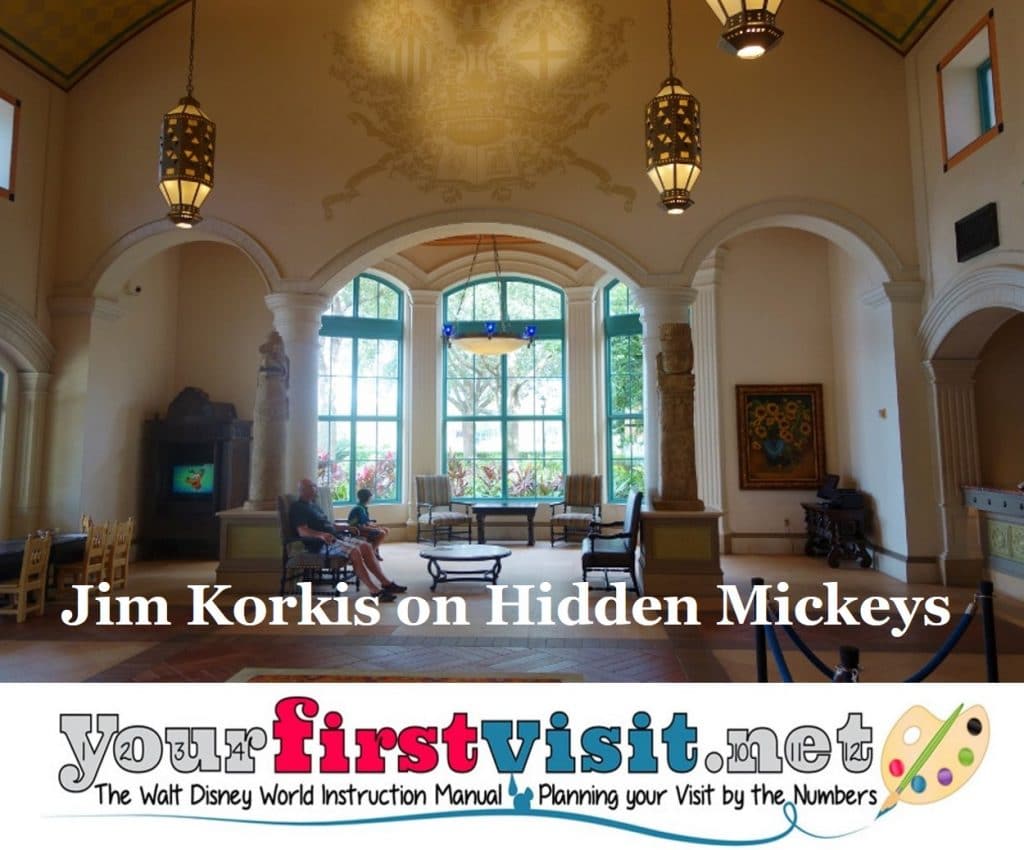 Some Hidden Mickeys are much cleverer than just a simple three circles like one of my favorites which was Mickey's foot on a 1930s movie poster peaking out beneath the Public Enemy movie poster in the gangster scene of The Great Movie Ride for over two decades at Disney Hollywood Studios.
Like many Hidden Mickeys, with the closure of the Great Movie Ride, that one no longer exists, which is why the parks do not publish an "official" list–because it is constantly changing.
Walt Disney World is home to the rarest Hidden Mickey of them all. In the Under the Sea: Journey of the Little Mermaid attraction at the Magic Kingdom, the rarest Hidden Mickey can only be seen on November 18, Mickey's birthday, at noon if the sun is shining.
Imagineers drilled three holes in the ceiling that on that day and time will create the famous three-circle Mickey image on the wall on the queue line at about knee-level. It has appeared for just a few minutes every year since the attraction was first opened in 2012.
There have always been unofficial Hidden Mickeys. One of the first was in the 1955 Disneyland Rocket to the Moon attraction where the rapidly diminishing spaceport (designed by Imagineer John Hench) in the bottom viewport had a remarkable resemblance to Mickey's head including the proper proportion and vector of the ears to Mickey's main circle.
However, the current unofficial "Hidden Mickeys" originated at Epcot in 1982. The secret was revealed to the general public in the December 1991 issue of Disney News magazine in an article by Imagineer David Fisher:
"When EPCOT Center opened at Walt Disney World in 1982, a conscious decision was made to give the new Theme Park a distinctly separate identity from the older, more familiar Magic Kingdom. One of the ways this was done was to purposely keep all references to the Disney characters out of the new Park.
"Leave it to the devious denizens of Walt Disney Imagineering to work the familiar ears or silhouette into just about anything they could during those early, no-Mouse days of EPCOT Center."
Once Michael Eisner became CEO, he put an end to the moratorium of Disney characters at Epcot because he knew guests wanted the characters there.
Actually, Disney cast members had been alerted to Hidden Mickeys two years earlier in a magazine article by Disney cast members Arlen Miller and Bob Weir in their "Hidden Disney" article for the November 30, 1989 edition of the cast member newspaper Eyes and Ears (Vol. 19, No 48).
Today, there is a very popular series of books beginning in 2002 and constantly updated by Steven M. Barrett (who also maintains a website HiddenMickeyGuy.com) to help fans locate some of these Hidden Mickeys since they are constantly being added and removed.
Some Imagineers prefer not to encourage the guests' fascination with the phenomenon because they feel it distracts the guests from being immersed in the entire experience. They have even less patience with cast members who deliberately create Hidden Mickeys since they consider it as solely an Imagineering prerogative.
*  *  *  *  *
Thanks, Jim! And come back next Friday for more from Jim Korkis!
In the meantime, check out his books, including his latest, More Secret Stories of Disneyland, and his Secret Stories of Walt Disney World: Things You Never You Never Knew
, which reprints much material first written for this site, all published by Theme Park Press.


Follow yourfirstvisit.net on Facebook or Twitter or Pinterest!!
RELATED STUFF