A Friday Visit with Jim Korkis: Building a Dream
By Dave Shute
Welcome back to Fridays with Jim Korkis! Jim, the dean of Disney historians, writes about Walt Disney World history every Friday on yourfirstvisit.net.
YOUR PERSONAL DISNEY LIBRARY (7)
By Jim Korkis
Some books that should be in your personal library about Walt Disney World may, in fact, not be totally devoted to WDW. There may only be a chapter or several chapters that focus on the Florida vacation destination, but even so, that material may not exist elsewhere, and it can enhance your appreciation.
In addition, some books resemble the academic texts or concentrate on a narrow topic. Today's book is an example of a significant book that is filled with accurate, out-of-the-ordinary information about the history, conception and building of Disney architecture but may not seem very entertaining to a general reader.
In 1996, Beth Dunlop, the long-time architecture critic of The Miami Herald newspaper, as well as contributor to articles for architecture, design and travel magazines (in particular, articles on Florida architecture), wrote the first edition of Building a Dream: The Art of Disney Architecture.  It was published in portrait format by Harry N. Abrams Publishers.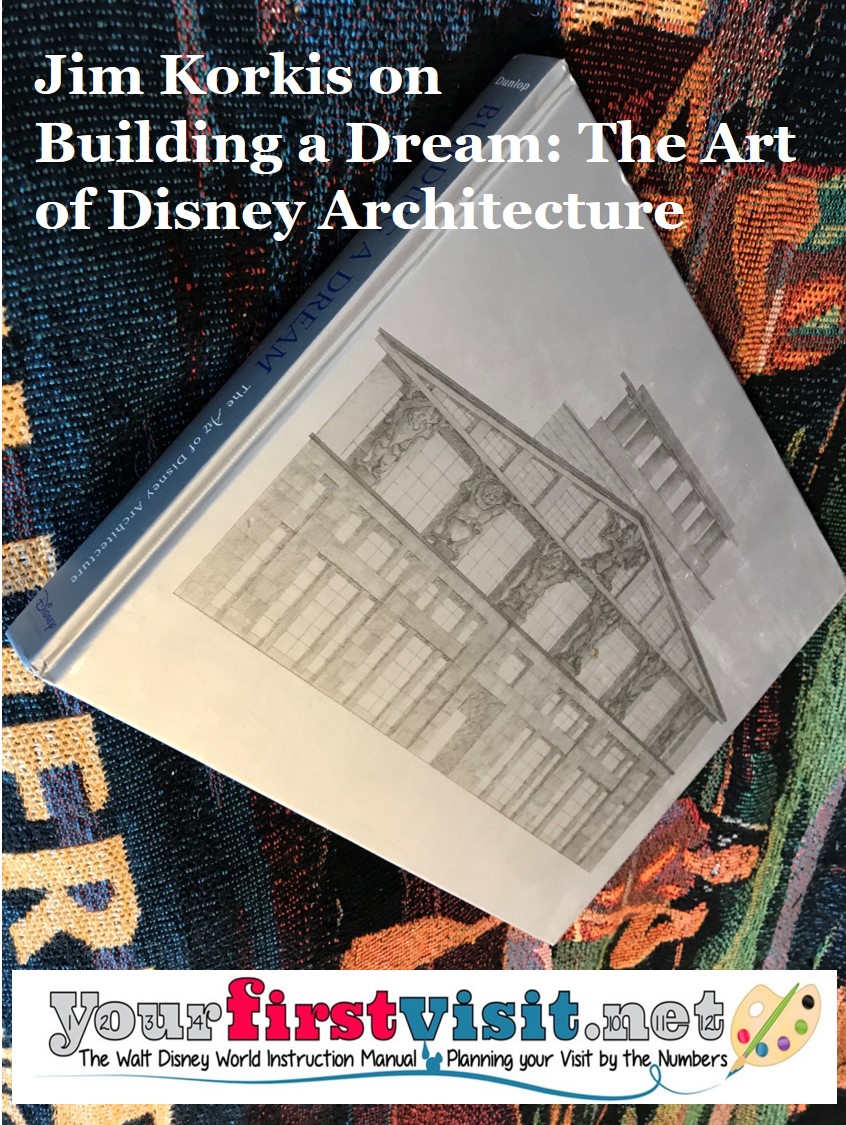 Fifteen years later in 2011 she revised and updated it in landscape format for Disney Editions. The 2011 edition of Building a Dream: The Art of Disney Architecture includes a foreword by Tom Staggs and Bruce Vaughn, and an afterword by Wing T. Chao.
[Oddly, Amazon may show the wrong cover–Dave]
So while the two books share many similarities, there are enough significant differences that a Disney fan may seriously consider having both editions. However, if your collection only has room for one copy, I would recommend the newest version.
Since this is a book about architecture, the intent is to focus on the buildings, and most of the photos lack any human presence, which some may argue is troubling because it is only with the interaction with people that architecture truly comes alive and serves its function much like a stage set for a play. I personally don't find that a flaw because the lack of people allows me to better study the structure and details.
In the first edition, at least half the photos were in black-and-white. The newer edition is filled with full color photos, sometimes several to a page. So, if you have only a casual interest in architecture, it does easily serve as a stunning picture book to flip through and marvel at the theatricality of it all.
Since this is a Disney approved text, there is no overt criticism of any Disney architecture and sometimes that is avoided by simply not mentioning any missteps in the first place.
Primarily, there are three main chapters devoted to Walt Disney World. One concentrates on the parks, another on the resorts, and finally one focuses on the city of Celebration. Celebration today is no longer considered "Disney," but the chapter gives insight into the architects who worked on that project. Moreover, there are also scattered sections throughout the book devoted to WDW's Casting Center, Team Disney Building and Reedy Creek firehouses.
The rest of the book covers Disneyland, Disneyland Paris, New Amsterdam Theater, Disney Cruise Line and other topics. The first book was much more of an homage to the accomplishments of former CEO Michael Eisner who was a champion of architecture. He is still acknowledged as a key instigator in the newer edition but is not as prominently showcased.
Personally, I have always been fascinated by Disney architecture and why certain choices were made. As Wing Chao, Imagineering executive vice president for Disney design and architecture writes, "each building has its own story, from design inception through the development process to completion. Disney architecture in unique."
Dunlop's book has a good index (rare in Disney books), several pages of bibliography for those who want to explore the subject further, and is filled with direct quotes from those who actually designed and built the buildings. I have both editions on my personal library bookshelf.
*  *  *  *  *
Thanks, Jim! And come back next Friday for more from Jim Korkis!
In the meantime, check out his books, including his latest, Call Me Walt, and his Secret Stories of Walt Disney World: Things You Never You Never Knew
, which reprints much material first written for this site, all published by Theme Park Press.


Follow yourfirstvisit.net on Facebook or Twitter or Pinterest!!
RELATED STUFF