Disney World Crowds: Christmas 2018 and New Year's 2018/2019
By Dave Shute
DISNEY WORLD CROWDS FROM LATER DECEMBER 2018 TO EARLY JANUARY 2019
Disney World sees its highest crowds and prices of the year in the later third of December and the beginning of January, in the weeks around Christmas and New Year's Eve.
This is for a pretty basic reason: kids are out of school then.
However, not every school district has the same break schedule.
In 2018, as always, there's more kids out the week between Christmas and New Year's than before or after.
Because of the Tuesday Christmas, there's not a lot of kids out the week before Christmas. However, waits will build that week even so compared to earlier in December, as folks not worried about school breaks come then to try to beat the crowds later in the month.
Crowds will be massive by December 22, 2018, and will be at their worst between 12/23/2018 and 1/1/2019.
As in 2018, the week after New Years in 2019 has many kids on break, so I expect Disney World to be heavily crowded through January 6, 2019.
SCHOOL BREAKS AND DISNEY WORLD CROWDS
Most years, there two typical sorts of breaks:
Long breakers–districts that take at least 2 full weeks (and three weekends) off
Short breakers–districts that take off as close to only December 25 to January 1 as they can
As a result, the period Christmas-New Years is always mobbed at Disney World, as everyone is out of school then, but the periods before and after vary from year to year depending on what day of the week Christmas falls.
In 2018, the Tuesday Christmas put long-break districts in the position having to pick when to schedule their second week–before Christmas weekend, or after New Years. Enough put it after New Year's that I expect to see heavy crowds that week.
My review of school breaks (explained more here), along with co-author Josh's work on easyWDW.com. on waits, has not led to any material changes in my December 2018 or early January 2019 crowd forecasts. However in a minor change, I'd now expect the week beginning 12/1 to be a 3, not a 4, and the week beginning 12/8 to be a 4, and not a 3.
As always this time of year, it is critical through December 21 to visit the right park on the right day, and this will be especially true the week beginning 12/15. Pick the right days to be in each park, and you will see moderate-minus crowds; pick the wrong days, and you will see high crowds.
ACTUAL 2018-2019 CHRISTMAS SEASON SCHOOL BREAKS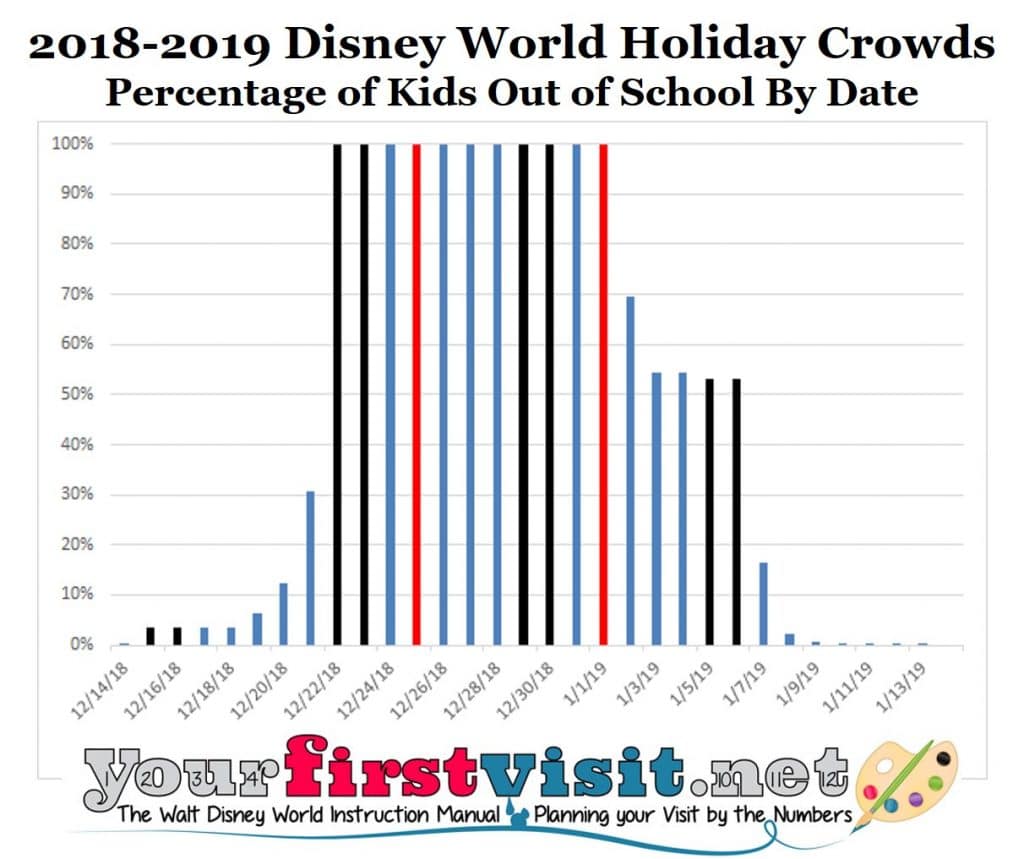 The chart above illuminates how 2018/2o19 holiday breaks work.
It's based on data from a weighted sample including more than 270 of the largest relevant US public school districts with almost a third–more than 15 million–of total US school kids included.
The holidays are red, the weekends black, and weekdays blue.
You can see that breaks begin Friday the 14th. More kids go on break beginning the 19th, and by the 22nd everyone is on break.
Pretty much everybody stays out of school through January 1, 2019, and while many go back to school January 2 or 3rd, more than 50% of US schoolkids remain on break through January 6, 2019.
Over the period, I have crowds the weeks beginning 11/24, 12/1, and 12/8 in the low range. Crowds the week beginning 12/15 I have as moderate–if you are careful picking your days (or use my itinerary) you will see moderate-minus crowds, and if you pick bad days, you'll see high crowds.
Disney World crowds will peak between Christmas and New Years. I have the week beginning 12/22 as having the highest crowds of the year, and the week beginning 12/29 as having high crowds–worse earlier in the week, a little better later in the week.


Follow yourfirstvisit.net on Facebook or Twitter or Pinterest!!
RELATED STUFF