Basic 2018 December Disney World Itinerary
By Dave Shute
This  Walt Disney World itinerary is designed for the four weeks following Thanksgiving 2018.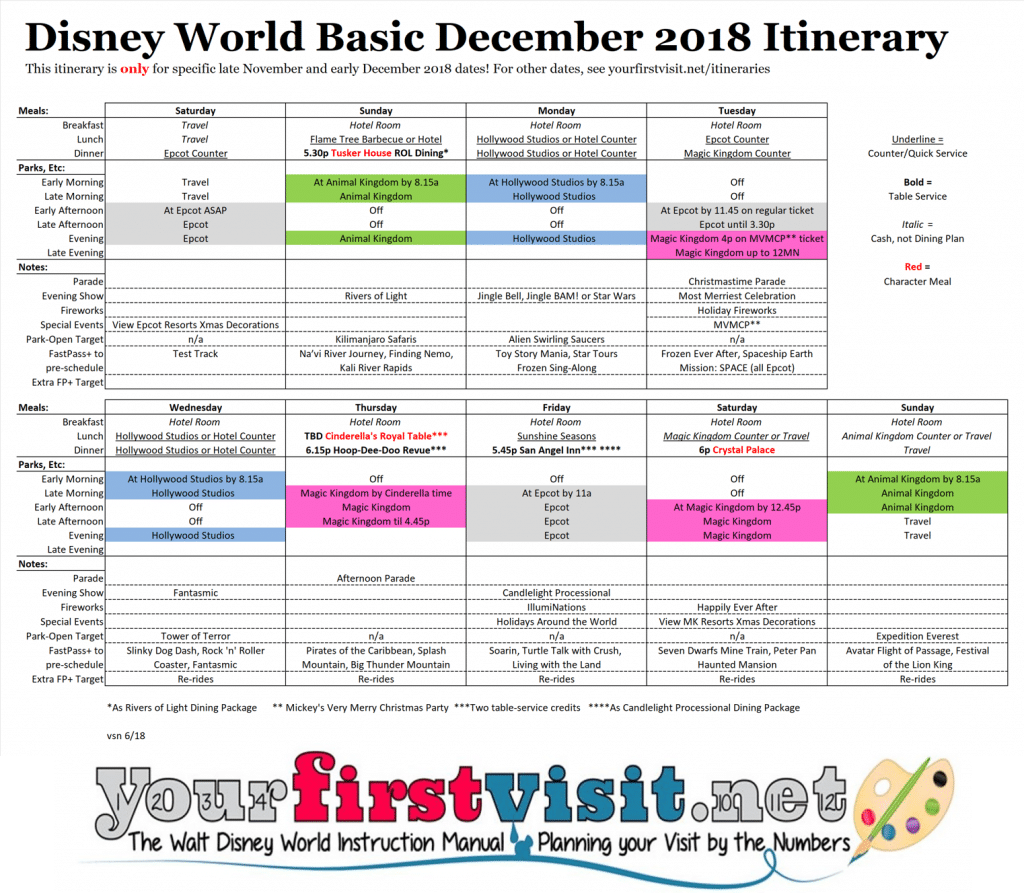 If you aren't going one of those weeks, see Other Itineraries for alternatives the rest of the year, which are published about six months ahead.
You can enlarge the basic itinerary by clicking it. 
A detailed  To-Do List covers all the planning steps you need to undertake. Even more detailed daily guidance is in the links:
DAILY PLANS
ITINERARY DESIGN GOALS
The basic December itinerary was designed to meet several goals: to ensure that you
See the best that Walt Disney World has to offer, including all of its special Christmas season offerings
See the parks in the order that works best for kids (essentially Epcot first, as it is potentially the most disappointing, and the Magic Kingdom last, as it is likely to be the best loved)
Avoid unnecessary waiting, by using FastPass+ and other tactics…
Given all the evening shows and late nights, have as few early mornings as practical
The 2018 version differs from previous ones in a couple of ways:
It incorporates the new Toy Story Land in Disney's Hollywood Studios
It's updated to include various openings, closures, and time changes since the 2017 version.
If you can't do the dates required for the Basic Itinerary, see Other Itineraries for alternatives for both the December week and the rest of the year.



Follow yourfirstvisit.net on Facebook or Twitter or Pinterest!!
RELATED STUFF