A Friday Visit with Jim Korkis: Coronado Springs
By Dave Shute
Welcome back to Fridays with Jim Korkis! Jim, the dean of Disney historians, writes about Walt Disney World history every Friday on yourfirstvisit.net.
CORONADO SPRINGS: THE LEGEND OF JUAN FRANCISCO
By Jim Korkis
Spanish explorer Francisco de Coronado left Mexico in 1540 and headed north in search of the fabled seven golden cities of Cibola. Imagineers used that story as a springboard to create a resort that would reflect the textures, colors and art of both Mexico and the American Southwest.
When the moderate resort Coronado Springs opened at Disney World in August 1997, the Imagineers said that the back story was that "Coronado Springs was founded by the descendants of a Spanish explorer named Juan Francisco. Searching for gold in 1569, Francisco stumbled upon the ruins of a forty-six foot tall Mayan pyramid.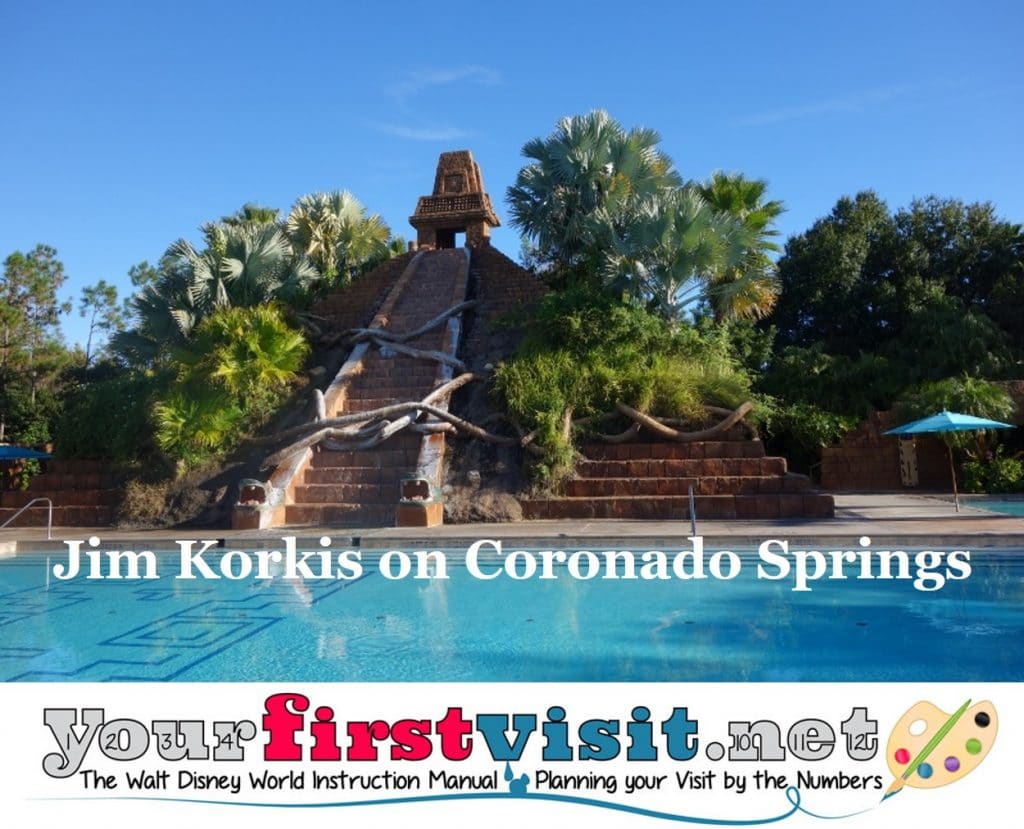 "Hundreds of years later, relatives found his charts and decided to mount an expedition of their own. The rugged group liked the place so much that they built houses and put down roots."
Wing Chao, then senior vice president of Master Planning and Architecture, said "We looked at a map to see where people go on vacation. After determining that they like to go to Mexico and the Southwestern United States, we just blended the themes."
The project was put on hold several times for a variety of reasons after it was first proposed in 1992. The original plans did not include a convention center, but new studies showed that Walt Disney World did not have enough convention space. Moreover, those Disney World resorts that already had convention space had room rates too high for some associations' budgets.
With the adoption of tunnel form construction with poured concrete bays, it became economically feasible to provide convention space and moderately priced rooms. The Coronado ballroom is roughly 60,214-square-foot and is the largest ballroom in the southeastern United States.
The resort was designed to reflect three themes: Cabanas, Ranchos and Casitas. The two story Cabana buildings represent the coastal regions of the American Southwest and Gulf Coast villas. The Cabanas surround the rocky beach adjacent to the fifteen acre man-made lake, Lago Dorado.
The architecture and landscape of the Ranchos suggest the more arid, country-ranch or farmhouse parts of the region with a small stream or arroyo tumbling over a rocky stream bed. Project coordinator Mark Kohl said, "We made sure the vegetation selected would really grow next to a river in the same region of Mexico."
The Casitas were inspired by the urban areas of Mexico and the American Southwest. The Casitas are interspersed with colorful plazas and fountains and palm-shaded courtyards.
"We had to find a balance between Mexico and the Southwest when it came to selecting colors and how they relate," said Kohl. "It was a two year research process where team members went to look and bring back photos, art and books for inspiration. I have a Mexican stone calendar on my wall. The art we finally selected for the guest rooms provides a better fit for the theme of that particular area."
Palacios are decorated in shades of desert sand and sunset pink. The red tile roofs, mosaic accents, shady courtyards and sunny patios recall the grand haciendas of the Spanish Colonial era.
Project coordinator Cindy MacKenzie returned from a research trip to Oaxaca with three foot tall frogs, lobsters and iguanas to take up residence in the 420 seat Pepper Market food court meant to suggest an old warehouse where individual food vendors have set up shop. The restaurant is divided into three areas: the fire temple near the exhibit cooking, the water temple and the sun temple.
A new 15-story tower overlooking Lago Dorado, the resort's central lake, will add 500 rooms featuring suites and concierge level services, and a rooftop dining facility that will include panoramic views of nighttime fireworks shows at the Disney World parks. At the same time, a room refurb project is about half done, and there are also plans to transform some of Coronado Springs' landscape.
*  *  *  *  *
Thanks, Jim! There's more on Coronado Springs here. And come back next Friday for more from Jim Korkis!
In the meantime, check out his books, including his latest, Call Me Walt, and his Secret Stories of Walt Disney World: Things You Never You Never Knew
, which reprints much material first written for this site, all published by Theme Park Press.


Follow yourfirstvisit.net on Facebook or Twitter or Pinterest!!
RELATED STUFF