Longer Disney World Ticket Prices Increase Less Than I'd Thought…At Least So Far
By Dave Shute
Disney World ticket prices went up on Sunday, and at the same time Disney announced that later this year it would begin charging different seasonal prices for multi-day tickets—no details on that yet, but I have some speculation below.
I've finally had time to analyze the correct prices (they are all here; incorrect prices were all over the place earlier, including on this site, as the leaked prices included the $21.30 extra charge for not getting tickets in advance).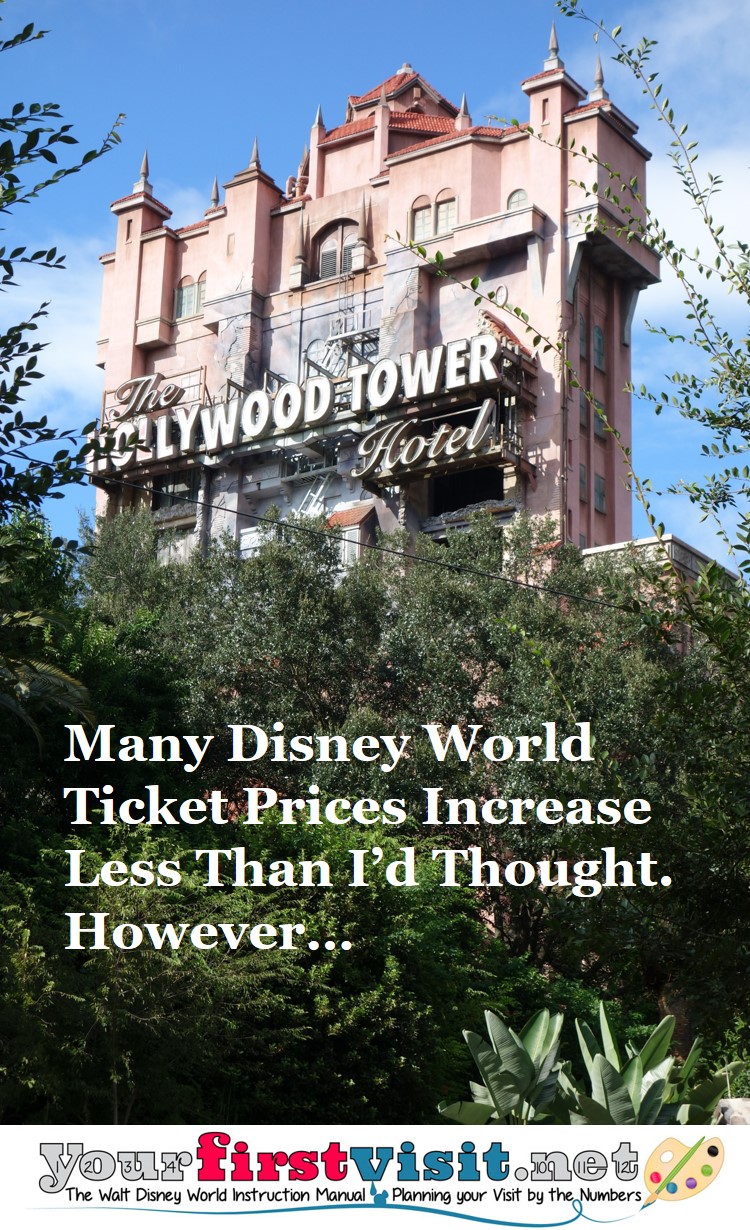 Here's the short version:
Shorter tickets went up substantially
The longer tickets that I would recommend for most went up hardly at all
My guess is that—particularly because of this last point—that what we are seeing now is the lowest level of ticket prices in the new seasonal price scheme
Details follow.
SHORTER DISNEY WORLD TICKETS INCREASE BY $11 TO $32
Here's the scoop on shorter tickets for those ten and older. (Tickets for those younger than ten went up by the same dollar amount, but off a slightly lower base, so saw slightly higher percentage increases.)
2 day tickets: up $10.65 or 5.0%
3 day tickets: up $17.04 or 5.5%
4 day tickets: up $31.95 or 8.6%
5 day tickets: up $26.63 or 6.8%
The obvious observation is that all these are substantially higher than inflation, so Disney seems to be extracting value—especially at the 4 and 5 day levels—to get returns on its investments in the Animal Kingdom and Hollywood Studios, which many still prioritize after Epcot and Magic Kingdom.
LONGER DISNEY WORLD TICKETS MOSTLY INCREASE BY $5.33
Longer tickets show a remarkably different pricing pattern, with all but 6 day tickets showing an increase of less than inflation.
6 day tickets: up $15.98 or 3.8%
7 day tickets: up $5.33 or 1.2%%
8 day tickets: up $5.33 or 1.2%%
9 day tickets: up $5.33 or 1.2%%
10 day tickets: up $5.33 or 1.1%%
The combination of changes also means that its costs the same to add a day–$10.65—for all tickets 6 days or longer. This returns Disney largely to the pricing pattern it had before 2016. The combination of these two factors—lower prices to add a day, and price increases of less than inflation (that means in real terms ticket prices went down) suggests an enhanced emphasis by Disney on guests staying of longer.
Or at least during the times when these tickets are valid….
THOUGHTS ON SEASONAL TICKET PRICING
Those who buy at the current price can use these tickets at the price they paid until 12/31/2019. (Unless you change the tickets–e.g. add a day.)
Those who buy their tickets after the seasonal pricing structure comes out will, I believe, have to pay more. I believe this because the low increases on longer-day tickets leave little room for less-expensive tickets, which makes me think the pricing level we are seeing now will be the lowest level offered in 2018.
There's two different reasons for seasonal pricing. One is to incent those with flexible dates to attend during lower-crowd periods. This can yield better experiences both for those who shift away from crowded times, and for those who remain in them (because crowds will be lower from those who did change their dates). The second is to extract more value from those who cannot change their dates but who are going during more popular periods. All of Disney World recent strategic language is about the first reason.
Unclear is what the seasons will be and when they will be announced—and the new prices come in. Disney currently has a calendar for the seasonal pricing of one day tickets for which it has been charging seasonal rates for a couple of years now. Go here, click 1 day tickets, and a calendar will show up of lowest "Value," middle "Regular," and highest "Peak" price days.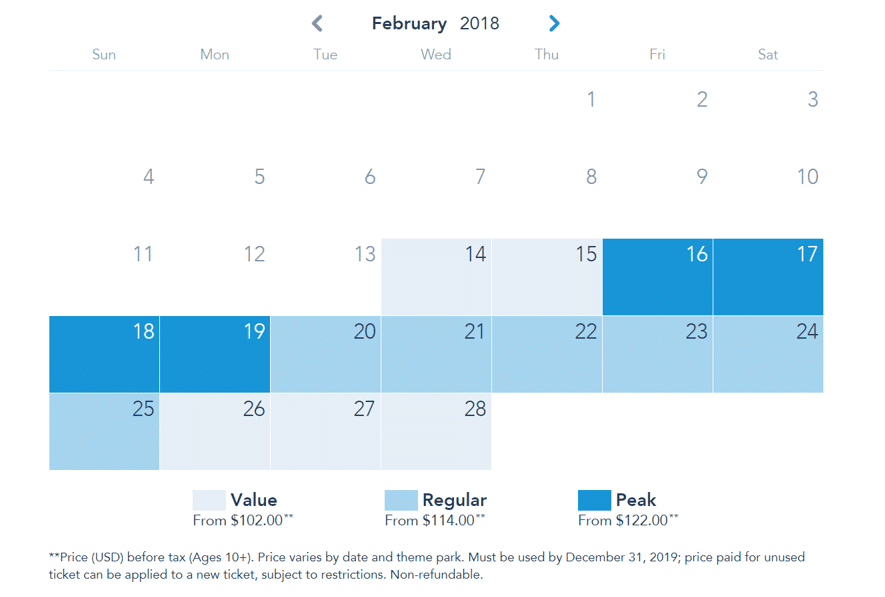 If you play with this you'll discover there are no value priced days from May 4 through August 26. While Disney may not exactly follow this one day calendar for its multi-day tickets, surely it is relevant. So I would expect the new price levels to kick in for visits in May or—maybe–June, and to be announced shortly after the opening date for Toy Story Land is announced.
I may be wrong about the current set of tickets being the lowest prices we'll see in 2018–I'm wrong 20 times before breakfast. But if I am right, it can't hurt to buy your tickets now, as, especially if your dates are out of the current "Value" ticket season, you might save some coin.


Follow yourfirstvisit.net on Facebook or Twitter or Pinterest!!
RELATED STUFF