The WDW Magazine 2018 Preview Issue is Out!
By Dave Shute
The latest edition of WDW Magazine, which focuses on 2018 at Disney World, is out!
The magazine is available on iTunes, for Android, and on the web.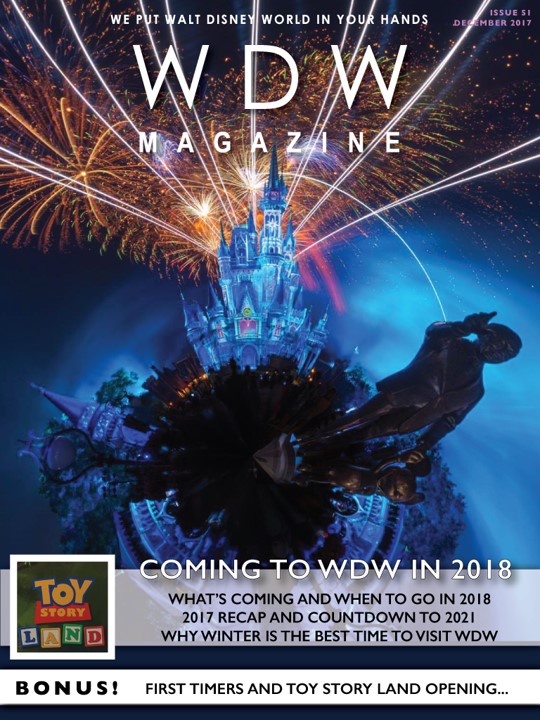 From my friends at the magazine, here's the scoop on this month's issue:
This month we recap the amazing year at WDW in 2017, look ahead to what's coming in 2018, talk about the pros and cons of visiting in every months of the year, and explore why winter is the best time to visit!
Plus we have a sneak peek inside Club 33 at Disneyland and a preview of the new Beauty and the Beast musical on the Disney Dream!
We also look at the All-Star Music Resort, Columbia Harbour House, how early you should book your WDW vacation, the best shopdisney.com gifts for your kids, and we share some fun facts about Tomorrowland.
For all you Star Wars fans – we have an exclusive interview with Jamie Cosley from The Light Side comic featured in Star Wars Insider!
WDW Magazine is dedicated to bringing you in-depth coverage and stunning photos every month. For 4 years it has been the leading digital magazine for Walt Disney World fans.
I write the WDW Magazine column for first-timers (because who else would??). In this edition, I focus on whether or not you should time your trip around the opening of Toy Story Land.  Moreover, in an annual tradition, Carl Trent and I debate the best and worst times to go in 2018!
Curious? Of course you are! Subscribe via iTunes, Android, or on the web.





Follow yourfirstvisit.net on Facebook or Twitter or Pinterest!!
RELATED STUFF