John L. Tishman, Master Builder, 1926-2016
By Dave Shute
John Tishman, who built the expansion at the Polynesian that is now its Disney Vacation Club offering, the Hilton in Disney Springs, and Epcot, died on Saturday.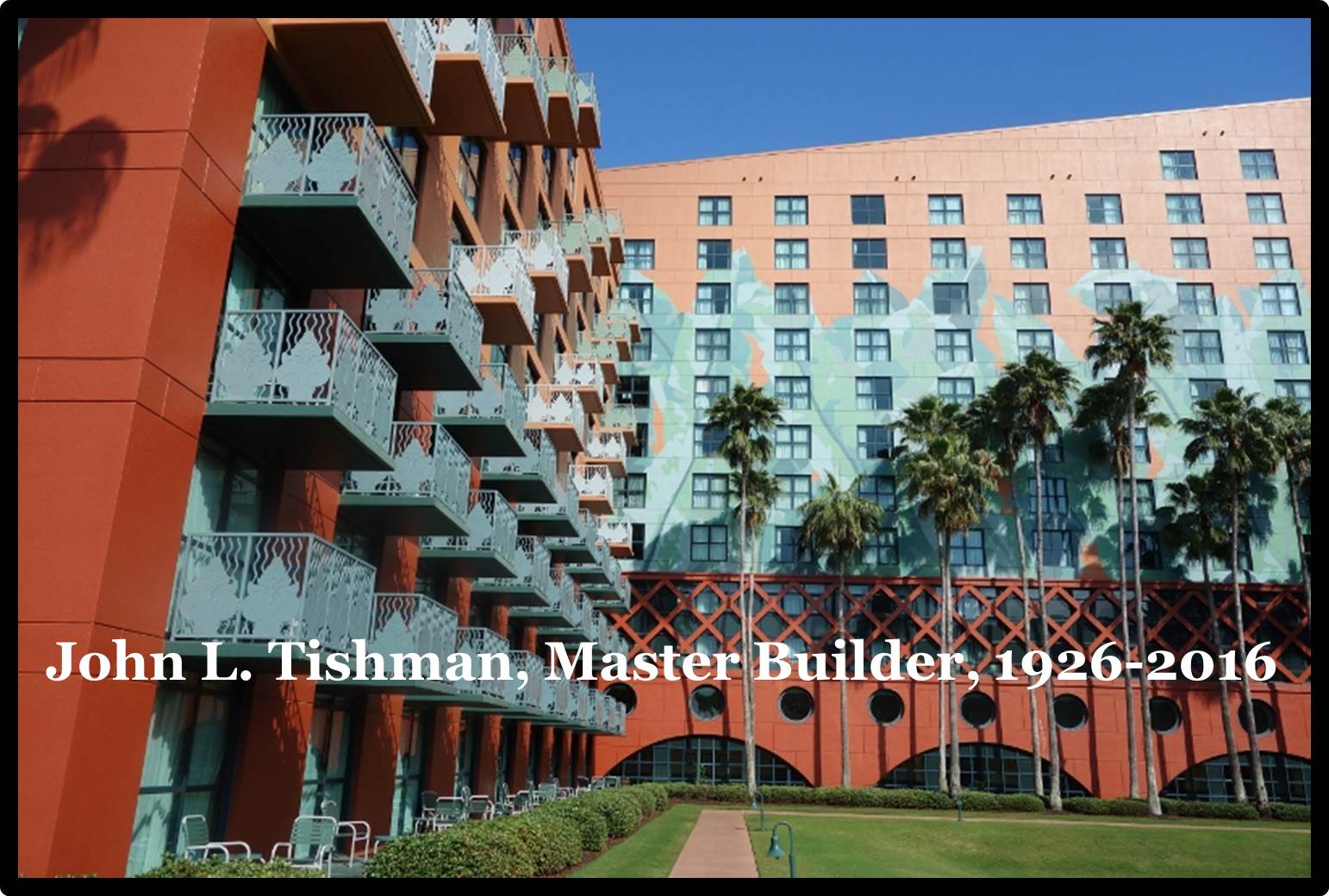 Tishman also once sued Michael Eisner, then CEO of the Walt Disney Company, and the company itself under the RICO statute (thereby probably blowing his chance to ever be named as a "Disney Legend") to enforce rights he had acquired to build a convention hotel in return for agreeing to build Epcot.
Disney's settlement of this suit led to what we now know as the Swan and Dolphin, which he also built.
Tuesday of last week I had more than 12 hours of travel to get from Monterrey Mexico (where I was helping one of my clients with the quarterly meeting of its worldwide team, as part of my day job as a strategist) back to home in Cleveland.
I wasn't in the mood to spend all that time working, so I dug deeply into my archived Kindle books.
I started with James Stewart's classic DisneyWar, which I re-read every five years or so, it's so much fun. (On re-reads I do skip the Katzenberg fight and the whole Ovitz chapter–remember them?)
That reminded me how much I had enjoyed Tishman's autobiography Building Tall: My Life and the Invention of Construction Management, which in turn reminded me of how much fun Alan Lapidus's biography Everything by Design: My Life as an Architect was. (Lapidus was the hotel architect at the Hilton and Swan and Dolphin.)
So on my Tuesday travels I re-read all of these, with Tishman being a central figure in one and a key figure in the two others. It was a fun and interesting Disney World day, and it's sad to see it bookended by Tishman's death.
On a side note, anyone who claims expertise on hotels–which I kinda do–needs to read Lapidus's book, as he was the premiere hotel architect of his generation.
Moreover, in another interesting coincidence, Lapidus worked a lot with Donald Trump, and has a number of interesting things to say about him that I'd simply glossed over the first time I read his autobiography–as they didn't matter then.
On the re-read last Tuesday, I learned a lot about Trump that is not covered by today's press, and, somewhat to my astonishment, came away from Lapidus's stories with a certain measured degree of admiration for Trump.
Now I still can't imagine voting for the dude…but I also would never have guessed as I sorted through my Kindle offerings last week how much the past is still present…and how quickly the present becomes the past…so RIP, John Tishman.
Follow yourfirstvisit.net on Facebook or Google+ or Twitter or Pinterest!!
RELATED STUFF