The WDW Magazine Animal Kingdom Issue is Out
By Dave Shute
The latest edition of WDW Magazine is out. It's hard to believe, but this endeavor is now three years old.  All that time I've been the "first-timers corner" columnist.
This month, the mag focuses on Disney's Animal Kingdom theme park.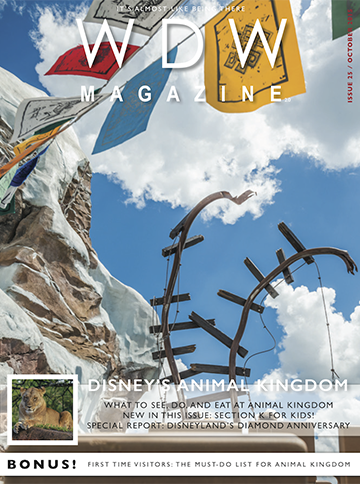 Editor Carl Trent has this to say about this month's edition:
"In our Features Section this month we take a look at the Evolution of Animal Kingdom. See how it's grown and changed through the years. After that we take a look at What to Do, What to See, What to Eat and the Characters at Animal Kingdom."
The magazine is available on iTunes, for Android, and on the web.
My first-timer column focuses on must-sees for first-timers at the Animal Kingdom, and on how to tour the park.
My contribution builds from both what you can find on this site and also what you'll find in our book, The easy Guide to Your First Walt Disney World Visit 2016.
Curious?  Of course you are! Check WDW Magazine out.
Follow yourfirstvisit.net on Facebook or Google+ or Twitter or Pinterest!!
RELATED STUFF