A Report (And Video!) From Breakfast at Be Our Guest
By Dave Shute
My friend Allison had a chance to try out the new breakfast offering at the Magic Kingdom's Be Our Guest. Here's her report!!
BREAKFAST AT BE OUR GUEST
By Allison
One of the most popular restaurants at Disney World is Be Our Guest at Magic Kingdom. Until recently this restaurant served only lunch and dinner. A few days ago, Disney opened this restaurant to include breakfast.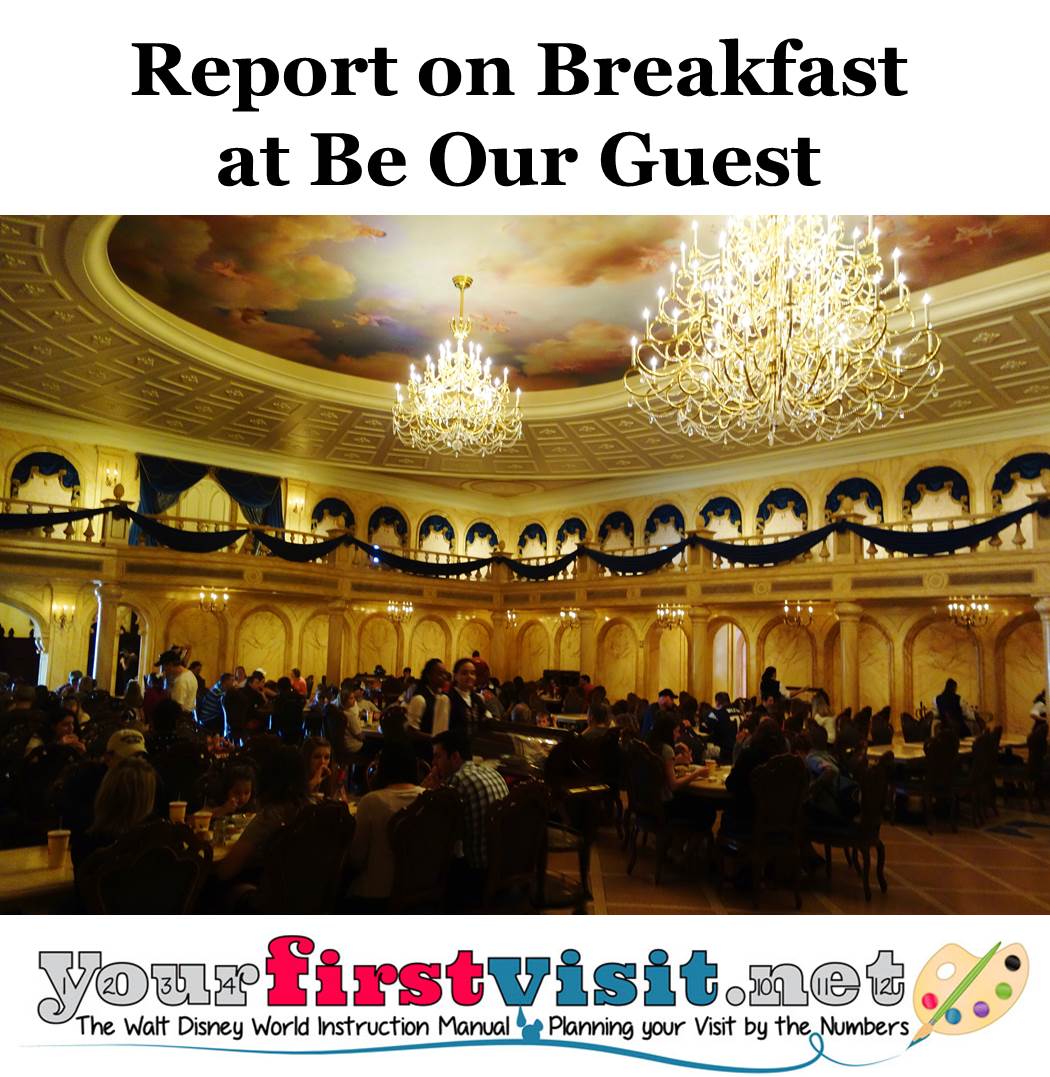 We know a lot of guests were really excited about this new breakfast, so I grabbed my own family and headed off to Magic Kingdom. I have dined at Be Our Guest many times for lunch and dinner and was anxious to try the breakfast.
The breakfast is a counter service meal. However, it is a set price. The adult meal is $19.99 and the child meal is $11.99. This does include a beverage and a complimentary pastry plate of treats.
You select one entree from a list of menu items; including Eggs Florentine, Vegetable Quiche, Open-Face Bacon and Egg Sandwich, Croissant Doughnut, Scrambled Egg Whites, or Assorted Meats and Cheeses. For the kids, you can choose from Crepes, French Toast, Oatmeal, Scrambled Eggs, or Cereal.
Since this a counter service meal, you walk up to an electronic kiosk to order your food and then are escorted to an area to sit. You still seat yourself, get your own beverages and utensils.
Your MagicBand (if you have one) or "rose" (themed after Beauty and the Beast) will tell the Cast Member where to deliver your food. They do deliver your food in a very "cool" way that you can see in the video below. You do not have to bus your tables after your meal, Disney will do that for you.
During your breakfast, all three rooms are open so you can wander throughout Be Our Guest. The atmosphere and dining inside Beast's Castle is the real fun of dining at Be Our Guest. It is truly magical! Enjoy our family's breakfast experience at Be Our Guest, including an honest opinion.
Since we were at Magic Kingdom, we had to hit some rides, including Thunder Mountain, Pirates of the Caribbean, Haunted Mansion and Little Mermaid.
We even spent some time at the new hub in front of Cinderella Castle and saw the Easter Bunny!
What do you think of Be Our Guest Restaurant? Leave a comment below. We would love to hear about your experience!
* * * * *
Thanks, Allison!  For those of you who don't know her, Allison has either worked or played at Disney World for the past 35 years.
She was a past Cast Member at Typhoon Lagoon and Tower of Terror.  She continued her love of Disney by starting Destinations in Florida Travel.  With over 60 agents, Destinations in Florida is considered the premier travel agency by guests, media, and the destinations themselves.
Contact Allison at allison@destinationsinflorida.com or Kelly at kellyb@destinationsinflorida.com if you would like to book your upcoming Disney & Orlando vacation.
Follow yourfirstvisit.net on Facebook or Google+ or Twitter or Pinterest!!
RELATED STUFF