Review: The Hogwarts Express at The Wizarding World of Harry Potter
By Dave Shute
THE HOGWARTS EXPRESS AT THE WIZARDING WORLDS OF HARRY POTTER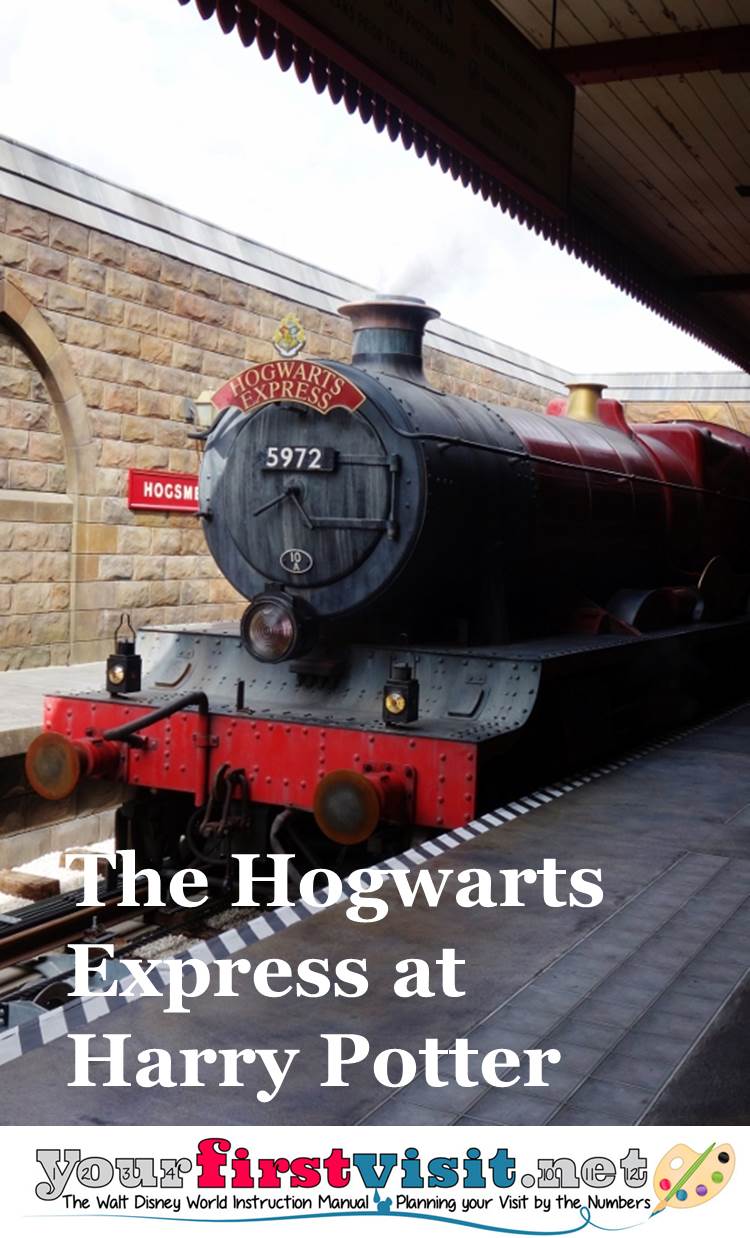 The Hogwarts Express is a train between the two parts of the Wizarding World of Harry Potter: Diagon Alley in Universal Orlando's Universal Studios theme park and Hogsmeade in its Island of Adventure theme park.
Being eligible to ride it requires a more-expensive "Park-to-Park" ticket. The Hogwarts Express has its charms but there's not a lot to it—except for Harry Potter nuts (you know who you are), who kinda must ride it.
But you can use it and a room in a Universal hotel, which I wildly recommend, to get a somewhat easy day at the Wizarding World's Diagon Alley and Hogsmeade. More on this below.
The Hogwarts Express combines transport between the two Wizarding Worlds at Universal Orlando—Hogsmeade in the back right of Islands of Adventure, and Diagon Alley in the back right of Universal Studios (otherwise a really long walk) with some moderately cool visual and aural effects.
Plus with great visual authenticity it mimics Harry's journeys from London to Hogsmeade and back, causing true Harry Potter fans to swoon.
There's stations at each of the Wizarding Worlds.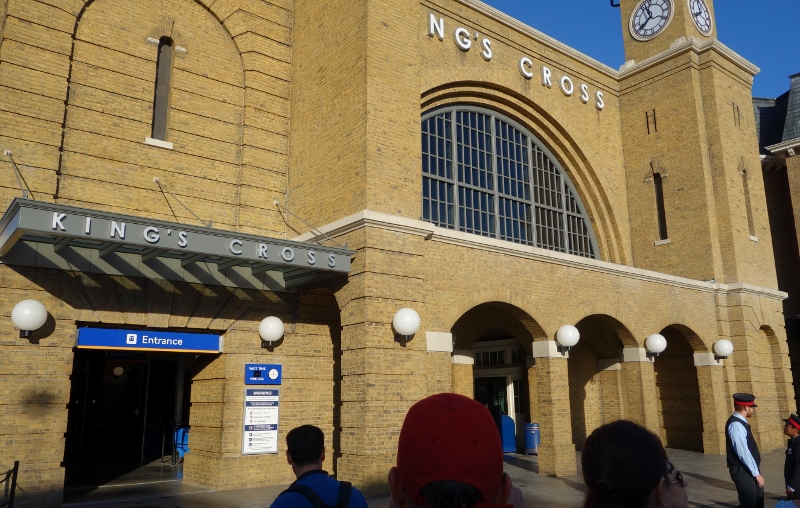 In Universal Studios, King's Cross station is just outside Diagon Alley, in the "regular" London area.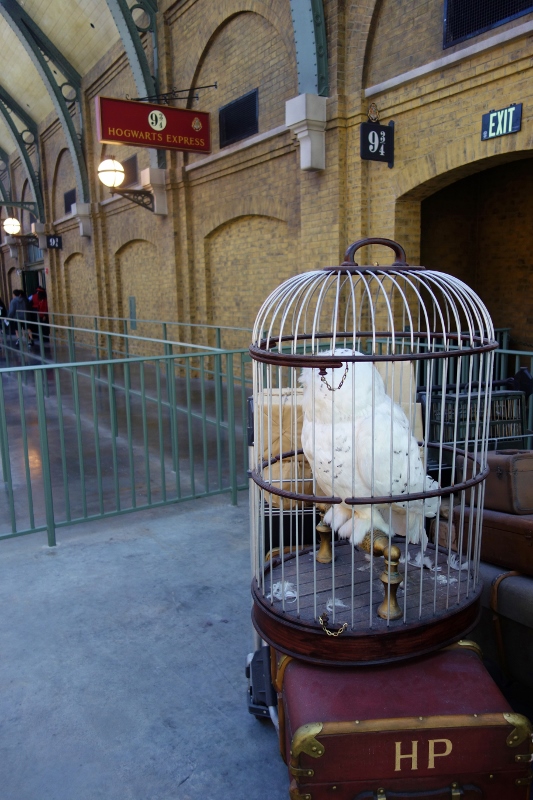 After your tickets are checked to make sure you have park-to-park privileges, you enter a queue, and are greeted by Hedwig to the platform.
The Hogwarts Express really looks like that in the films…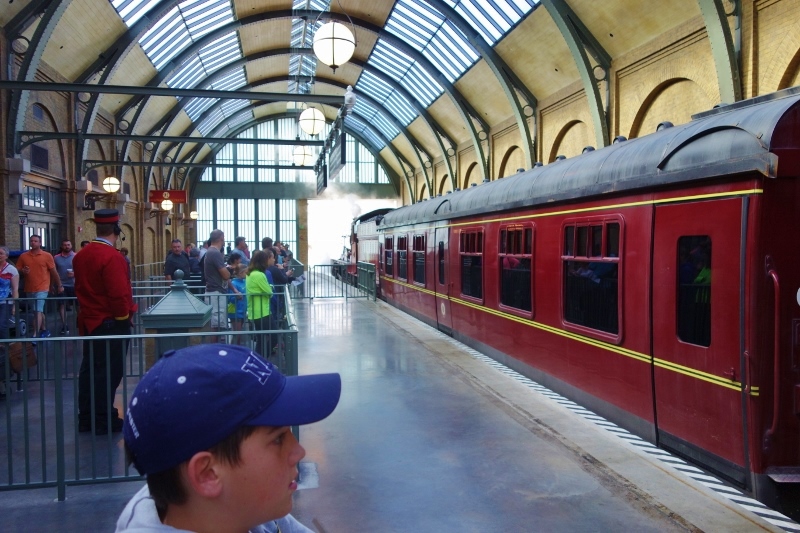 …both outside…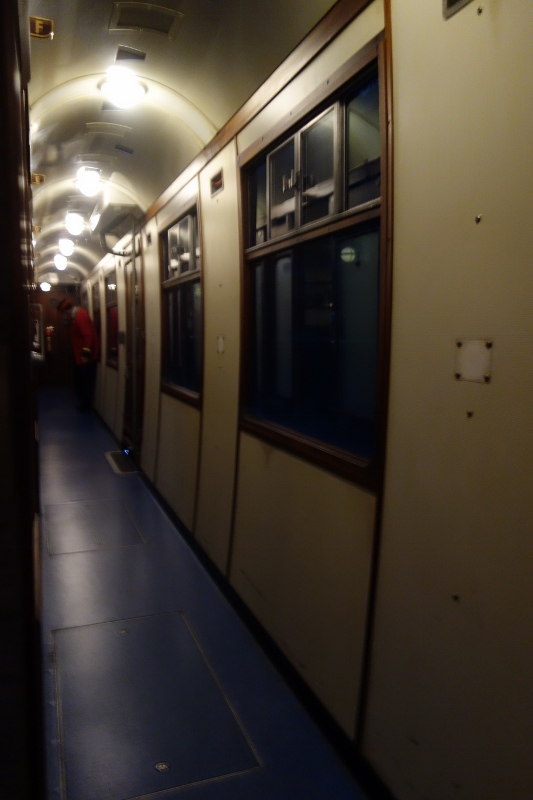 …and inside.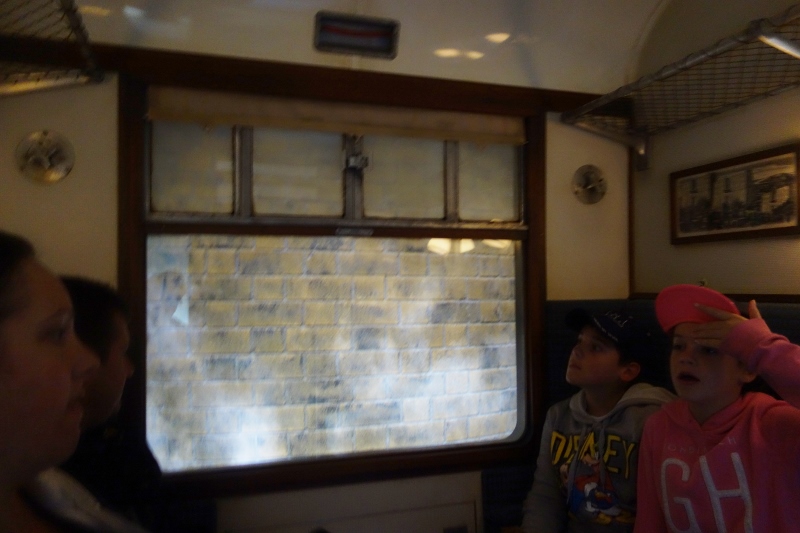 Your compartment will seat eight. Most—but not all!!—of the action is at the window. The seats closest to and furthest from the window have the worst views, and those in the middle of the compartment the best.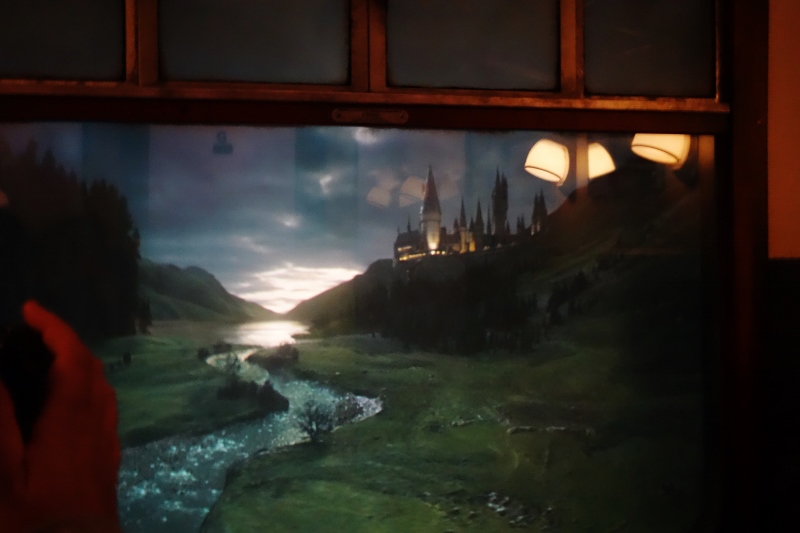 Stuff happens in the window…and also elsewhere, so don't focus solely on the window. No more spoilers—just enjoy the journey!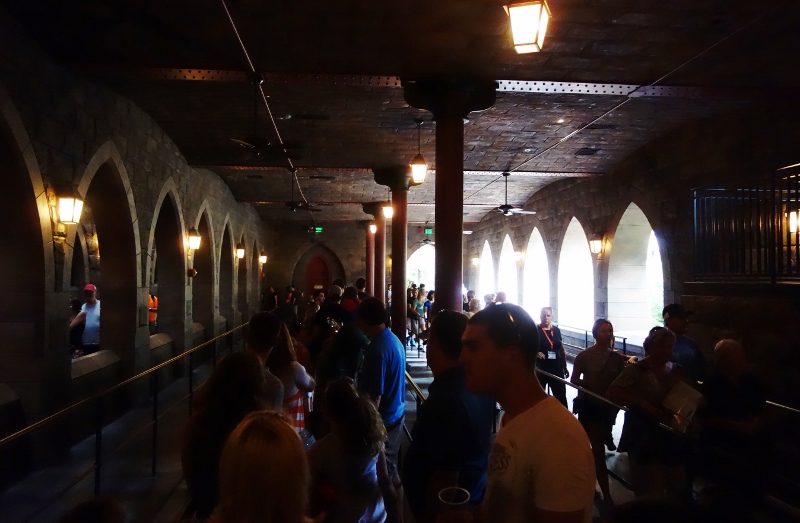 The Hogsmeade station is darker than King's Cross…
…and of course different outside.
There's not a lot of capacity to the Hogwarts Express, so lines can quickly get long. On busy days, you may get a "return later" ticket, or may even be allowed only to take it one way.
My suggestions:
Don't go on a busy day.
Stay (even for just a night) in a Universal hotel, so that you get early entry privileges
Get in line for the Hogwarts Express as soon as you've seen one of the headliners rides and done Ollivander's.
Here's the details:
BUILDING HOGWARTS EXPRESS INTO A TOURING PLAN OF THE WIZARDING WORLD OF HARRY POTTER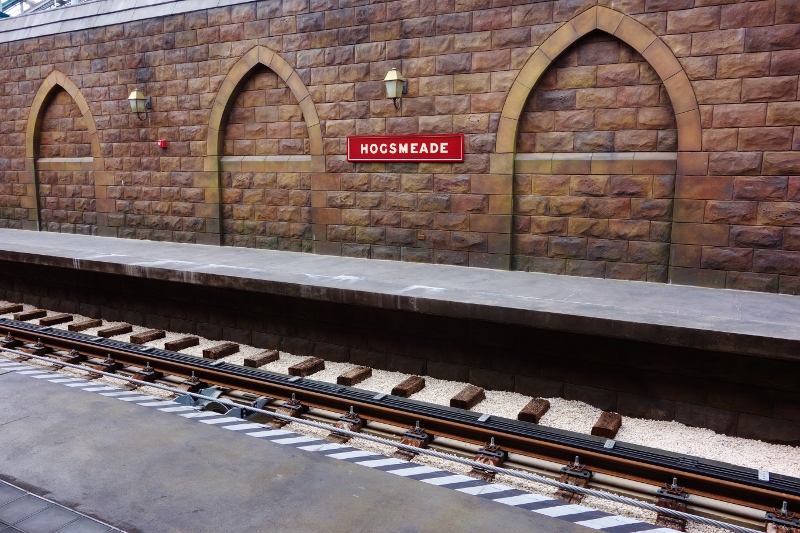 If you go to Universal one of the weeks I recommend, and stay at a Universal hotel, then your day can flow like this:
Be at the turnstiles for whichever park has early open by 45 minutes before early open is expected to start (if both are open early, which will be uncommon my recommended weeks, then pick Universal Studios/Diagon Alley.)
At open, get back to the Wizarding World and ride (depending on which park you are in) Harry Potter and the Forbidden Journey or Harry Potter and the Escape from Gringotts.
See the Wand choosing the Wizard at Ollivanders
Get in line for the Hogwarts Express, and ride it to the other park. You'll get there just about when day guests do. See whichever of Forbidden Journey or Gringotts you missed first thing
Relax, and see all the other wonderful detailing in both Wizarding Worlds.
Note that this assumes only one park is open to Universal hotel guests, and that the Hogwarts Express starts on time.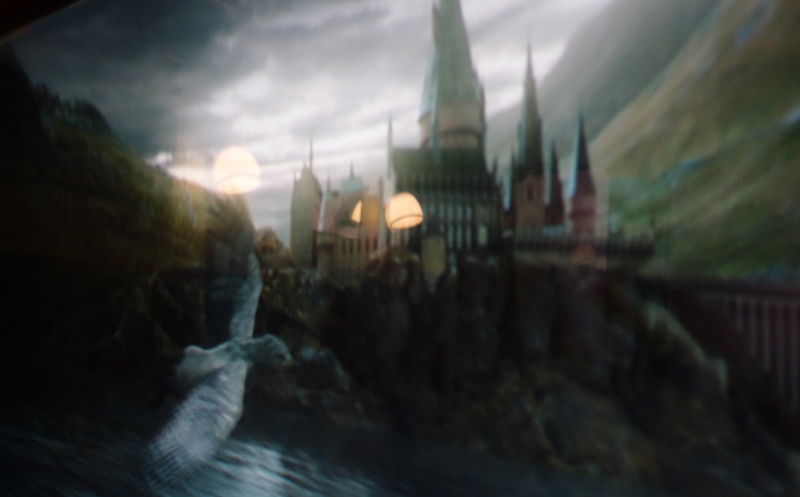 If both parks are open, divide the two headliners over two early mornings (you get early entry on both the day of check-in and day of check-out, and can check in at 7a) but still get in line for the Hogwarts Express as soon as you are out of Ollivanders.
Follow yourfirstvisit.net on Facebook or Google+ or Twitter or Pinterest!!
RELATED STUFF