Itinerary Design in the Era of FastPass+
By Dave Shute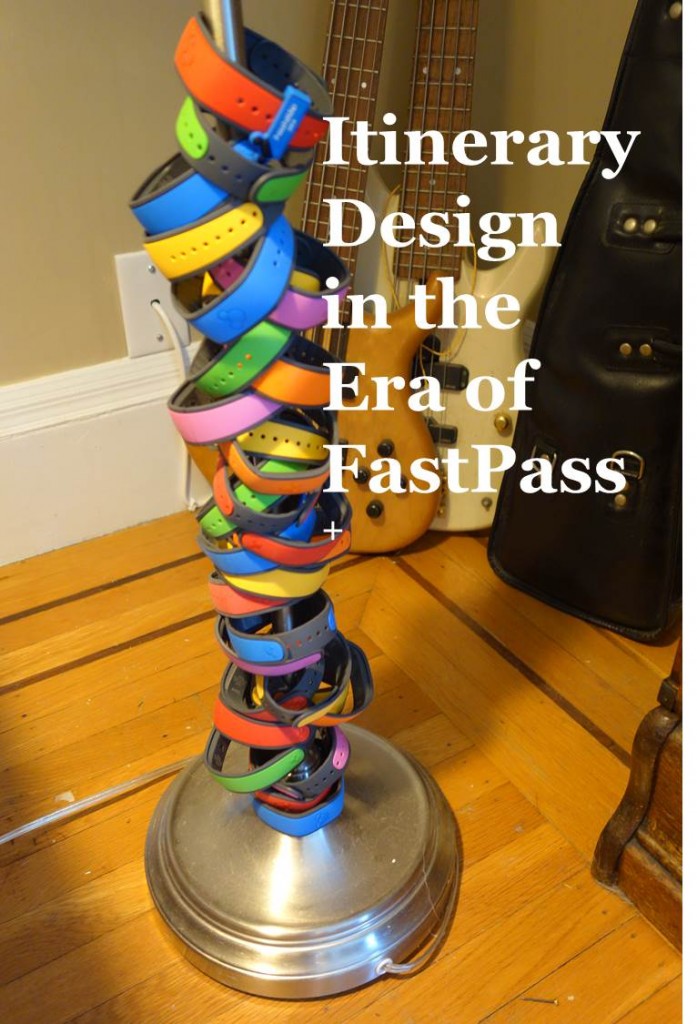 Good Disney World itinerary design minimizes waits and walking while fitting in to the idea that people are at Disney World on a vacation, not as part of their through-hike of the Appalachian Trail.
Up until the era of FastPass+, itineraries that minimized waits required both backtracking (to get, and then use, legacy FASTPASSES) and early mornings.
In fact, the scarce resource before FastPass+ was early mornings. Because most people don't want to get up early—or can't get their preschoolers/ teens/ husbands up early—the parks are always relatively uncrowded at open. So the way to minimize waits was to arrive well before open, and at open hit rides that would build lines quickly; you'd then start grabbing legacy FASTPASSES for later and do lower wait rides in between FASTPASS return times.
Under FastPass+ this still works fine—at least so far. You can hit a park early, and do (depending on the park) at least two and perhaps as many as four rides in the first hour that later in the day will take hours of waiting. Your FASTPASS+ you'd use later in the morning and early in the afternoon.
But under FastPass+, if you have enough park days, you can skip a whole lot of mornings.
Unless you are on a short trip, what's scarce under FastPass+ is not mornings, but rather park days, as each added park day gives you three more FastPass+ to pre-book. With park days after the first four going for about $10.65 per day per person, this is a pretty good deal. Because, remember, the reason the parks are least crowded at open is that PEOPLE WANT TO SLEEP IN.
FastPass+ lets itineraries be designed that let people sleep in.
For example, here's my old Autumn-Winter-Spring, pre-FastPass+ itinerary: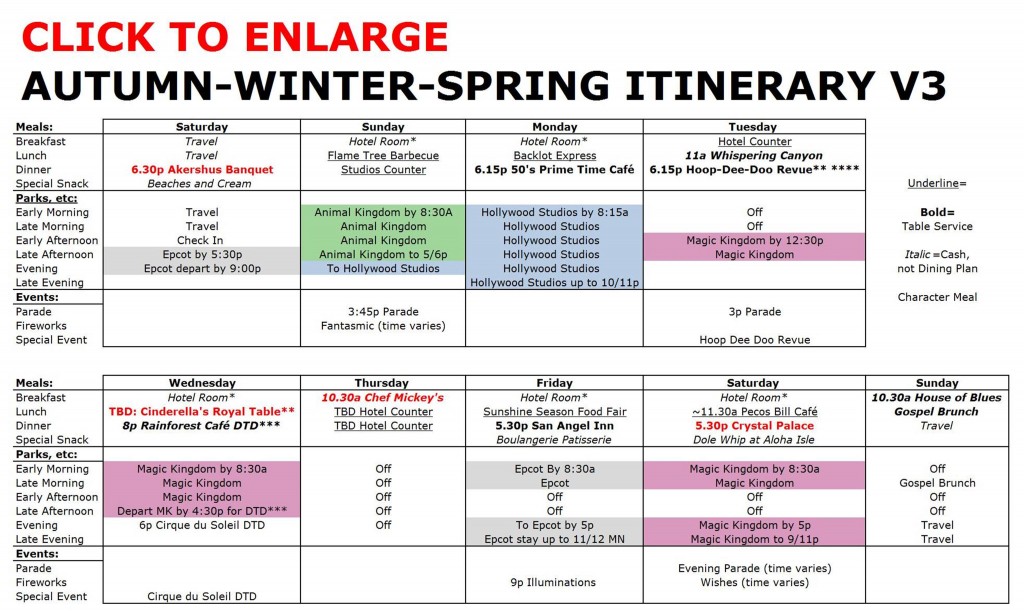 Note the seven ticket days, need for a hopper, two mornings off, five early mornings, and two particularly long days–Sunday and Monday.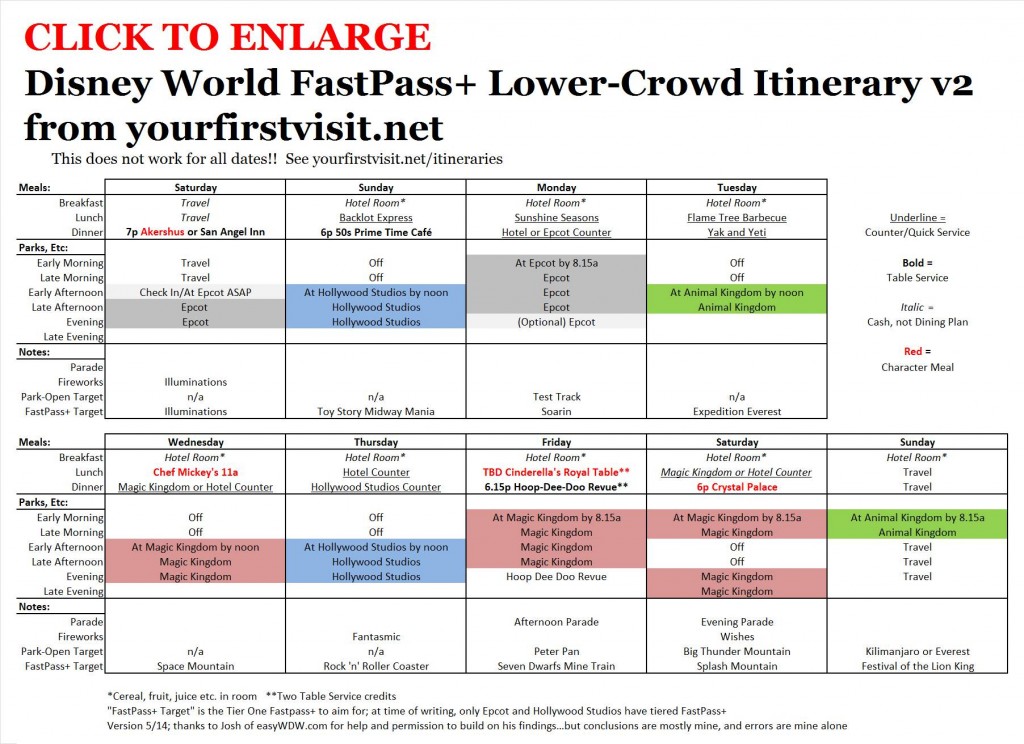 Above is my FastPass+ based itinerary for similar weeks. Nine ticket days, but no hopper–so it's actually less expensive.
It has four mornings off–twice as many–and no comparably long days. Moreover, breaking Animal Kingdom and Hollywood Studios into two half-days each makes seeing the shows at those parks easier, and limits the walking and backtracking at them each day.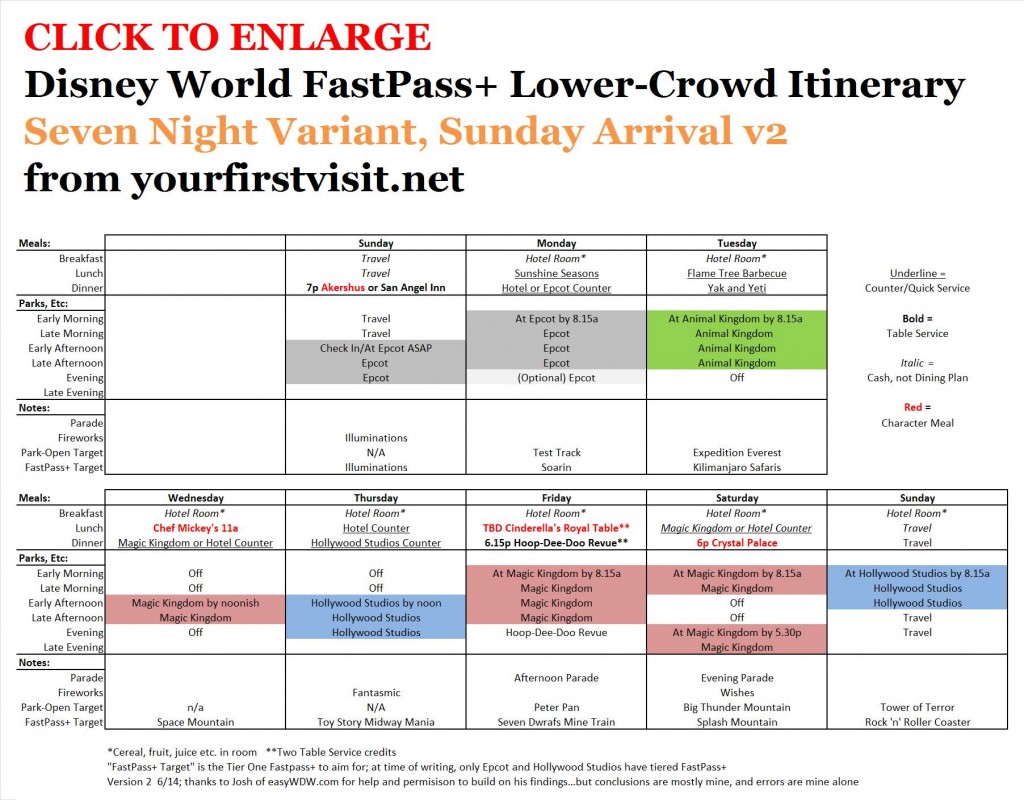 Here's a shorter variant. Losing a day but keeping the same amount of park time loses a couple of mornings and adds a longer day at Animal Kingdom–a better option, when workable, than doing Hollywood Studios in a day, as getting to HS before open and staying through Fantasmic can make for a long day.
FastPass+ lets you arrive late and then hit typically high wait rides with hardly any delay at times when under the old system you'd either be waiting a while or looking at very late return times.  At the cost of extra ticket days, you get more mornings off!
Follow yourfirstvisit.net on Facebook or Google+ or Twitter or Pinterest!!
RELATED STUFF