Keeping Up with the 2014 Disney World Free Dining Scoop
By Dave Shute
DISNEY WORLD FREE DINING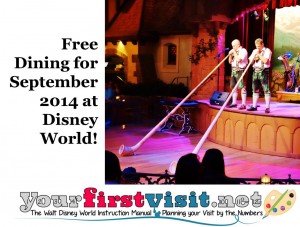 As I posted yesterday, the current forecast is that Free Dining will come out for Disney Visa holders on May 1, and for the general public on May 7–not May 5.
But this is a forecast, not carved in stone.  To keep up with what actually happens–in case, for example, it does come out May 5!–I suggest doing two things:
First, sign up for email notification about free dining from my friends at Destinations in Florida.  Click this link, fill out the form, reply to the confirmatory email, and you are set!
Second, check this thread (click "last page") every morning.  If things happens sooner than expected, you'll find out quickly there–any news will show up right after 7a eastern.
Word is that the Brazilian deal will include the following eligible arrival dates, and thus so too might the general public deal:
8/31 to 10/03
10/26 to 11/1
11/9 to 11/20 and
12/12 to 12/23
Treat these as forecasts, too.  General public offers are often hairier than Brazilian ones. The US offer may be the same; it may be only for the late August-early October dates; it may be for all these basic date blocks, but with slightly different start or end dates; or it may be something entirely different.
For the best FAQ on free dining you'll ever read, see this.
Follow yourfirstvisit.net on Facebook or Google+ or Twitter or Pinterest!!
RELATED STUFF