Availability of Additional FastPass+ Won't Much Matter
By Dave Shute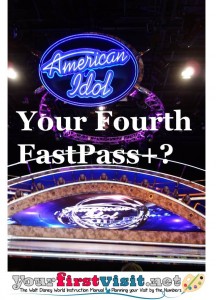 Disney announced yesterday that starting next week, once people have used their initial three FastPass+, they will be able to get additional FastPass+ one at a time via park kiosks.
These additional FastPass+ can be on any FastPass+ ride with available capacity. This means they can be re-rides of rides already done on FastPass+ earlier, and, at the tiered parks, on additional Tier 1 rides.
This can be in the same park, or another park–effectively adding FastPass+ to park-hopping.
We need to see a bit how this will work–I'll be in the parks the weekend of May 3rd so will have some firsthand experience to report on.
But it's hard to see that this will much matter.
The rides for which demand is highest will likely rarely be available, so in most cases, most times of the year, the additional FastPass+ will be for great but not headliner rides where, without these changes, standby lines would have been OK anyway.
If the result is more people seeing these rides per hour, then their standby waits will go up, making these additional FastPass+ more valuable. For example, it may end being wise to target 4th and following FastPass+ at the Magic Kingdom to Jungle Cruise, Haunted Mansion and Pirates.  Even before the change, standby waits had already gone up at these with their new reservability on FastPass+; we may see even more of this. Josh has a great discussion of this and the overall change here.
This change also diminishes the value of FastPass+ for evening events. Other than Main Street Electrical parade–where a FastPass+ also positions you well for Celebrate the Magic, and puts you in the right neighborhood for Wishes–these were already low value FastPass+. Under the new policy, it seems that having evening entertainment as one of your three initial FastPass+ will basically shut you out from getting more.
More to come as we all learn more about how this works and what the resultant implications are. In the meantime, the best way to get around the limitations of FastPass+ remains simply throwing vast amounts of money at it.
Follow yourfirstvisit.net on Facebook or Google+ or Twitter or Pinterest!!
RELATED STUFF