Landmark Eligibility Info for Military Discounts
By Dave Shute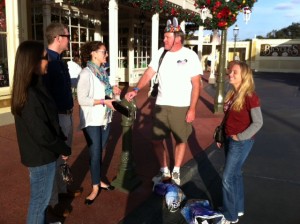 My friend Steve Bell, writer of MilitaryDisneyTips.com, has published a new Military Discount Finder. (That's Steve in the white T-shirt, at our joint meet-up at the Magic Kingdom in November.)
This tool helps resolve the most complex part of Disney World (and other Orlando-area) discounts for military folk–who is eligible for what.
Steve and I answer on this site hundreds of questions on this topic–there's two today–and he gets thousands more on his own site.  His new finder will help people get eligibility questions answered much faster!
If you have military ties, or have friends with military ties, check it out!
Follow yourfirstvisit.net on Facebook or Google+ or Twitter or Pinterest!!
RELATED STUFF