Disney World Summer 2014 Deal
By Dave Shute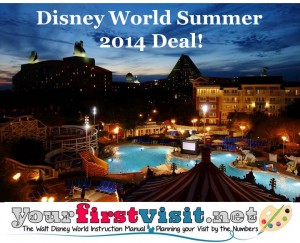 Disney World has released a multi-level deal for arrival dates June 15 – August 28 2014. This deal needs to be booked by June 6, 2014.
There's one set of discounts for stays of 3-5 nights, and a 5% higher set of discounts for stays longer than 5 nights. The longer stays are eligible for a ticket deal as well. I'll post more on the ticket deal later, but I think it's a free additional ticket day—which is worth $10.65 per person.
SUMMER 2014 DISNEY WORLD DISCOUNTS FOR STAYS OF 3-5 NIGHTS
Value resorts:
Excluded: Art of Animation Little Mermaid, All-Star Movies
Art of Animation Family Suites – 10%
Other value Resorts – 15%
Moderate resorts:
Excluded: Port Orleans French Quarter
Other Moderate Resorts – 20%
Deluxe resorts and DVC:
Excluded: Bay Lake Tower and Villas at the Grand Floridian
Contemporary, Beach Club, AKL Savanna View, Wilderness Lodge Villas, Beach Club Villas, Jambo Villas, Kidani Village- 20%
Other Deluxe and DVC Resorts – 30%
SUMMER 2014 DISNEY WORLD DISCOUNTS FOR STAYS OF LONGER THAN 5 NIGHTS
Add 5 percentage points to the deals noted above.
Any deal with this kind of structure particularly pays at the break point–that is, moving from 5 to 6 nights gets you 5 points of discounts more on the first 5 nights.
So for example during the value season a sixth night at the Wilderness Lodge costs just $129 more than 5 nights.  If this also makes a free ticket day available and useful to you, then the net cost of the 6th night is less than $90 for a 4 person family.
For more details see Disney's page on the deal.
If you are ready to book, to get a quote on your trip from my travel agent partners Destinations in Florida, you can either call the toll-free line dedicated to readers of this site, click the link or fill out the form over on the right and a little below. To speak directly to an agent, call 877-621-9826 Monday-Saturday between 9a-4p (Eastern). (Toll-free if dialed from within the USA.)
Follow yourfirstvisit.net on Facebook or Google+ or Twitter or Pinterest!!
RELATED STUFF