Your First Disney World Visit…Might It Be Your Only One?
By Dave Shute
(A slightly different version of this first appeared in WDW Magazine.)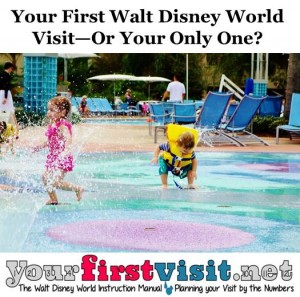 This site exists to help first time visitors to Walt Disney World who may never return make great decisions quickly. The home page has a Summary of Instructions built to do just that.
And since I opened the site almost six years ago, the most controversial—and most misunderstand–instruction has been the third one:
"…if this may be your kids' only childhood visit, consider going when your youngest child is at least 8 or 9, and your shortest child at least 48 inches tall."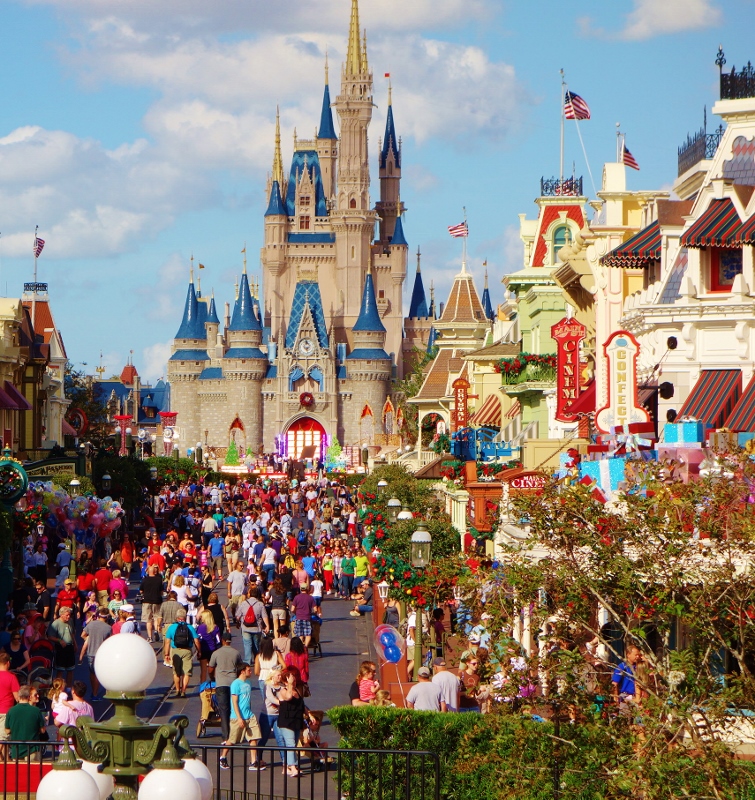 It's the "who may never return" words that drives this instruction: Will–or might—this be your only Disney Word visit?
So it can be hard enough to plan a first visit to Walt Disney World, and here I am asking you to figure out how this visit might fit into your other future vacation plans too? What's up with that?
Well, if you want to have the best first visit, it really matters.
There's an enormous Disney World fan community that can't imagine going only once.
Yet plenty of families can't imagine how they could go more than once.
Some just can't see how they could afford a return visit.
Some could afford another visit, but have too many other vacation goals—Yosemite, New Orleans, Cleveland—to see how a return visit could fit.
Others could afford another visit, and could make the time…but just can't say before they visit for the first time whether or not they'll ever return. This group won't know whether the value is there for a return visit until they go the first time, because—if you've never been there—it's astonishingly hard to imagine the scope and fun of Walt Disney World.
If this might be your family's only trip, and you want to see all the best of Walt Disney World…well, that has big implications for how old and tall your kids should be, how long you should stay, what you do each day you are there, when you should go, where you should stay, and all kinds of other issues.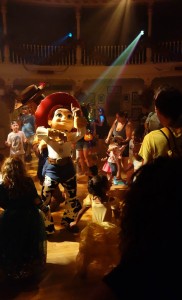 For now, let's focus on how old and tall your kids should be.
If this may be their only childhood visit, wait until your youngest child is around 8, and the shortest around 48 inches tall.
Why? Because Walt Disney World is not designed for children.
It is designed for children and their parents.
Among Walt Disney's frustrations that led him to the concept of Disneyland—which set the tone for all the other Disney parks that followed—was watching his daughters enjoy rides that were too dull for him.
That lead him to a park design that children and their parents could each enjoy together.
As a result, much of the best of Walt Disney World has a level of sophistication, and of physical and emotional demands, that will escape, or worse, overwhelm, children younger than 8 or so.
Disney World itself is only half of the equation—it requires the other half, your child's mind, to complete the experience of the place.
The play world of kids is grounded firmly in what they understand of the real world, and a kid with an understanding of the real world below that of the typical eight year old just won't get as much fun out of Disney World as a more sophisticated and experienced kid will.
Height is the second issue. A couple of Disney World's best rides require kids to be 48 inches tall, and several more of the best require a kid to be at least 44 inches tall. Some of this is for safety reasons, and some is a way of marking that a ride just isn't for the littlest kids.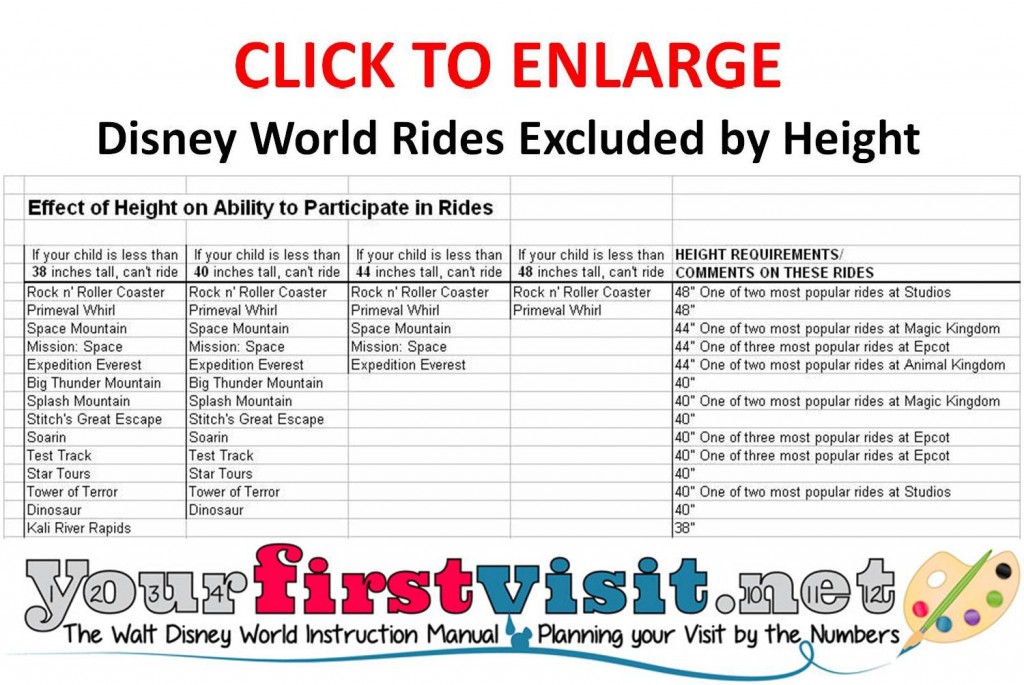 If your kids aren't this tall, they won't get to enjoy these rides at all—and if they are tall enough, but aren't mature enough, then they can ride, but may well not get Disney Word at its best.
Now don't get me wrong—kids of any age can enjoy Disney World.
But if this may be your only trip, why not wait until they are old and tall enough to fully enjoy all of the best of Walt Disney World?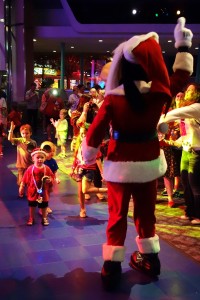 In contrast, if this is just the first of several trips, then bringing younger and shorter kids makes much more sense. Having things go over their heads is not an issue, because they can see and fully get those attractions on a later visit, when they are older.
But little kids do bring along their own set of issues. You have to match what you do to their interests, stamina, and routine schedules…or tantrums may result!
This tends to lead to much shorter days, and fewer experiences per day, than with older kids. Not an issue if you can catch what they missed later on another visit…but frustrating to the parents—who, since the parks were designed for them too, will want to see and do more than their kids can take!
But if you push your little kids too hard…well, the most miserable people one sees in the parks later in the day at Walt Disney World are the parents of small children, and the second most miserable group is their kids…
If you don't push them too hard, littler kids who will be returning are also easier to schedule for.
The first visit can be just a few partial days at the Magic Kingdom.
A later visit can add to revisiting the Magic Kingdom (your kids will never tire of revisiting the Magic Kingdom) mornings at Epcot, Disney's Animal Kingdom, and Disney's Hollywood Studios.
Still later visits can pick up the more sophisticated rides and shows at all the parks.
So a core question—one that really affects almost everything else—is whether or not you will be able to return.
And that's why you need to think about this now.
Follow yourfirstvisit.net on Facebook or Google+ or Twitter or Pinterest!!
RELATED STUFF