Major Changes in Disney World Thanksgiving Week Calendar, Especially Magic Kingdom Openings
By Dave Shute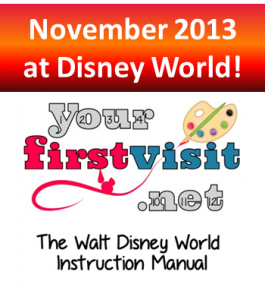 Earlier this week Disney World updated its operating calendar for November, and Thanksgiving Week in particular saw massive changes.
MAGIC KINGDOM OPERATING HOURS THANKSGIVING WEEK
Every day from Saturday November 24 through Saturday November 30, the Magic Kingdom is now open from 8a til 1a.
Before the change, hours were listed that week as 9a-10p.  No one expected that the 10p closes would stay–they were clearly going to be extended.  But 1a closes every day Thanksgiving week is a surprise, as are the 8a openings.
While 8a opens are common other busy weeks, this is the first time since I've been tracking that Disney World has had a week of 8a opens during Thanksgiving. (To compare last year's Thanksgiving Week hours, see this.)
So those intending to beat crowds by showing up before open at the Magic Kingdom now need to get up an hour earlier. And those with 8.10a breakfast in the Magic Kingdom, scheduled with the thought that they'd be finishing just as the park was opening, will need to seriously reconsider these bookings.
The best time to tour is the first hour or two after the park opens.  And since the surprising operating hour extensions are a hint that Disney is expecting really heavy crowds Thanksgiving week…well that touring time is golden, and not wise to spend eating!
OTHER OPERATING HOUR CHANGES
Beyond the Magic Kingdom, Epcot saw no changes; Disney's Hollywood Studios now has 10p closes, as I would have expected, and the Animal Kingdom is now open 8a-8p all week–as it was last year.
The schedule may change again, even the day before–Extra Magic Hours may be added, etc.  So keep up with the operating hours!
RELATED STUFF