The Revised 2014 Crowd Calendar and Week Rankings are Out!
By Dave Shute
Over the weekend, I finished up and posted the revised–and, barring typos–final versions of the 2014 Disney World Crowd Calendar and 2014 Weeks to Visit Ranked in Order.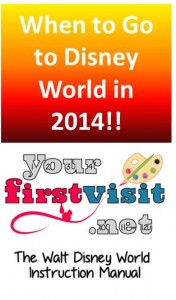 Material like this is the most popular stuff on this site.
I publish initial forecasts about 15 months before the respective year begins, and then, with Disney's final price seasons and my analysis of public school calendars in hand, revise it the summer before.
I'll be publishing more on how specific parts of each were built over the coming weeks, but for now, the only big change was downgrading the week beginning March 29, 2014, which I formerly had as a "recommended week."
This week will be more crowded than I had thought in the draft material–I had had it as 3/low, it's now 5/moderate-minus–and in turn its week ranking has shifted from 14th best of the year to 17th best of the year.  While it'll still be an OK week, this change is enough to knock it out of the "recommended weeks."
Besides the details promised above, still left to do this summer are the 2014 "Cheat Sheet" and "Week Picker."  (See this and this for the 2013 equivalents.)  And after that I'll start working on the 2015 forecasts!!
Follow yourfirstvisit.net on Facebook!
RELATED STUFF