Candelight Processional 2013 Narrators; Booking Opens July 9
By Dave Shute
NARRATORS AND BOOKING DATES FOR THE 2013 CANDLELIGHT PROCESSIONAL AT EPCOT
Crack commenter DisneyDiningAgent has posted one of his—or her!—incredibly helpful comments here.
There's a lot of "food for thought" there, which I'll note more about later, but for now, focusing on the Candlelight Processional Dinner Package:
The Candlelight Processional Dinner Package starts booking tomorrow, 7/9/13 at 6a Eastern at disneyworld.com and 7a Eastern over the phone (407-939-3463).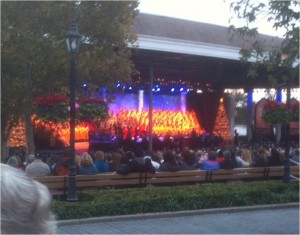 And the Candlelight Processional 2013 narrators are as follows:
TBD: 11/30-12/3
Ashley Judd 12/4-12/5
Whoopi Goldberg 12/6-12/7
TBD 12/8-12/10
Dennis Haysbert 12/11-12/13
James Denton 12/14-12/16
Edward James Olmos 12/17-12/19
Trace Atkins 12/20-12/22
TBD 12/23-12/25
Blair Underwood 12/26-12/28
TBD 12/29
Amy Grant 12/30
Follow yourfirstvisit.net on Facebook!
RELATED STUFF