Laundry, Valet Service, and Bag Fees at Walt Disney World
By Dave Shute
(This page is one of a series explicating Walt Disney World lingo, abbreviations, and FAQ for first time family visitors to Walt Disney World.)
DRY CLEANING AND LAUNDRY AT WALT DISNEY WORLD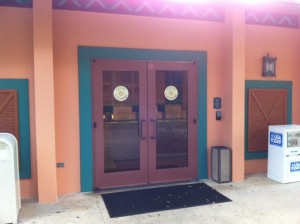 I never check bags—it's not the bag fee, because I almost always fly either Southwest or United, and Southwest doesn't charge for bags, and I have just enough frequent flyer miles on United that I don't have to pay.
Rather I don't check bags because of the hassle, the extra steps, the extra time, and the small but real chance that my bags might wing off to a different destination than I'm heading to.
This means I have to pack light—and for my most recent Disney World trip, that was a real challenge. I made it work through using the laundry rooms and dry cleaning services you'll find at your Disney World hotel.
With bag fees ranging from $50 to $100 for a round trip, you should consider doing this as well!
LAUNDRY ROOMS AT WALT DISNEY WORLD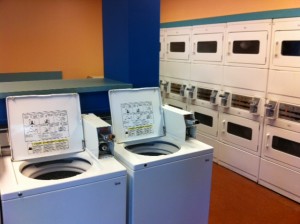 In the value and moderate resorts, the guest laundries are usually near the "quiet pools"—the smaller pools scattered around the resort, not the main pool.
(At Port Orleans French Quarter, which doesn't have a quiet pool, the laundry room's at the main pool.)
In the deluxes, locations of laundry facilities vary—ask at the front desk, or squint at your resort map.
(In the Disney Vacation Club villas, you'll find a washer/dryer in your room; there's also laundry rooms available for those in studio rooms at the villas—the DVC studio rooms don't come with such luxuries…At Fort Wilderness, the laundry rooms are in the comfort stations.)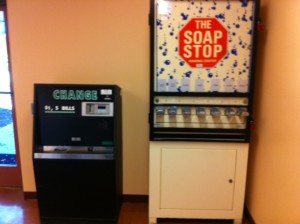 You'll find in these laundry rooms washers, dryers, change machines, and laundry supply machines.
For each load, figure (as of early 2013) $8 bucks—a buck for soap, two bucks for a washer, a buck for a box with two dryer sheets, and 4 bucks for two dryers ($2 each).
Budget for two dryers per full washer load because, unless you have a bunch of really lightweight fabrics, I've found that one dryer cycle just won't dry everything. (Note also that these are also the kinds of dryers where you really, really have to clean the lint screen before each use.)
The main problem with the laundry rooms is that they can be busy at the times (early afternoons) when people want to use them, especially at the value resorts, and you kinda need to stick around the quiet pool while your stuff is in them, even if you'd rather be at the main pool. (Per cycle, the washer takes about 30 minutes, and the dryers around 45 minutes.)
There's a couple of solutions to the potential crowds.
One is to do your laundry early in the morning or late at night, before or after you visit the parks. (I've dried sneakers in the laundry room at the Polynesian at 5 a.m.)
The other is to use the dry cleaning /valet service for some or all of your stuff–especially the stuff you need tomorrow, and for which you don't foresee time to wash today…
VALET SERVICE/DRY CLEANING AT WALT DISNEY WORLD
My last trip to Disney World was for 10 nights, and included five days at a business conference, a couple of days visiting with my son, and a couple of days on my own. So I needed both work clothes and play clothes, and since it was at the end of January, clothes that would cover all kinds of weather (and temperatures while I was awake were in fact all over the place—from 35 to 85 degrees!).
This could work in one carry on only by using Disney's dry cleaning/valet services.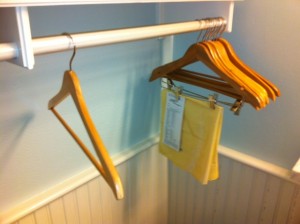 Every room comes with a dry cleaning bag and clothes slip hanging on a clothes rod somewhere—see the bag and slip hanging from a hanger in the clothes rod area in a Port Orleans Riverside room.
Call to make sure, but in general if you get your bag and slip to bell services by 8a, your clothes will be back in your room by 7p.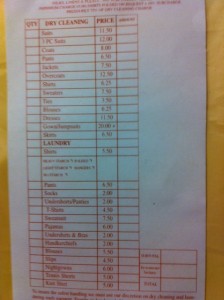 Now this is not cheap—especially if you are getting items like suits and overcoats and gowns (gowns?) done.
But see the prices for socks, undies, and other unmentionables! (Click the slip to enlarge it.) Only $2 each!
Now, this is not a deal compared to using the laundry room. But if the laundry room absorbs (including waiting for other people to finish their loads) four hours you'd otherwise spend in the parks, or sleeping, what's your vacation time worth to you?
And even more to the point—if using the valet service lets you save an $100 round trip bag fee, and/or avoid checking bags entirely.…isn't that worth $99 to you? You can get a bunch of stuff cleaned for $99…
So think about it. Doing laundry, and/or using the valet/dry cleaning service, at Disney World isn't for everybody. But it might be a great answer for you!
Follow yourfirstvisit.net on Facebook!
RELATED STUFF