The Ten-Millionth Pageview…
By Dave Shute
Sometime today–likely around 4p eastern–one of you will land on this site, or click on a link, and the site's ten millionth pageview (as measured by Google Analytics) since opening will happen.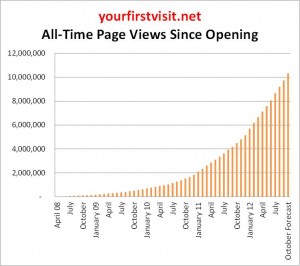 A lot of you have come over the years–see the image–and I am very grateful.
Your showing up and clicking your way around means the site is achieving the goal it was designed for–helping you enjoy Walt Disney World more for less time and money!
Comments like Kathleen's mean the world to me:
"We're back from our 9/26 to 10/6 first visit and I am convinced that this website MADE our trip!
We knew where we wanted to stay and why.
We knew where we wanted to go and how to get there.
We never waited in line more than 10 minutes due to low crowds and the use of FastPass.
We could not have had more fun if we had tried! No kidding! You made me look like a hero!!"
Thank you all so much for coming here, telling your friends, checking out the sponsors, and writing back to say how your trip went!
I write this site from Northeast Ohio, and suffer from seasonal affective disorder–the Browns season, the Cavs season, the Indians season, all of them disorder me–but your visits and views and comments are always in season, and so welcome.  Thank you!
RELATED STUFF