Guilty Pleasures at Walt Disney World
By Dave Shute
(This is an entry in a series on personal favorites)
GUILTY PLEASURES AT WALT DISNEY WORLD
Welcome to those coming from Capturing Magical Memories as this month Magical Blogorail Teal focuses on guilty pleasures!
GUILTY PLEASURES EXPAND MY WAISTLINE
Most of this site's itineraries, in addition to recommending dining spots, also recommend a few special snacks as well.
I'm not a gourmet, nor a foodie, but I have cured and smoked my own bacon, and made ice cream at home from scratch! And this should hint at my guilty pleasures…
Yup, I just love junk food at Walt Disney World!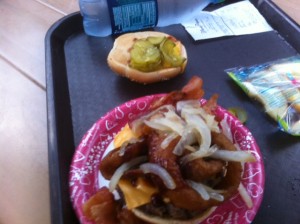 I'm defining junk food here pretty broadly, as taking in the terrain between anything served at a table service restaurant and sliced apples.
At each of the parks–except, for some reason the Studios–there's some special junk that it's hard for me to not indulge in while I'm there!
At the Animal Kingdom, it's the shredded barbecue sandwiches at Flame Tree Barbecue, eaten down by the water.
At Epcot, it's the sampler at the Tangerine Cafe, and the sugared funnel cake at the American Adventure (also available at the Magic Kingdom).  I have yet to eat a funnel cake and not make a comic mess of my shirt…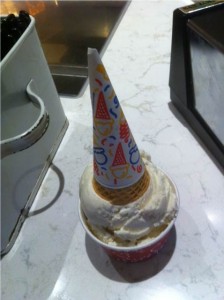 But it's the Magic Kingdom where I really put on the pounds…no trip is complete without an ice cream cone from the Plaza, a burger with cooked onions and dill pickles from Pecos Bill's, and sometimes, depending on how many clean shirts I have, another funnel cake from Liberty Square!
I'm kind of glad that Casey's Corner a few years ago shifted to chicken/beef hot dogs from all beef, as otherwise I just wouldn't stop eating at the Magic Kingdom at all!
Well, those are my guilty Disney World pleasures…what are yours?
MORE GUILTY PLEASURES FROM MAGICAL BLOGORAIL TEAL
Thank you for joining me today. Your next stop on the Magical Blogorail Loop is The Disney FAITHful.
Here is the map of our Magical Blogorail loop should you happen to have to make a stop along the way and want to reboard:
RELATED STUFF