Affiliation with TouringPlans.com
By Dave Shute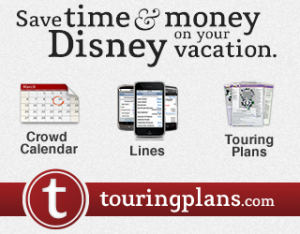 Frequent readers of my disclosure page 🙂 will have noted that last week I inked a deal to become an affiliate of TouringPlans.com.
I've been recommending the tools and resources of TouringPlans.com for more than three years.
Over the same period I've published at various times frank reviews of their stuff. I've never found TouringPlans.com to be perfect, just simply much better than any alternatives.
The affiliation won't change this–I'll still publish reviews and call 'em as I see 'em–but it does mean that if you sign up for a TouringPlans.com fee-based product after arriving there from a link from this site, TouringPlans.com will share a bit of the fee you pay with me.
I'm grateful that TouringPlans.com has created the opportunity to become an affiliate, as it permits me to be compensated a little for the time I put into this site while still recommending and reviewing their products.
RELATED STUFF