Lockers at the Walt Disney World Theme Parks
By Dave Shute
(This page is one of a series explicating Walt Disney World lingo, abbreviations, and FAQ for first time family visitors to Walt Disney World.)
CAN YOU FIT A STANDARD CARRY-ON BAG INTO A LOCKER AT DISNEY WORLD'S THEME PARKS?
My itineraries note the option of renting lockers at the Walt Disney World theme parks at several points—e.g. for stuff you mean to carry on to your flight on the last day of trip, and for dry clothes if you are planning to ride Kali River Rapids.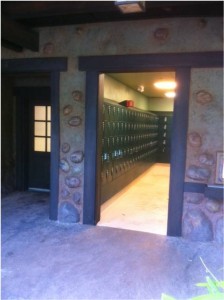 I had an email about whether these lockers are big enough for standard-sized carry on rolling bags.
The answer is a firm maybe. Some lockers will fit a standard bag…but they might be sold out.
LOCKERS AROUND THE WORLD
Each of the parks has lockers just inside the turnstiles.  
At the Magic Kingdom, go right before passing under the train station
At the Animal Kingdom they are on the left, just before the in-the-park path to the Rainforest Café
At Epcot you need to go in the park a little further—they are on the right after the photo shop
At the Studios they are on the right just before the street narrows
There are at least two different sizes at each location. 
At all but the Animal Kingdom, the largest lockers are about 22 by 17 by 12 inches.  Standard-sized rolling carry-on bags are 22 by 14 by 9, so will just fit this size—if all is measured correctly!
The largest lockers at the Animal Kingdom are 17 by 16 by 9 inches.  Standard-sized carry-ons won't fit this.
A bigger problem is that of the two sizes, there are many more of the smaller-sized lockers than the larger ones.  During busy periods the larger lockers may be sold out…and it would be a pain to have to roll around your luggage if they were.
So I don't recommend risking this.  If you have carry-ons the size of a standard bag, check it at your hotel and return to pick it up, rather than rolling it to the lockers in hopes that a large one will be available and that the measurements are right!
Pixiedust-travel.com provides more detail here on Walt Disney World lockers.
RELATED STUFF