Review: Captain Eo at Epcot
By Dave Shute
CAPTAIN EO AT EPCOT'S IMAGINATION PAVILION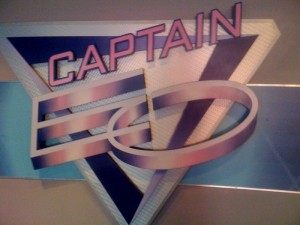 Captain Eo, a 3-D film that was a fixture at the Magic Kingdom in the 80s and 90s, has returned to Walt Disney World.
It is showing in Epcot's Imagination Pavilion, replacing the 3-D film Honey I Shrunk the Audience.
Continuing Walt Disney World's recent trend towards nostalgia, the film is rewarding to any Michael Jackson fan, and to an extent any Star Wars fan…but a little thin for those with little interest in either of these.
MORE ON CAPTAIN EO
The original Captain Eo brought together George Lucas, Francis Ford Coppola, Anjelica Huston, and Michael Jackson.
It was the first 3-D film at Walt Disney World, and also the first film to bring in elements of the built environment—the seats and seat structure—into the depicted action.  (At the time, this was called "4-D.")
The new showing begins with a pre-show.  This has two elements: a modern introduction noting the age and legacy of the original film, and the original pre-show that highlights a few elements in the making of Captain Eo.This original pre-show remains essentially un-plotted and uninteresting.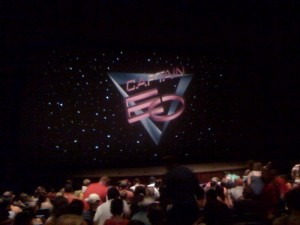 The audience then moves into the main theater.
The seventeen minute show follows the adventures of Michael Jackson and an intergalactic crew as they approach a blighted planet.
The action and visuals are highly highly reminiscent of Star Wars.
Once on the planet, music and dance eventually conquer all.
The 3-D effects are very well done, and in general the Disney team has done a great job of integrating the original Captain Eo into the capabilities of the theater designed for Honey I shrunk the Audience.
A few components of the original are unsupported by the current venue—the lasers and starfield effects.  Those who never saw the original Captain Eo will not miss these.
During some of the musical numbers, the physical capabilities of the theater are mis-used—pointless rumblings that support neither the action of the film nor are on the beat!
The film shows Michael Jackson at his peak (between Thriller and Bad), and serves as a great introduction to him for those who never saw him, and a great reminder of his skills to those who were fans.
The film also leverages George Lucas's role as executive producer, and has many visuals and sequences reminiscent of his Star Wars work.
However, if one is interested in neither Michael Jackson nor Star Wars, there's not a whole lot else going on here!
Home   Donate   Sitemap   FAQ   Travel Agents
RELATED STUFF