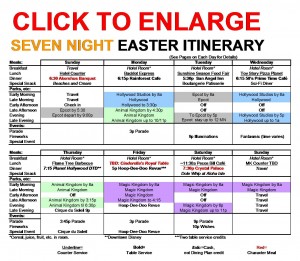 This itinerary is based on the Easter Itinerary, but is one night shorter.
It works for the weeks before and after Easter.
(Note that it no longer works for summer dates.  See this for a new, slightly revisied, seven night summer itinerary.)
Click the graphic to enlarge it; keep clicking on it when it is open to enlarge it more.
You can adapt it to arrival dates other than Sunday.  
LINKS FOR THIS ITINERARY
Summary
To-Do List
First Sunday
Monday
Tuesday
Wednesday
Thursday
Friday
Saturday
Second Sunday
ITINERARY LINKS
LINKS FOR WHEN TO GO