Disney World 2016 Ticket Prices
By Dave Shute
WALT DISNEY WORLD 2016 ADMISSION TICKET PRICES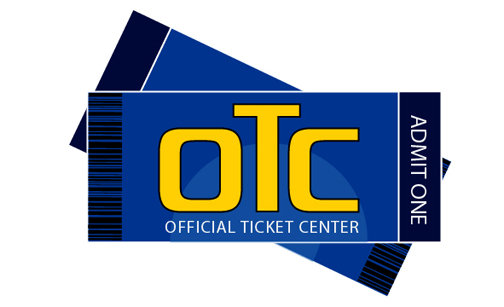 (This page is sponsored by the Official Ticket Center. Check them out for reliably lower-priced Disney World tickets!)
Three types of Walt Disney World prices are important to think about:
Walt Disney World theme park admission ticket prices—the tickets that grant you admission to the parks
Walt Disney World resort hotel prices, and
Park and hotel food prices
This page focuses on Walt Disney World theme park admission ticket prices from now until they go up again.
MORE DETAILS ON WALT DISNEY WORLD ADMISSION TICKET PRICES 2016: HOW THE TICKETS WORK
There are multiple types of Walt Disney World theme park tickets, but the one most relevant to most first time visitors is the Magic Your Way ticket, with or without the Park Hopper option.
You buy one theme park ticket for each person who will be three years old or older at the time of your visit (kids younger than three enter the parks for free.) The tickets have two pricing levels: one for kids who will be younger than ten at the time of your visit (but 3 or older) and the other for people ten or older.
When you buy your tickets, you also say how many "days" you want—from one to ten. Each "day" you buy permits unlimited visits to one theme park on one day. If you also add the Park Hopper option, you can make unlimited visits to any of the theme parks in one day–one theme park, two, three, or all four theme parks.
For example, if you buy a three day ticket without the park hopper option, you could make two visits to the Magic Kingdom on day one, three visits to Epcot on day two, and two visits to the Animal Kingdom on day 3
If you have a three day ticket with the park hopper option, you could for example make two visits to the Magic Kingdom and one to Disney's Hollywood Studios on day one, one visit to Epcot and two to Disney's Animal Kingdom on day two, and one to Epcot and two to the Magic Kingdom on day three
What you can't do without a park hopper ticket is visit more than one theme park on the same day. For example, you can't, on November 25th, use one day of your three-day ticket to visit the Magic Kingdom, and another day of this same ticket to visit Epcot that same day. More than one theme park in a day requires a park hopper
You do not have to use your days all in a row boom boom boom—e.g. Monday, Tuesday, and Wednesday. Once you use your first day, you have 14 days to use all the days on your ticket. So on a three-day ticket you could visit the theme parks Monday, Thursday, and Sunday.
You can also add days at the same price that you would have paid had you bought all those days at once, but have to do so no later than the day you use the last day of your original ticket (and within 14 days of the first day)
So if you buy a three-day ticket, and realize a few days later that you need more days, you can add two days and they will cost only the difference between what you paid originally for a three day ticket, and what you would have had to have paid for a five day ticket, so long as you add these days no later than the day you use your third day
You can also add stuff like the Park Hopper during the same day window at the same price as you would have paid when you first bought your ticket
However, you can't "subtract" days if you overbuy.
HOW WALT DISNEY WORLD PRICES ITS THEME PARK ADMISSION TICKETS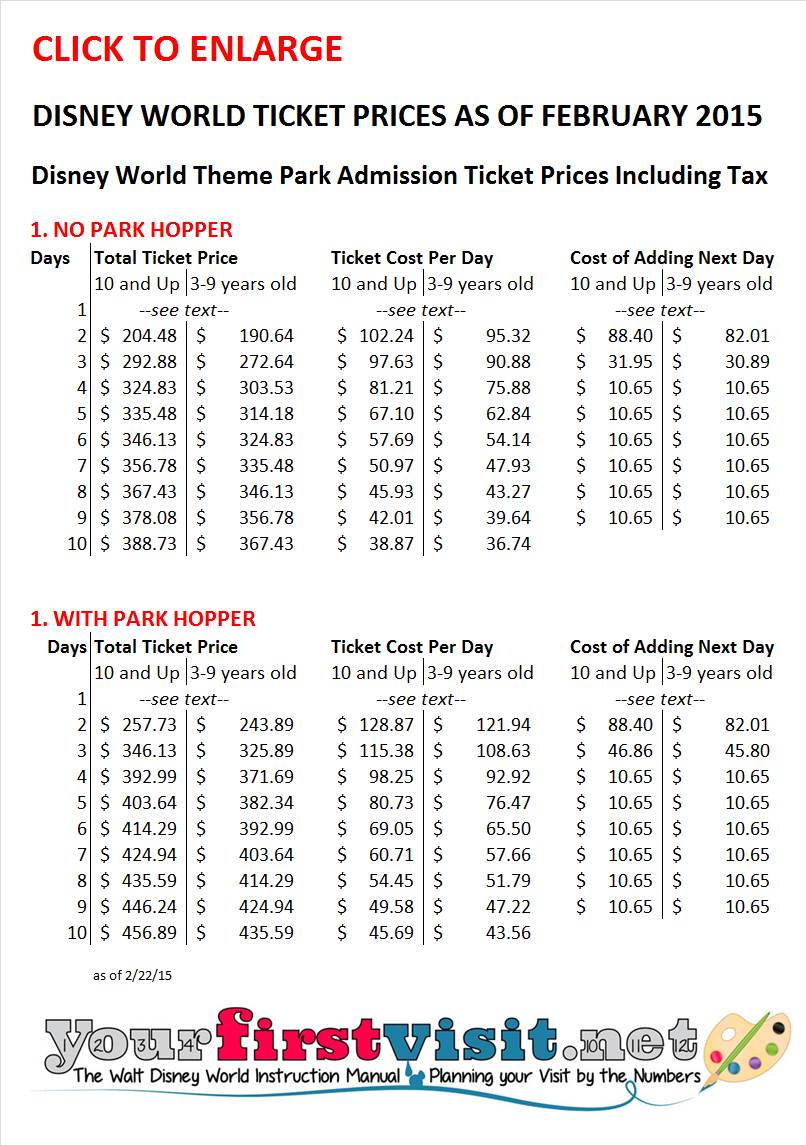 1. While Disney typically increases ticket prices at least once a year–late February in 2014 and 2015—it does not change theme park admission prices based on the seasons of the year, the way that it increases and decreases prices at its resort hotels. You pay the same amount for admission on the busiest and the least busy days of the year.
(This material, by the way, is updated as of Disney World's February 2015 price increase, and applies to tickets bought from then until Disney's next price increase.)
2. Disney sells tickets by the day—one through ten days. The way it prices these days, the first three days are very expensive, while days after the third are comparatively almost free. See the image for exact Disney World prices.
For example, a three day ticket costs (including tax) an adult $293, or an average of almost $98 a day. A ten day ticket would cost the same adult $389. The added 7 days cost in total around $96 more—or just about $13.75 per day. After 4 days, it costs just $10.65/day/person to add days.
3. A park hopper costs (after tax) about $68 for all ticket lengths longer than three days. It's $53 if added to a one day MK ticket, $62 if added to another one day ticket, and $53 for two and three day tickets.
I have also uploaded an excel spreadsheet with the same data in it as the chart, so that you can multiply by the number of members of your own family.
4. In the summer of 2013, Disney changed its policy for one day tickets.  These used to cost the same regardless of which park at which you used them; now a one day adult ticket for the Magic Kingdom (including tax) is more, around $112, but for the other three theme parks a one day ticket is ~$103.  These per-park differences don't apply to tickets with more than one day.
TIPS AND TRICKS FOR WALT DISNEY WORLD THEME PARK TICKETS
There are other ticket types than the ones discussed above—less relevant for first time visitors. For details on all of them, see this page on MouseSavers.com.
While it's hard to find discounts on tickets, it is sometimes possible, especially for longer-stay tickets. Check sponsor the Official Ticket Center
, MouseSavers.com, Triple A if you are a member, and if you have military ties, this page and also MilitaryDisneyTips.com.
Since you can add on to your tickets–days, park hoppers, etc.–but can't subtract, it doesn't really pay to overbuy. Start with the minimum you think you need and add on later if needed.  Remember to add no later than the day you use your current last day!
All of this site's To-Do Lists tell you exactly what ticket type you need for their associated itineraries.
FREE TICKETS ON YOUR BIRTHDAY?
Disney world no longer offers free tickets on your birthday.
Follow yourfirstvisit.net on Facebook or Google+ or Twitter or Pinterest!!
RELATED STUFF