Disney World Crowds: Christmas 2014 and New Years 2014/2015
By Dave Shute
DISNEY WORLD CROWDS FROM LATER DECEMBER 2014 TO EARLY JANUARY 2015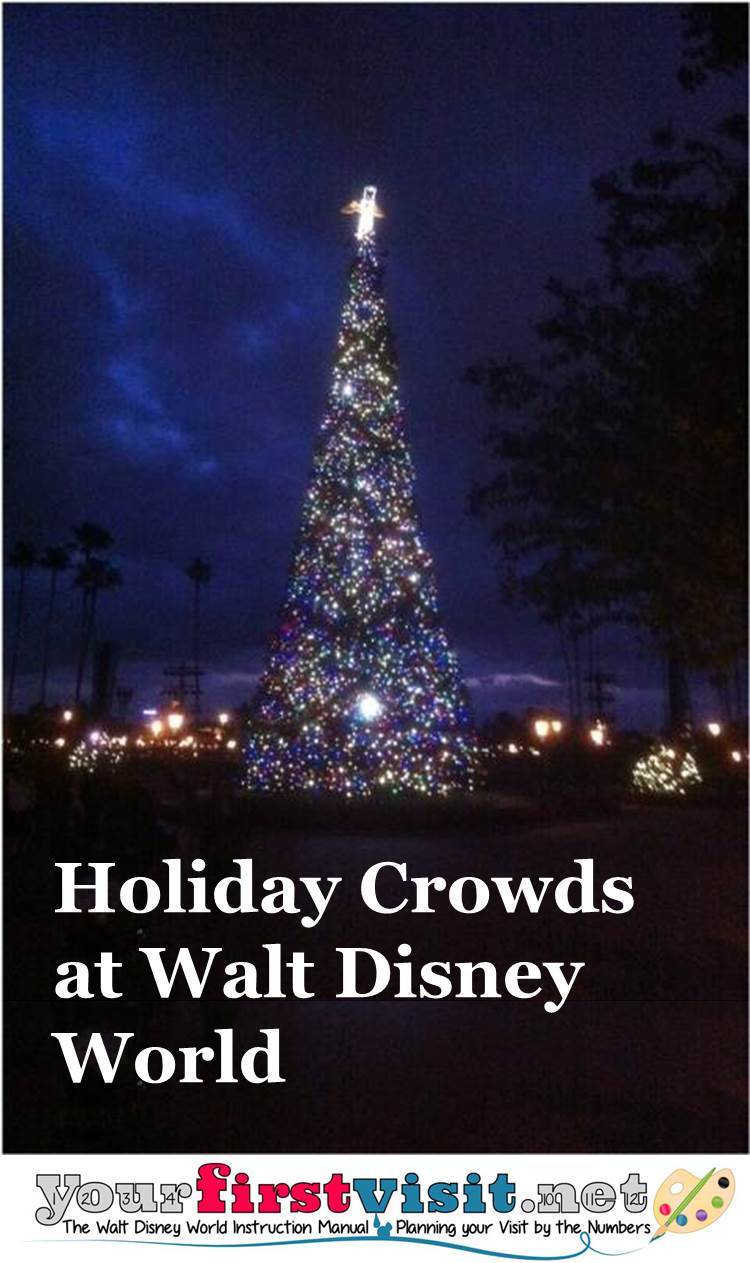 Disney World usually sees its highest crowds and prices of the year in the later third of December and the beginning of January, in the week that includes Christmas, and the next week that includes New Year's Eve.
This is for a pretty basic reason: kids are out of school these weeks.
However, not every school district has the same break schedule.
In 2014/2015, more kids are out  New Year's week than early in Christmas week, but there's still plenty enough on break Christmas week to wildly crowd the parks…
SCHOOL BREAKS AND DISNEY WORLD CROWDS
Most years, there two typical sorts of breaks:
Long breakers–districts that take at least 2 full weeks (and three weekends) off
Short breakers–districts that take off as close to only December 24 to January 1 as they can
In 2014, a Thursday Christmas, and the patterning of school breaks around it, will make it easy for many families to head to Walt Disney World either week.
But the Thursday New Years Day results in next to no schools re-opening Friday January 2 for a one-day week.  Wouldn't be prudent.
So almost all kids will be off all of New Years week, and unlike some years–like 2013–both weeks will be really lousy all week long.
ACTUAL 2014-2015 CHRISTMAS SEASON SCHOOL BREAKS
The chart above illuminates this.
It's based on data from a weighted sample including more than 160 of the largest relevant US public school districts.
(For how the database is built, see this.)
The weekends are in black and the two holidays–Christmas and New Year's Day–in red.  Click the image enlarge it.
You can see that many breaks begin Saturday the 20th, with hardly any kids on break before then, but almost 30% of kids are still in school the first two weekdays of Christmas week. By Christmas Eve, though, everyone is out, and pretty much everybody stays out of school through January 4, 2015.  A few–very few–breaks continue past January 4.
So I'm classing both weeks as 11/highest crowds, but of the two, New Year's week will be a little worse.
Follow yourfirstvisit.net on Facebook!
Follow yourfirstvisit.net on Facebook or Google+ or Twitter or Pinterest!!
RELATED STUFF