Still No Word on Disney Armed Forces Salute Extension
By Dave Shute
Update July 21, 2014: the Armed Forces Salute has been renewed for another year!
Disney's Armed Forces Salute–often called the "Military Salute"–is one of the best deals out there, offering really low-priced four day tickets and also steep room rate discounts for eligible families and their friends.
The Armed Forces Salute is not a permanent feature of the landscape, but rather a response to the recession. The past few years, Disney has made it available during the Federal fiscal year, and has announced it before the fiscal year at various dates.  This year, it's expected to be renewed again, with the announcement sometime in July.
Nothing is certain until–and if–the renewal happens.
I suspect that the timing is at least partially linked to Disney's setting and announcing its 2015 resort prices–as Disney can't fully analyze the deal until it knows the basis from which the discounts will be taken, and until 2015 prices are announced, rooms for then can't be booked at the correct prices (they can be booked at the incorrect prices, then trued up later).
The past two years Disney has announced the prices for the upcoming year the second Wednesday in July.
There's nothing magical to this–but it's also true that with much of Disney business issues, the only sensible way to predict things is to predict for this year what they did last year. That would put the 2015 resort price announcement on July 9, and the Armed Forces Salute Announcement after that.
The best way to keep up with this–and everything else military for central Florida–is to check MilitaryDisneyTips.com and its blog, and in particular to sign up for its newsletter (add your email to the big blue form on the right side of this page).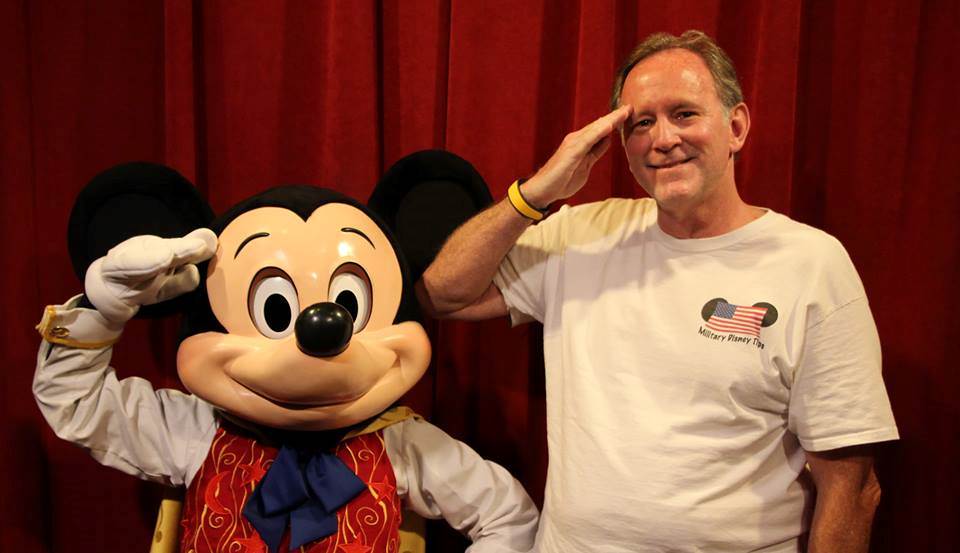 Run by my friend Steve Bell–that's him on the right–MilitaryDisneyTips covers the gamut of military-related opportunities at Disney World and the rest of the central Florida theme parks, with a particular focus on available deals.
A tireless advocate for US forces, Steve has built a special relationship with Disney around these issues–and thus is likely to be the first to be notified when–if–the Armed Forces salute is renewed. Sign up for his newsletter and you'll be among the first to find out what's happening with the salute!
Steve covers lots of other related stuff, too, and has published a great e-book on Shades of Green.
As you can tell, I think the world of Steve and his contributions.  While we could have added tons of sites and links to our book, we tried to keep The easy Guide to Your First Walt Disney World Visit as short as possible–but even so, we do refer in it to exactly two other Disney sites: Mousesavers.com and MilitaryDisneyTips.com, because no good guidebook can be complete without those two!
Follow yourfirstvisit.net on Facebook or Google+ or Twitter or Pinterest!!
RELATED STUFF